← BLOG
The 2022 Chicken Shortage: What the Cluck is Going On?
By this stage in the pandemic, most of us have felt the effects of a globally disrupted supply chain and inventory shortages in some way or another.
We all have that one item that keeps disappearing from our local market. For me, it's Coke Zero and mango mochi. While these minor outages go unnoticed by the majority of people, when it comes to the shortage of a staple like chicken, people notice.
The shelves of the poultry section are empty more often than usual these days, and what you can find on those shelves costs a pretty penny.
In this post, we're getting to the bottom of the chicken shortage: Keep reading to find out what's causing it, who's feeling it the most, how long it will last, and– most importantly– what you can do about it.
How Covid-19 and Omicron Impacted the Chicken Shortage
The Omicron variant is more contagious than any we've experienced thus far, making it especially dangerous for people working in tight quarters. That includes the workers processing and packaging your beloved chicken nuggets.
President and CEO of Conagra Brands Sean Connolly warned in mid-January that omicron-related absences are expected to slow US plants for at least the next month. Labor shortages, lack of truck drivers, and shortages of packaging materials like plastic, paper, and aluminum are all contributing to the slowdowns.
Farmers are struggling to keep their herds in response to a shortage of antibiotics and feed materials. As a result, meat is one of the biggest contributors to pandemic inflation. Some beef cuts cost 25% more than they did this time last year, and poultry prices are on the rise as well.
Why Is There a Chicken Shortage?
GoogleTrends released data on what shortages are most searched in each state throughout the US, with "chicken shortage" among the most searched.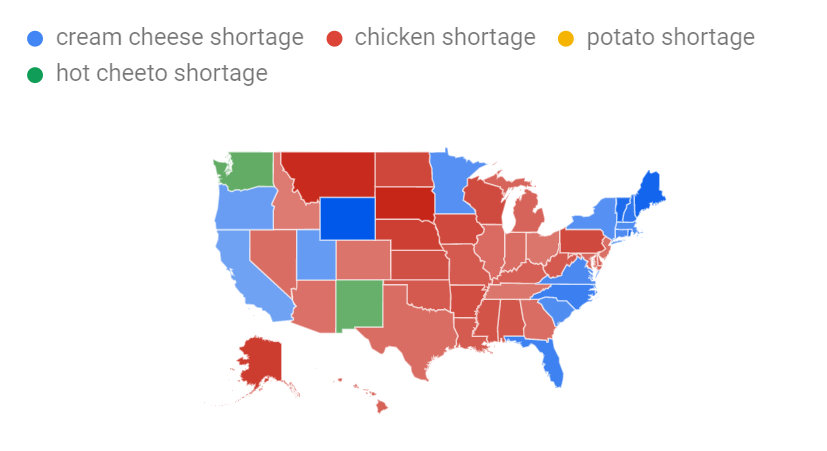 Image source: Google Trends, as of Feb. 2022
Gristedes CEO John Catsimatisidis comments on the chicken shortage, stating that Omicron "is taking its toll at different levels of the supply chain" and that these issues could grow in the weeks to come.
This is because Omicron is disrupting every part of the production process, from warehouses, selectors, drivers, and loaders. Workers are taking off due to illness or exposure, which interrupts the movement of chickens from to the processor, into packages, and onto shelves.
Chicken tenders might be the most difficult poultry item to get your hands on these days, as they require the most processing and packaging.
Additionally, suppliers experiencing worker shortages are having trouble keeping up with the demand for items like poultry. Companies that rely on just one supplier to stock their shelves will likely feel the shortages the hardest.
Australia is feeling the poultry shortage pretty hard. Some KFC locations are even cutting menu items to compensate for Covid-19 related worker shortages at their suppliers. One Australian poultry processor (Inghams Group Ltd.) even experienced a 6% stock plummet after informing vendors they are also experiencing worker shortages.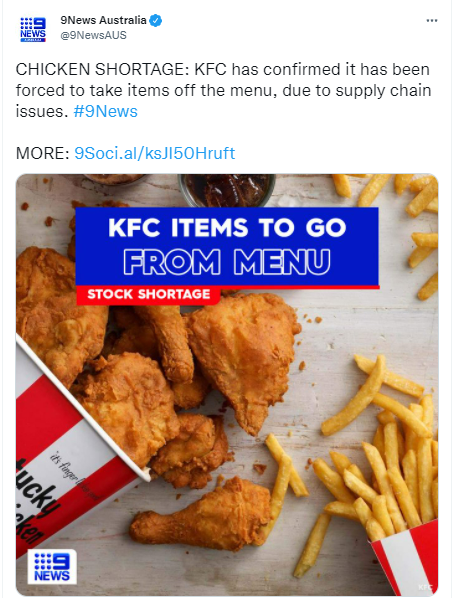 Image source: 9 News Twitter
Some industry professionals argue that we aren't necessarily experiencing a chicken shortage, just a shortage of the supplies and labor necessary for production. Either way, fewer customers are finding chicken on their shelves these days.
Poultry Prices Are Up in the Face of Low Inventory Levels
Those that do find chicken at their local grocery stores are paying a premium for it. Prices for meats, poultry, fish, and eggs were up 10.5% as of September 2021. Stores raise prices to keep items on the shelves longer. As demand increases, these prices are expected to rise even further.
The United States Department of Agriculture said the price per pound on chicken wings is up by more than $3 vs last year. As Americans consumed almost 2 billion wings during last year's super bowl, restaurants are scrambling to avoid a chicken wing shortage.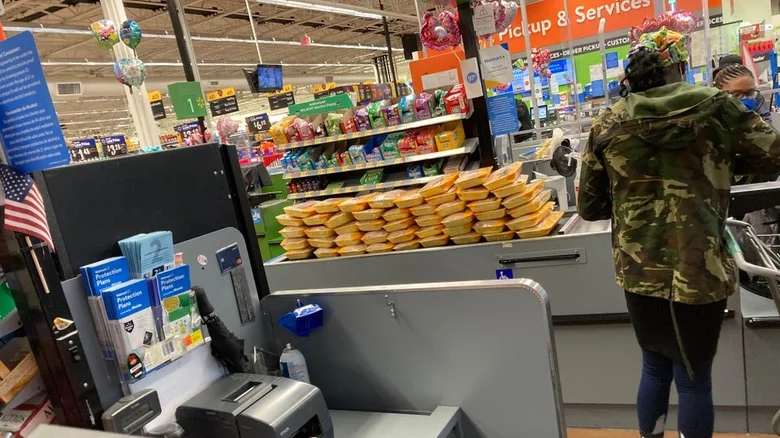 Image source: Mashed
With Reddit threads dedicated to the chicken shortage, here's a closer look at how chicken prices are evolving:
How Retailers Are Responding to the Poultry Shortage
Among other tactics, retailers attempting to weather the chicken shortage are using a combination of supply chain planning technologies including demand forecasting and promotional tools.
Taking the above data, and breaking down the increased prices per poultry product, it's easy to see that chicken breasts are one of the two products with the highest price increase following the shortage: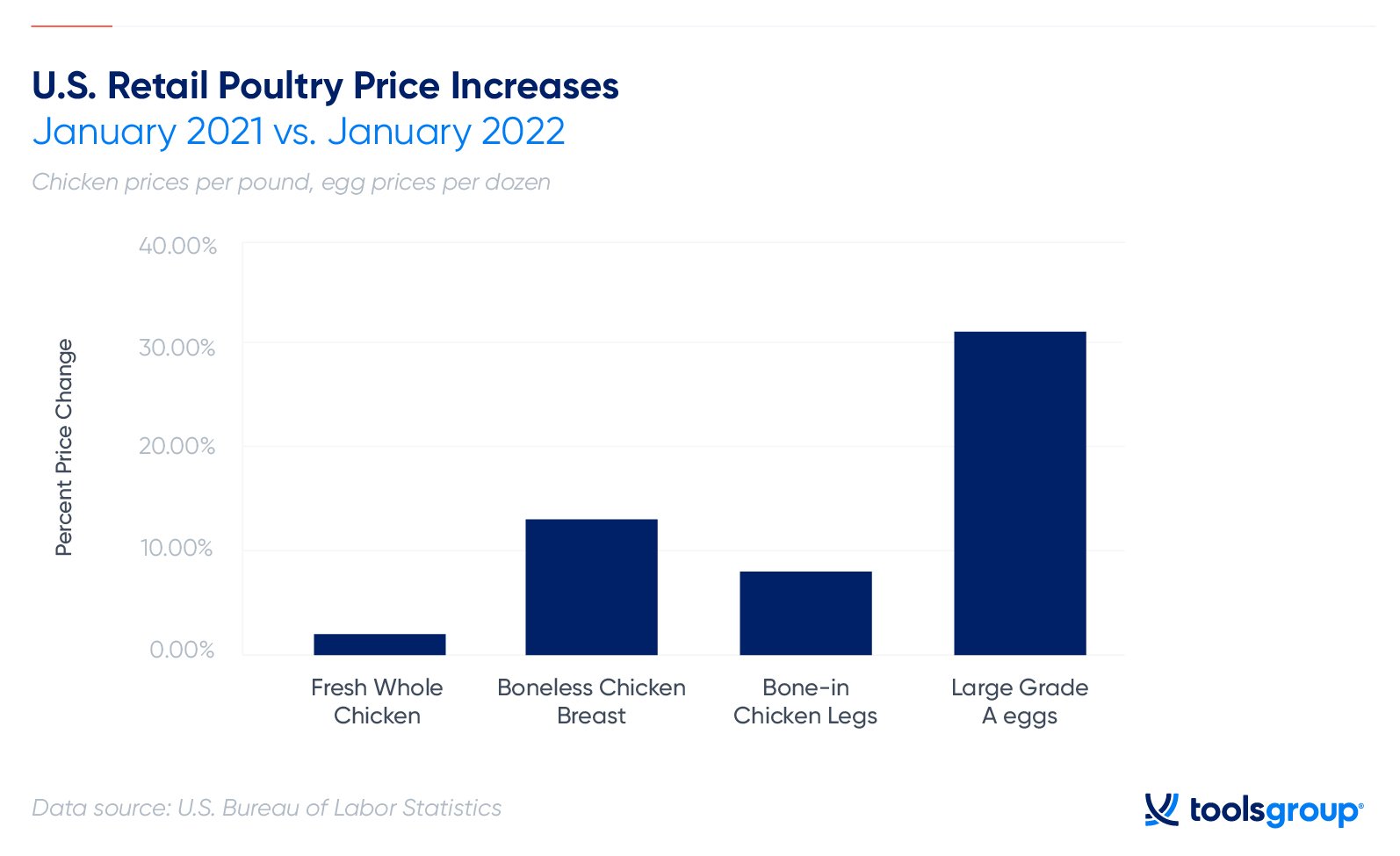 This appears to be the case in Australia as well, where some major supermarket retailers, such as Coles, have taken to limiting the number of chicken breast purchases per customer: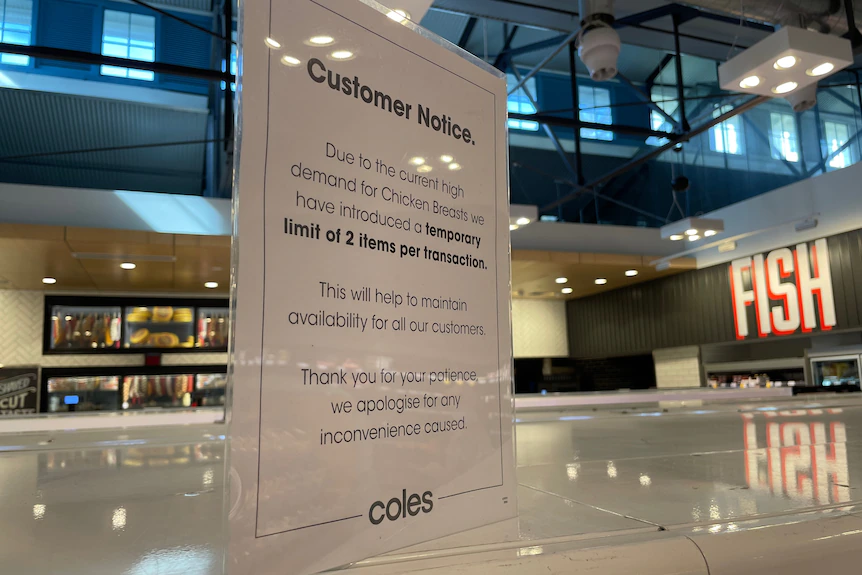 Image source: ABC Rural, Brian Hurst, via ABC News
Activities like these can help mitigate the hoarding activities we saw at the beginning of the pandemic, helping stabilize the demand for chicken.
Rather than place limitations on customers, when faced with low inventory, stores can also maximize revenue opportunities through proper allocation of the chicken supplies they do have.
In addition, retailers are using promotions management to shift demand toward other proteins which may have higher stock levels.
When Will the Chicken Shortage End?
Back in September, Biden announced an ongoing investigation between the Department of Justice and the USDA into price-fixing in the chicken-processing industry. This was in response to skyrocketing chicken prices in grocery stores.
While the White House acknowledged the pandemic's effect on the supply chain, this action was to address the other issue driving poultry prices up: A bottleneck at the processing point of the supply chain.
According to the White House, data shows that the four conglomerates controlling the majority of poultry and other meat processing in the United States increased prices while generating record profit throughout the pandemic at the expense of both consumers and farmers. The investigation has already yielded a $107 million guilty plea from Pilgrim's Pride.
The Biden-Harris administration is taking action in three primary areas to combat increased poultry prices:
Cracking down on illegal price-fixing, enforcing anti-trust laws, and bringing more transparency to the meat-processing industry.
Providing relief to small businesses and workers hurt by Covid and creating a more competitive food supply chain.
Supporting farmers and ranchers through the effects of climate-change-related extreme weather disruptions.
According to Doug Baker, vice president of industry relations for the Food Marketing Institute, things might start looking up in the back half of 2022: "Supply chain constraints and shelf conditions will continue to have their ebbs and flows, but maybe by the back half of 2022 we'll start seeing some normalizing of the supply chain."
Supply chain constraints and shelf conditions will continue to have their ebbs and flows, but maybe by the back half of 2022 we'll start seeing some normalizing of the supply chain."
-Doug Baker, Vice President of Industry Relations, Food Marketing Institute
However, he went on to clarify that's not a given, saying, "You have to put an asterisk on that because we can get another variant and another spike in cases, and we're starting to see really abnormal weather patterns."
Weather-related supply chain disruptions could include winter snow storms which, come spring, turn into tornado and hurricane season.
And we still have a variety of retail trends and challenges to address in 2022, including labor shortages and "The Great Resignation."
What You Can Do About the Chicken Shortage
If chicken is a mainstay on your table, there are a few ways you can combat the shortage. First, opt for less processed poultry products. If you can't find chicken tenders in the frozen section, maybe opt for chicken breast tenderloins and make your own.
If you can't find individual chicken cuts, try purchasing a whole chicken instead (many are already doing this in Australia).
Another option – support your local farmers. Most farmers do sell through grocery stores and distributors, but many also sell straight from their farms or local farmer's markets. As buying directly from the farm takes supplier and grocery store labor shortages out of the equation, you might have a better chance at getting what you want this way.
Additionally, many plant-based meat brands are pushing substitutes in response to both chicken shortages and price increases. Plant-based meat interest experienced a 1,320% increase in US menu mentions since pre-pandemic times.

Some plant-based meat substitutes are lowering their prices to attract customers who don't love chicken enough to justify the higher price tag.
Lessons for Retailers from the 2022 Chicken Shortage
Taking a tip from those vegetarian meat substitutes lowering their prices to attract customers, retailers can strategically plan for pricing's impact on inventory demand with retail pricing software. A complete view of current inventory and a product's rate of sale helps understand how price changes can impact demand.
And don't forget the power of promotions as a demand shaping activity: As demonstrated by the results of 2021's holiday shopping, discount shopping doesn't depend on a date: When you provide the deals, consumers will come.
Communication with your suppliers and customers alike is also key in maintaining trust and credibility to back your brand promise.
Be Ready in the Face of Any Supply Chain Shortage
The good news for consumers and retailers alike is that while it may take longer for poultry products to reach the shelves, they are still out there.
While it's impossible to know what Covid-19 and other economic factors have in store for us this year, the supply chain is learning how to cope under extreme circumstances. And if you need help weathering whatever storms are up ahead, ToolsGroup can help you master demand uncertainty.
For an inside scoop on supply chain shortages and pro tips on how to navigate them, visit the ToolsGroup Resource Hub today.