← BLOG
Demand Shaping Strategies for a More Profitable Supply Chain
As the supply chain crisis enters yet another year, demand volatility continues to reach unprecedented heights.
While many businesses are feverishly working to ensure their supply chains are agile and resilient with investments in digital supply chain planning technology, some supply chain managers may be thinking, 'isn't demand dictated by the market?'
The answer is, both yes and no. Let's take a look at what demand shaping is and why it could be critical to your supply chain.
What Is Demand Shaping?
Demand shaping is a supply chain strategy that utilizes tactics such as price and promotion incentives, product substitutions and cost modifications to entice customers to purchase specific items.
In other words, the company wants to influence or shape demand for certain products to match its planned–or available–supply. It's easy to see demand shaping in action across a multitude of industries during holidays such as Black Friday, Cyber Monday, or President's Day for car promotions.
You'll also recognize the power of demand shaping by looking at the results of 2021's holiday shopping, where retailers overcame supply chain challenges by offering sales throughout the month of November.
All of these activities speak directly to the benefits of demand shaping which include increased revenue, increased exposure and reduced inventory.
Influence Demand with these Demand Shaping Techniques
Lower prices to increase demand. This 'oldie but goodie' still works. Retailers and consumer packaged goods companies are especially adept at utilizing this strategy to great effect because they recognize the power of promotion.Utilizing pricing software, retailers can leverage machine learning to forecast how pricing will affect customer demand and revenue targets.
Raise or lower sales incentives (commissions, bonuses, quotas) for the sales reps or distributors.
Institute, change or discontinue promotional programs like coupons, 'sales', advertising, displays or trade shows, etc.When executing this strategy, it is important that planning and marketing teams collaborate in promotions planning to ensure service levels can meet demand, and inventory is allocated to the optimal locations.
Change availability by increasing or decreasing distribution. Open new outlets or territories, close or reduce distribution in certain outlets or territories, expand markets by introducing product variants, new packaging or messaging.
Sense Demand Changes Before Your Competitors Do
The demand shaping process also requires the availability of sophisticated tools to sense demand pattern changes. Using machine learning, you can sense changes in demand before your competitors do. There are two key elements to demand sensing you should focus on:
Short-term forecasting leverages a high level of data granularity to analyze daily demand information as close as possible to the end customer and immediately detect changes in demand behavior.
Extending supply chain visibility by looking for patterns in point-of-sale (PoS), promotion, social media, NPI, weather, IoT, internet search and economic data to make near-term improvements to your forecast and inventory.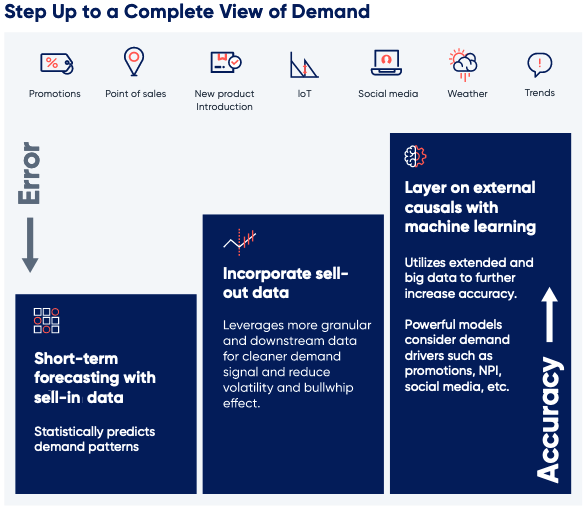 With demand sensing, you can improve forecast accuracy and inventory placement to ultimately improve service, minimize inventory and free up working capital. With this approach, you're ensuring that service levels can be met, even if the unexpected occurs.
Ensure Supply and Demand are Aligned
The right product, in the right place, at the right time is one of the most critical measures of profitability for any organization that provides goods and services.
As supply chains face mounting pressure to deliver value for shareholders, when these two important elements, supply and demand are out of sync, it can lead to a series of problematic situations, including excess inventory.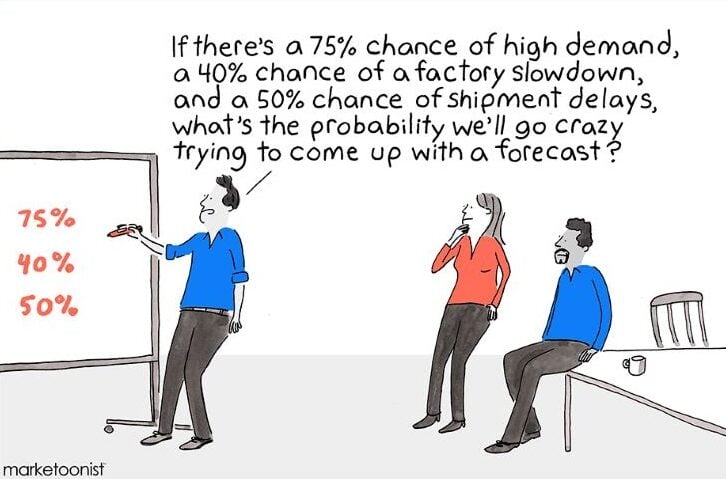 Recognize that demand shaping goes beyond demand manipulation. To be truly successful, you should combine and analyze both demand and supply dynamics, which provide a more complete picture of alignment.
Are you utilizing all available demand and supply data to help make the most profitable decisions? Do you have a full view of demand? Are you accounting for demand and supply dynamics in your supply chain planning process?
Once supply and demand are aligned, your end goal should be optimized inventory to avoid overstocking and wasting working capital, while still attaining or exceeding service level goals.
As businesses face global supply chain disruption following COVID-19, demand shaping can be one of the most powerful tools companies have to manage supply chain shortages in 2022.
Measure Demand Shaping Impact on the Business with What-if-Analysis
After you've determined which demand shaping techniques would be best suited for your business, how do you measure the impact?
You can make "on-the-fly" calculations to show the impacts of price increases, promotions, purchasing requirements, and production plans
Use advanced algorithms to factor in demand and supply chain uncertainty and simulate the impact of inventory on service levels
Continually create and compare multiple scenarios to reach consensus
This is all possible with a digital supply chain twin model. An S&OP model built on the digital twin enables you to evaluate scenarios based on real world risks.
But what about inventory requirements? This depends on whether your demand shaping techniques were positive or negative.
For example, running a promotion typically results in increased demand for promoted items, while other items may experience lower demand as a result.
Understanding how these variables affect the business is important as inventory levels have a direct impact on service level. For the business to thrive, you must optimize inventory for a business objective, whether it's revenue, profit margin, avoiding obsolescence, or another target.
The old adage that the customer is always right may still be popular today, but supply chain managers have it within their power to shape customer thinking and behaviors. Just ask Amazon.