← BLOG
Weather Permitting: How to Use Weather Data in Retail Forecasting
Retail is detail. And there is a lot of 'detail' for retailers to manage and factor into the business every day. When it comes to external variables, nothing is more consistently and directly impactful on demand than the weather.
This is because the weather influences consumer buying behavior everyday – and it never stops changing; no other external variable shifts demand trends as immediately, frequently, and meaningfully. Despite knowing all this, too many retailers ignore the impact of weather and this adds error to plans and demand forecasts.
How Weather Influences Retail Demand
In an NRF post, I shared five myths of the impact of weather on retail sales:
You can't plan for the weather.
It all evens out in the end.
Consumers will shop during the holidays, regardless of the weather.
My products aren't seasonal, so the weather doesn't affect me.
I'm an online retailer — the weather doesn't impact me.
Let's face it: the influence of weather on your consumers' behavior is complex and nuanced, and temperature or precipitation data is easily misinterpreted and misused. And even though meteorology has come a long way, weather is a notoriously fickle and uncontrollable factor, and no forecaster can reliably predict it beyond the next few weeks.
Because of this, it's understandable that many retailers believe planning for weather's impact on sales is an impossible endeavor. However, ignoring the effect of something with such a profound impact on consumers' day-to-day lives can lead to severe miscalculations in everything from sales and inventory to markdowns and staffing levels.
Predictive demand analytics gives retailers the visibility they need to proactively adjust planning, allocation and replenishment decisions based on when, where, and how much changes in the weather will influence purchasing.
Using weather data for retail forecasting starts with measuring the impact of weather for specific items, time period, and locations. Once the relationships are defined, you can incorporate weather-driven demand analytics across various time horizons–past, present, and future–to align with key retail functions.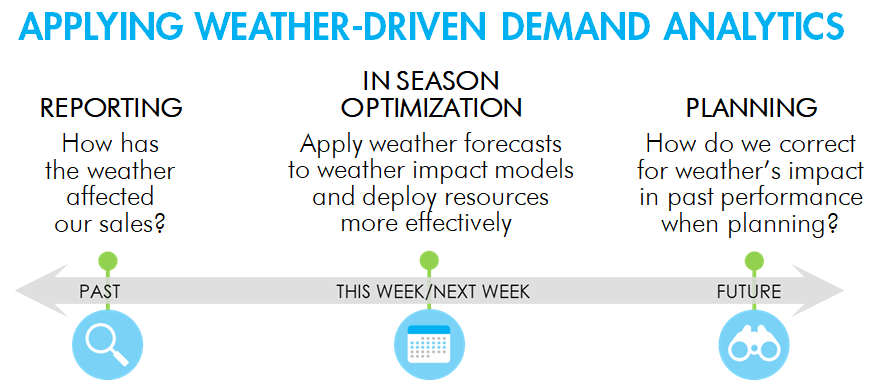 How to Use Weather Analytics in Retail Forecasting
The impact weather has on consumer demand will vary by product, time of year, and location. Aligning these impacts across key retail functions is best completed through careful retail planning, in a scalable and sustainable manner.
Through systemic integration, the quantifiable impact of weather can be applied to critical activities and processes in the merchandising life cycle as well as core business functions such as reporting and analysis. These include:
Planning: Weather normalized demand planning to improve forecast accuracy across specific products
Allocation: Increase sales and minimize markdowns by aligning store inventories to weather-based shifts in sales
Replenishment: Improve product availability by factoring in the weather's impact on demand over the coming weeks
Performance analysis: Weather-adjust sales provide a clear picture of true performance
Marketing and advertising: Optimize spend, offers, and messaging with weather-driven demand based on expected weather
Forecasting: Improve topline business forecasts and budgeting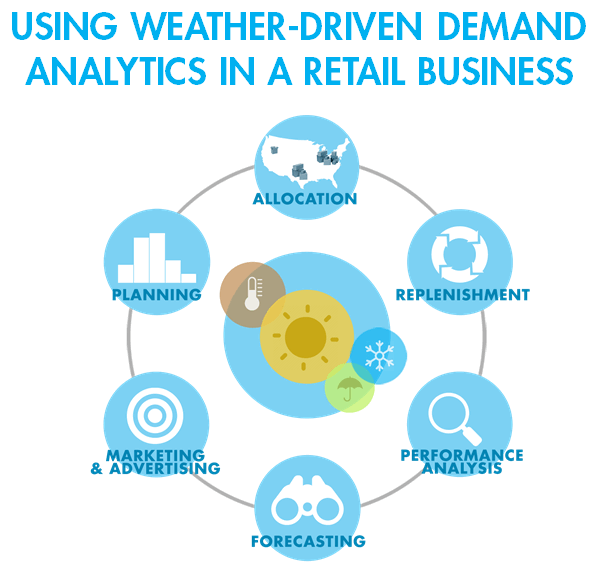 What are the Benefits of Using Weather Analytics in Retail Forecasting?
By applying weather analytics across the business, retailers can add up to a 2% to total topline sales. Better availability leads to more sales and profit. Predictive weather analytics also help on the expense side of the ledger. Inventory costs, markdowns and shrink are three primary examples.
Improve retail forecast accuracy by up to 30% across specific product areas.
Increase sales by reducing out-of-stocks: Having product available when shoppers want it drives sales and customer satisfaction and loyalty. By optimizing inventory and decreasing lost sales due to stockouts, retailers can boost net Income by 2 to 6%.
Improve margins: By better aligning inventories with market-level demand, retailers can expect a 20 to 70 basis point profit lift through higher sales, lower inventory costs, and/or by optimizing the timing and depth of markdowns. Retailers selling fresh products can generate millions of dollars in cost savings annually by reducing perishable shrink by 10-35%.
Optimize digital marketing: Retailers can improve conversions when they use weather analytics to make messages more relevant and make smarter decisions about where to allocate spend. Targeting favorable weather time periods and regions/markets enable companies to capture sales from receptive audiences and improve ROAS (return on advertising spend) and other key metrics.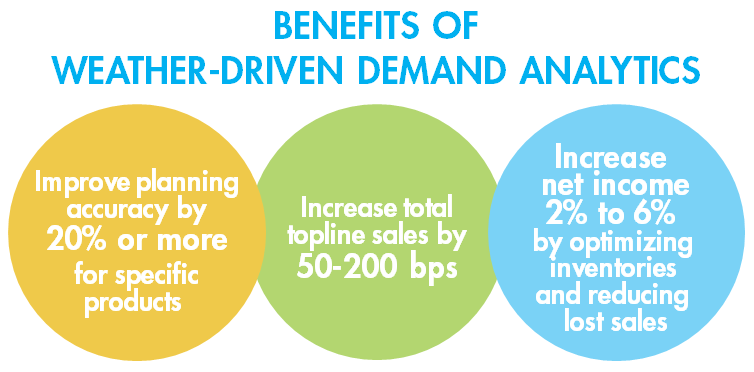 When you model and subscribe to weather "signals" across products, categories, stores, and regions as part of your retail planning process, each unique signal delivers additional context and clarity into the effect of weather on your business.
Planalytics weather-driven demand analytics integrate with ToolsGroup retail planning solutions including demand forecasting, dynamic retail allocation, and replenishment software.