← BLOG
Global Supply Chain Disruptions: Covid-19's Ripple Effect Continues + 5 Changes Needed for 2022
Global Trade Authority Rob Garrison, CEO and Co-Founder of Mercado Labs, shares insights from over 30 years of supply chain experience working with a variety of Fortune 500 companies. Here, he explains what caused current global supply chain disruptions, and shares the five steps needed to overcome today's supply chain issues.
How We Got Here: Understanding Today's Global Supply Chain Disruption
Every major publication and news outlet is reporting on the supply chain crisis. Most of the reporting has been pretty shallow, leaving all to wonder how it can be solved. 
How the Pandemic Caused Supply Chain Shortages
Before we can look at what's being done to overcome the supply chain shortages, we have to understand where it all began. 
The problems we are experiencing now started in March 2020 when COVID hit and suppliers in Asia shut down. 
This began a series of "shocks" to the supply chain that are still rippling. 
By May 2020, suppliers were mostly operational again, but there was a huge downturn in U.S. demand. Carriers responded by canceling capacity, but demand was back by July, and importers found themselves scrambling for equipment. 
Covid-19's Impact on the Global Container Shortage
The container shortage was a byproduct of the cancellations – and here's why. 
Vessels are normally loaded with empties to serve the imbalance of trade (roughly 4:1). When capacity was cut, so too was the empty supply of containers back to Asia. This backlog created both a shift in the "normal" peak season, as well as panic buying — meaning no relief during a normally slow Q1 in 2021. 
For context, Asian exports are typically 40 percent lower during January-April as compared to May-August. 
As a result of COVID, this year has seen the "normal peak" shift by at least two months (as demonstrated in the graph below) due to numerous delays in getting raw materials, production taking time to ramp back up, a lack of containers at origin, and lack of space to put them at their destination.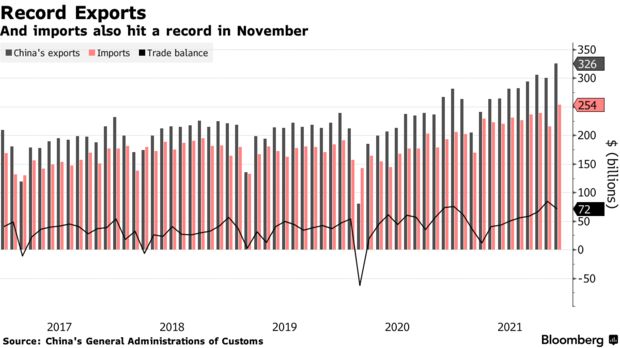 Image source: Bloomberg
Macro Supply Chain Issues Caused a Ripple Effect
In addition, other "macro issues" caused further ripples, including COVID outbreaks, rolling blackouts that shut down factories sporadically, and random shortages of key components. 
With senior management at major importers attributing earnings and missed sales to these challenges, the bottom line is that the products took longer and cost more than was projected.
All of these massive shocks have in turn created dozens of smaller shocks which have been just as challenging for the logistics professionals trying to manage them, including: 
Higher container costs

, resulting in container-by-container decisions on what to ship.

Container availability

, leaving importers scrambling to find space.

Port shutdowns

, creating vessel delays, and backlogs

–contributing to lack of container availability.

Labor shortages

, impeding the ability to get cargo unloaded, loaded, or moved.

Government regulations

, such as how high containers can be stacked, or what type of trucks can pull containers.
A closer look at higher container costs alone reveal just how much container prices have changed. 
Assessed by Drewry, as of December 2021, the average composite index of the World Container Index was $7,447 per 40 foot container – $4,738 higher than the five year average of $2,709.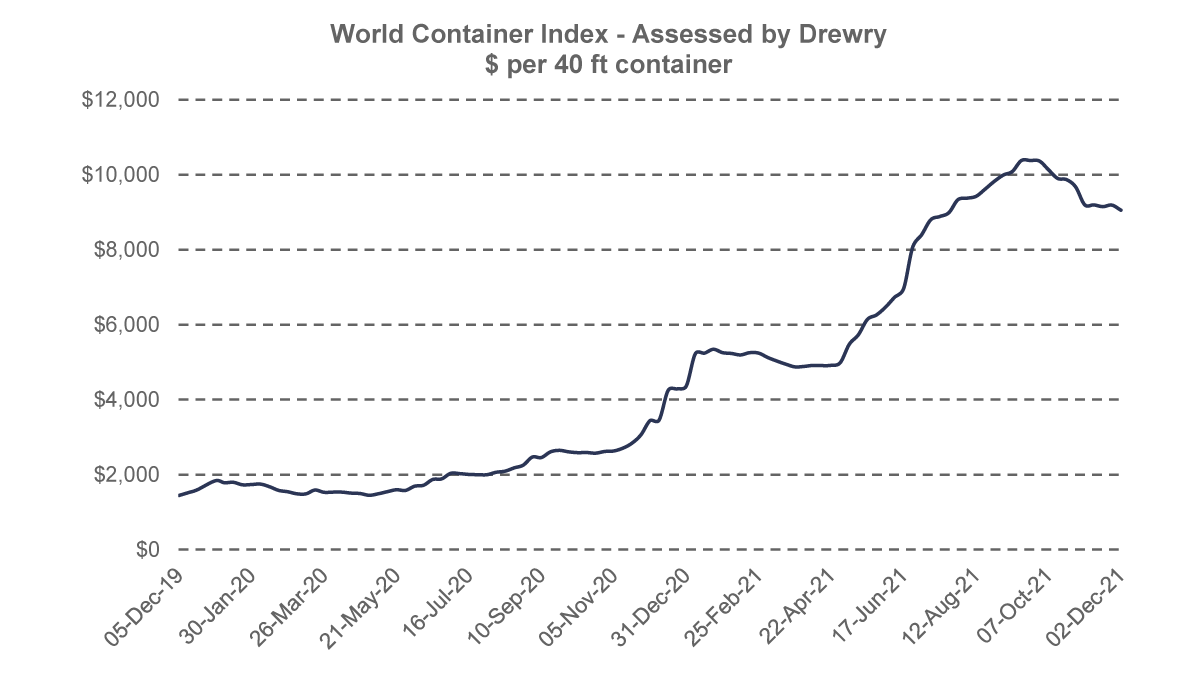 Image source: American Journal of Transportation
The Lack of Supply Chain Resilience, Exposed
All of the challenges today can take a hefty toll on any company – big or small. But they're primarily not new challenges. They've been around for years, either bubbling under the surface, or squeezing supply chains into retrospectively fitting band-aid solutions to cataclysmic problems.
Let me bring that to life. 
When the pandemic hit, production was halted in Asia as retailers expected demand for goods to significantly drop as people stayed at home and reduced spending. 
In fact, the opposite happened, with disposable income shifting purchasing habits away from services to physical goods, and stimulus checks boosted the average American's spending power. 
The result? 
Virtually every retailer went from zero to 100 overnight, putting huge strain on retail demand planning teams and enormous pressure on production. And suppliers simply couldn't cope. Many either couldn't meet the pressured timings else they couldn't get hold of raw materials to make the end-products. 
This exposed a major flaw in the global supply chain: a lack of resilience. 
Many importers operating with just-in-time (JIT) inventory couldn't get hold of the parts they needed. 
Take the automotive industry as a classic example: silicon chips for the onboard computers of virtually all global manufacturers come from a handful of suppliers. When they failed to meet production needs, the whole industry ground to a halt.
The pandemic's impact, coupled with existing supply chain issues, can be visualized by the following image, created by the Mercado Labs team to demonstrate how the crisis unfolded: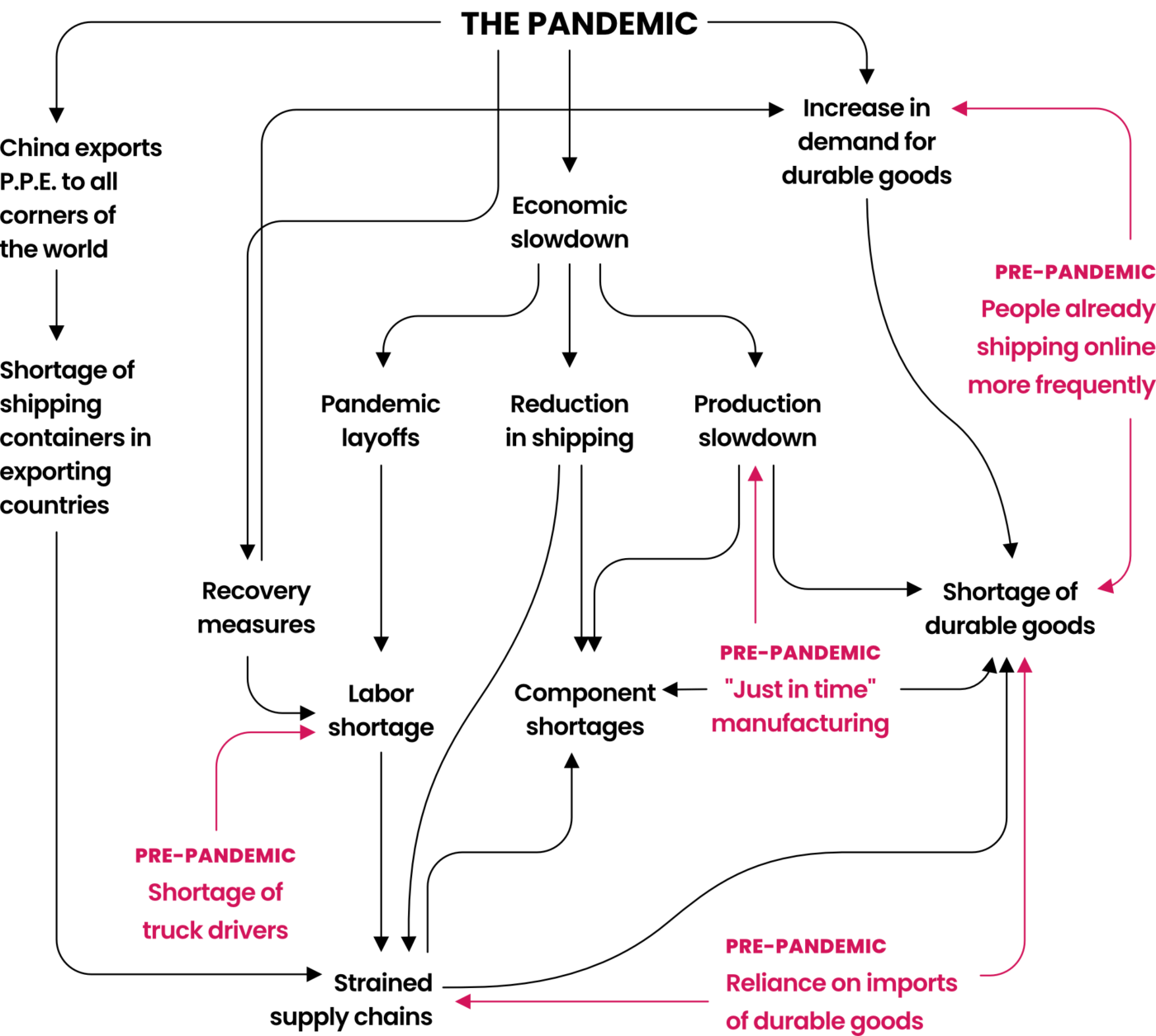 Image source: Mercado Labs
The Solution: 5 Changes Needed to Overcome Supply Chain Challenges
So what can we learn? Global events like those experiences in 2021 can shake the foundations of a decades-old industry, but it can also show just how fragile it is. 
Without having Plan B in place or mitigation strategies in the event of disasters, there's really little retailers can do. 
A supply chain is called a chain because each link is connected to the next in order to achieve the desired outcome. When a link breaks, all the subsequent links are affected.
I had an investor ask me if I saw any way out of this mess. Because there are so many issues, and they are like dominos, my short answer was no. 
However, if demand decreases for any extended period of time, it could provide enough relief on this pressure cooker.
In my mind, there are five key things that must change going forward:
Governments should put in place short-term intervention to remove regulations, provide trucks, and provide temporary storage to clear the backlog.

Importers must automate the 80% of the supply chain that is currently offline.

Carriers must honor commitments outlined in contracts. Carrier executives must conduct negotiations in the country where the customer is located.

Importers should add an additional month to lead times.

Businesses should form a cross-functional supply chain task force to study their end- to-end import process theith a goal of improving resiliency.