← BLOG
2021 Supply Chain Challenges: The Top 5 Lessons Learned + Tips from 11 Industry Experts
Among the issues faced by both businesses and consumers in 2021, supply chain shortages – and the resulting challenges – held strong in the headlines throughout the year.
To all of my supply chain, demand planning, and forecasting friends who found the year challenging (if not traumatic), rest assured: You were not alone then – and you're not alone now.
Five Lessons Learned Overcoming 2021's Supply Chain Challenges
So. Just how bad were supply chain challenges in 2021?
Bad enough to become the subject of memes. Take it from DudetteWithASign's Instagram post: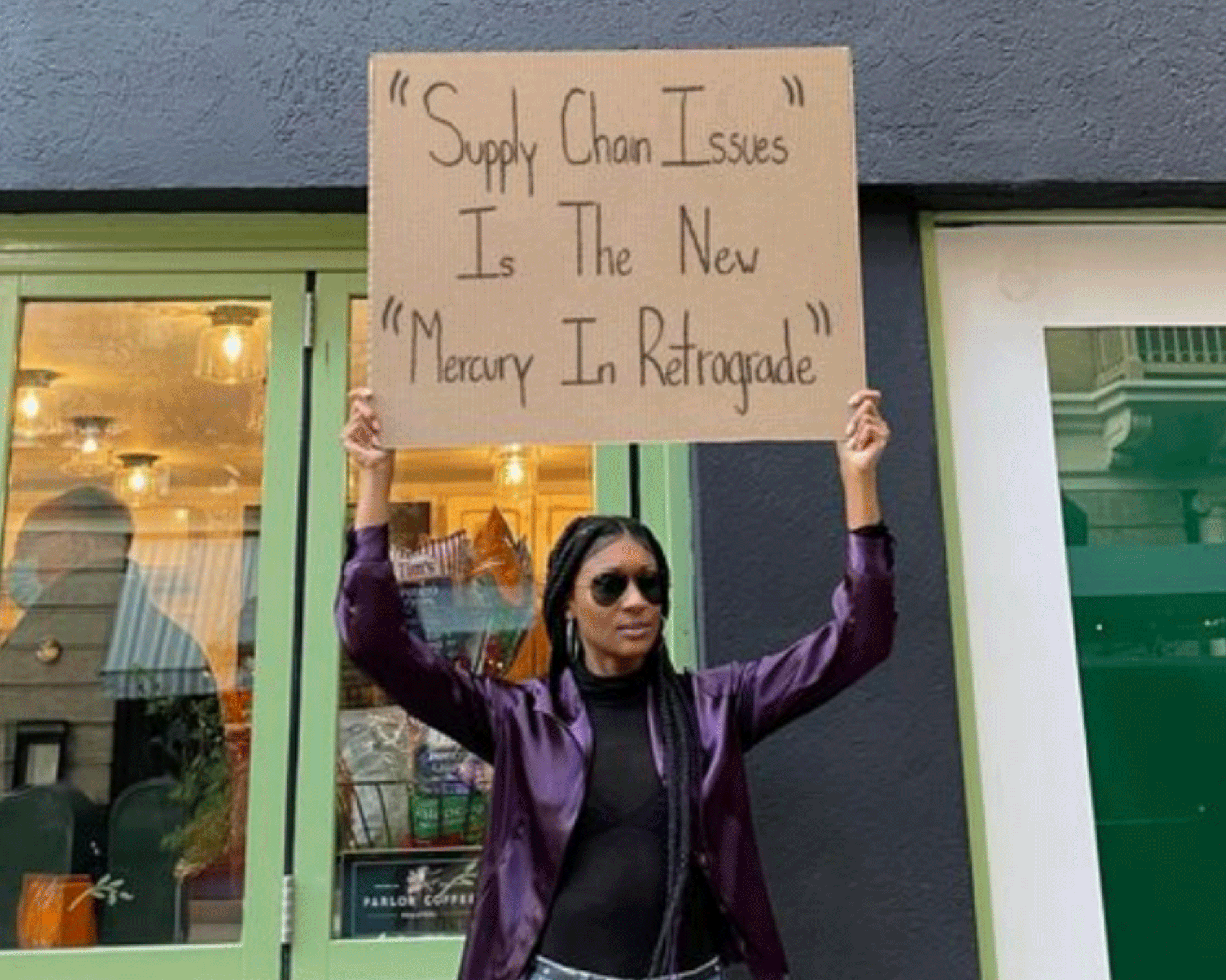 Despite all those supply chain headlines, businesses learned to cope, finding ways to manage supply chain shortages.
For example, thanks to demand sensing and shaping, retailers were able to spread 2021 holiday spending beyond Black Friday to the entire month of November, seeing strong sales numbers despite a decrease in big discounts and in-store traffic.
Predicting demand was never easy (with or without an astrologer), and, looking ahead, teams planning demand for retail will still have to grapple with global supply chain disruptions in 2022.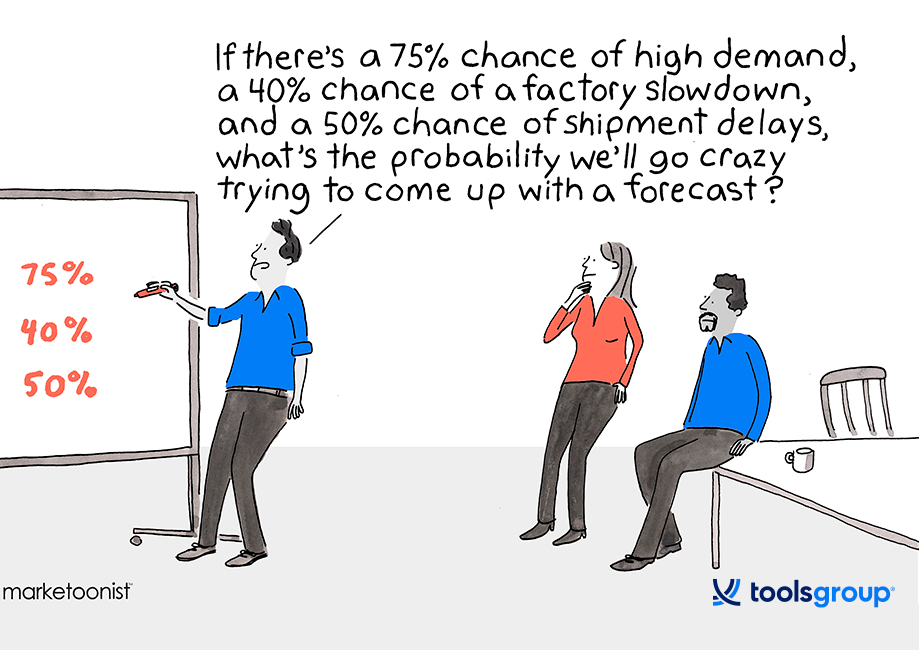 As explained by RBC Wealth Management, "Because the problems are well known, orders for raw materials, component parts, and finished goods are now being placed earlier than normal, which is lengthening the queue, creating a vicious cycle."
With consumers expecting brands to meet their demands – no matter what issues the supply chain may have – these 12 leaders are here to help.
Here are the top five lessons learned from 2021's supply chain challenges, with tips you can apply to uncover success in 2022.
Lesson #1: Global supply chain challenges have businesses turning to local suppliers
"Our company is focused on adopting the processes and technologies we need–and our customers need–to lead in the next decade and beyond. As part of that, we're shifting product sourcing from overseas to the US and diversifying our supplier base further to make the supply chain more reliable. We're also storing inventory closer to the customer. We recently opened a distribution center in Monterrey, Mexico, in an industrial park where several of our customers also have facilities."
– Daniel Harms, President of Americas, Optimas
"Pre pandemic we were importing the majority of our inventory from East Asia, in particular China and Japan. Covid has increased the amount of time it takes for foreign imports to reach us, and has significantly raised the price of importing products. We have therefore worked hard to build relationships with local suppliers in Northwestern USA. In particular, we have been building relationships with garages and auto repair centers in this region. These businesses often collect tires of high quality as spare inventory and do not have the infrastructure in place to sell them. We can take these off their hands efficiently and for a decent price, so it is a win-win for both of us."
– Mike Skoropad, CEO, United Tires
"Many businesses need to eliminate waste and implement sustainable supply chains that support many different types of products being fulfilled to a geographically diverse customer base. It's time to re-think how our products are manufactured and distributed. We're currently seeing a major paradigm shift away from mass manufacturing with long lead times being replaced by onshore and nearshore supply chains that are capable of manufacturing, distributing and fulfilling orders on-demand without the friction of ocean freight, labor shortages, and other bottlenecks."
– Alex Phelan, CEO, Merchadise
Lesson #2: Finding solutions in warehouses and distribution centers
"We learned that when you're scaling your business, good inventory control is all about having the right products in the right places so that you can dispatch items to customers at just the right time. And having multiple smaller warehouses in strategic locations can enable you to do this – especially in the beverage industry. However, this does require taking a deep dive into your data to see where the orders are coming from to ensure adequate stock levels at each distribution site."
– Jason Sherman, Founder and CEO, TapRm
"Our unique perspective in the industry allows us to see the pain points of online sellers. One of the greatest challenges we've seen leading up to the holiday season has been finding storage solutions for handling excess inventory. In order to avoid stockouts, many businesses have ramped up production, only to run into in-house and outsourced space constraints.
"With pressures from both the pandemic as well as the holiday season, online merchants have struggled to find ways to store excess inventory. Because of the timing, even outsourced warehousing providers are slim on space. The biggest lesson that sellers seem to be learning is to attempt to secure backup inventory storage options. Whether through a co-warehousing, sub-lease, or 3PL warehouse scenario, securing backup options has been a key way that sellers have battled this challenge."
– Will Schneider, President, WarehousingAndFulfillment.com
The biggest lesson that sellers seem to be learning is to attempt to secure backup inventory storage options.
"Just like every other company in the world who was and currently is negatively impacted by the supply chain crisis, we had to take certain measures to survive and even thrive. The most important moves we made were: we moved to a much larger corporate office and distribution center in TX, which allowed us to stock up as much as we could when the pandemic was starting.
"We were able to do this because we are a manufacturer of most of our products and this allowed us to bring in products at competitive pricing and quantities. We then opened a distribution center in Seattle to use their ports up there instead of the ports in Long Beach and Los Angeles, which are extremely backed up. Although the ports in Seattle are busy too, it allowed us a bit more leeway when scheduling our shipments from overseas."
– Frank Roemisch, Easyflex
Lesson #3: The need for supply chain management software
"The biggest lesson I've learned from this year's supply challenges is the importance of digitizing my company's supply chain management. Once I finally digitized my supply chain, I was able to fix the major weak points in my supply chain, some of which I was previously unaware of. Plugging these holes made my business more resilient in the face of numerous business challenges. Digitizing my supply chain has also enabled my enterprise to be more agile, allowing me the flexibility and adaptability to maneuver any disruption that may occur."
– Patrick Crane, CEO, Love Sew
"[With supply chain planning software] we can focus on more added-value work because the data crunching doesn't consume any time on our end. It's a good interaction between humans and machines. We let the machines do the dirty job, the one where humans don't add value and actually sometimes get things wrong."
– Ilaria Maruccia, EMEA WG&PGA SIOP Manager, Polaris
"We have implemented modern technology, like cloud ERP solutions, that could pivot and fulfill the challenges head-on. An ERP solution acts as a single business management platform for startups in any market. It links business records, data sources, and systems into a centralized system and integrates seamlessly with business-critical applications. Information from every department was synchronized, and it was easily accessed via a web-enabled device whenever and from wherever. We selected distribution management software, including warehouse management, inventory management, and order management apps, that unifies our agency's financials and sales activities."
– David Reid, Sales Director, VEM Group
"Rather than ordering from suppliers at the last minute, we have seen an increase in businesses using intelligent software to predict stock volumes and ensure products are ready and waiting in warehouses to be fulfilled rather than having items out of stock. No products on the shelves means customers will shop elsewhere and those opportunities shouldn't be missed."
– James Khoury, Zendbox
Lesson #4: People Are the Key to Overcoming Supply Chain Challenges
"Our group of suppliers has become more diverse, meaning that there are far more supplier relationships to manage now. Putting the people in place to build and manage these relationships has been the biggest challenge that we have faced.
"We have essentially built out a supplier development team whose only goal is to source suppliers. We hold them to sales-type KPIs and have bought in experienced account managers to train them. Do not be put off paying good money for good people. Hiring experienced supplier management staff really saved our business this year and although it was not cheap it paid itself back in spades."
– Mike Skoropad, CEO, United Tires
Hiring experienced supplier management staff really saved our business this year."
"Complacency is the enemy of innovation. Innovation is the currency that drives our startups, which is why we cannot afford to become complacent about what it takes to remain in wait at the highest level. We learn that caring for the mental well-being of our staff and prioritizing the things our individuals are required to perform at the top of their game needs to be as much a part of our overall strategy as any other business operation."
– David Reid, Sales Director, VEM Group
"The labor shortage has taught us that in order to keep good employees on your team, the company must take steps to make sure they are appreciated and properly compensated in order to keep things flowing."
– Frank Roemisch, Easyflex
Lesson #5: From Shipping to Stocking, Process Matters
"Supply chain delays and challenges had crippled major businesses and pushed companies towards bankruptcy. We managed our challenges with adequate planning and collaboration with the key drivers in our supply chain. We increased our lead times using air freight and dealt with delays through prior shipping agreements with our suppliers. Another challenge was managing our cash flows; we fixed that by tracking every expense using a system."
– Jessica Kats, E-commerce and Retail Expert, Soxy
"Meeting customer demands- especially during the busy holiday season- requires a well-planned roadmap showing when to restock, what to restock, and how to restock. There are several methods for restocking practices. These strategies are based on your business's resources and needs. We find that a top-off strategy works best when you have a busy warehouse.
"Our receiving team checks in newly arrived inventory at the beginning of their shift so that we have a clearer picture of what items are available to restock. But because there is a great deal of activity in the warehouse with people filling and packaging orders, the receivers wait to replenish inventory levels at the end of their shift. By topping off inventory at specific points in the day, we can maintain higher inventory levels for the order pickers."
– Jas Banwait, Co-Founder and CEO, Snack Magic
Leveraging 2021's Lessons to Prepare for Supply Chain Success in 2022
Life will always be full of lessons. Now is the time to take those lessons, apply them, and continue building resilience to be ready for anything.
Get more ways to plan for success in 2022 – no matter what curveballs lie ahead – in the Planner's Playbook for Rapid Response to Supply Chain Disruption.
Get My Free Playbook →