← BLOG
Holiday Shopping 2021: 6 Retailer Lessons from Black Friday and Cyber Monday (+ 4 Expert Insights)
For the largest shopping week of the year, this year's Black Friday provides insights retailers can't ignore.
Early numbers are in and – on first blush – the "biggest shopping day of the year" is undergoing a bit of a transformation. In-store foot traffic, while up 48 percent over what was a historic low in 2020, was still down 28 percent compared to pre-pandemic levels. Total sales also dropped 1.3 percent from 2020, with that number only getting worse once the entire holiday weekend is taken into account. Cyber Monday revenue – a reliable ecommerce performer year-over-year – showed mixed results pending the source, with an overall promising outlook.
We're talking single-digit declines here, but it's nevertheless unprecedented. Since Black Friday first started being tracked, ccording to Vivek Pandya, lead analyst for Adobe Digital Insights, a decline in sales has never happened. Even in 2020, amidst the height of the pandemic, revenue managed to climb apace, with ecommerce supplementing lackluster in-store foot traffic.
So what caused this? What lessons can we take away from this year's holiday?  And what does it mean for retailers going forward? We'll break it down six ways:
6 Black Friday and Cyber Monday Lessons for Retailers, Backed by 28 Statistics
1. Supply Chain Shortages Impacted Consumer Purchases
Quick – if I was to ask you what the hottest selling video game console was on Black Friday, what would you guess? The PS5? The Nintendo Switch?
Nope. It was the Xbox Series S – the cheaper, lower-spec, digital-only, rarely-mentioned cousin of the more popular Xbox Series X console. Like being told the market prefers frozen dairy dessert to ice cream, analysts have been tripping over themselves to try to explain why. Maybe the low price made the console a more accessible option for more families. Maybe its digital-only design fit more with the purchase activities of tweens and young adults everywhere.
But there's a far simpler explanation: It was available.
Out-of-stocks have risen 124% in November compared to last year, and if you have been following the news coverage, the video game industry is only one of many that have been hit hard by it.
In October 2021 alone, consumers were faced by over 2 billion out-of-stock messages online. In addition to electronics, other categories facing high out-of-stock levels include jewelry, apparel, home & garden, and pet products.
2. A Decline In Stock Means A Decline In Discounts
There's one reason – and one reason only – that Black Friday is the de-facto biggest shopping day of the season: Discounts! Unfortunately, this year, good deals were few and far between.
The numbers tell the real story – average sales price was down 7 percent, while average order value was up 11 percent. Oh, and sales volume was down 3 percent. Basically, on Black Friday, people were buying less and paying more, which isn't really a recipe of success when it comes to effective Black Friday promotions. But unfortunately, many retailers had their hands tied when it came to Cyber Week discounts.
Thinking in terms of their demand curve, most retailers were trying to maximize customer satisfaction – ensuring customers to get the item they want when they want it – while facing a shortfall of actual inventory.
The following Adobe data demonstrates discounts by category: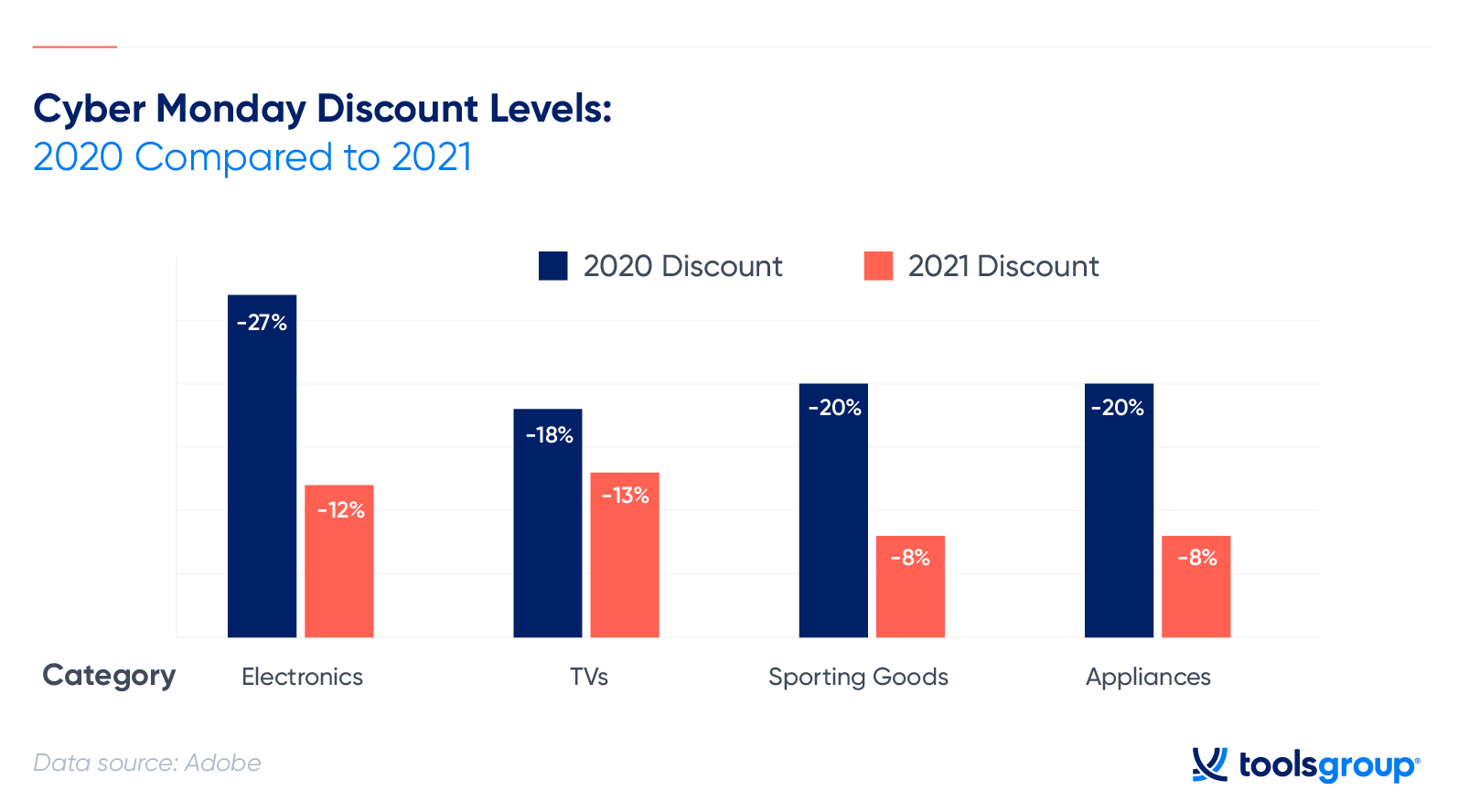 AlixPartners Managing Director Joel Rampoldt echoed these findings, sharing, "I observed much more brands trying to hold the line. For people who want early markdowns, they are just not going to be out there because the supply is more restricted, and the stores are going to need to sell what they have and be very thoughtful about how they do that. And that means they're going to mark down less and they're going to mark down later."
3. Demand Shaping Is Critical to Overcoming Supply Chain Shortages 
While Black Friday and Cyber Monday performance was down, do you know what wasn't? The entire month of November.
Spending in November increased 13.6% over 2020, with over 21 days where spending topped $3 billion (in context, 2020 only had eight). Given inventory challenges, retailers played their part in this trend, encouraging consumers to buy before Black Friday deals began.
According to marketing automation platform Klaviyo, leading up to Black Friday, its clients sent 13% more emails and 30% text messages to their customers.
NRF President and CEO Matthew Shay explained that this was all very intentional, saying, "Retailers have adapted and enticed customers with a number of incentives throughout November. The Thanksgiving holiday weekend remains a significant time for friends and families to check specific holiday items off their lists."

So what's the lesson for retailers?
For one, demand shaping continues to playa big part in how retailers can overcome supply chain shortages and ensure key revenue-generating times of the year continue on apace. Secondly, consumer awareness of supply chain shortages can further help retailers refine their demand shaping strategies.
Adobe Digital Insights Director Taylor Schreiner shared, "With early deals in October, consumers were not waiting around for discounts on big shopping days like Cyber Monday and Black Friday. This was further fueled by growing awareness of supply chain challenges and product availability. It spread out e-commerce spending across the months of October and November, putting us on track for a season that still will break online shopping records."
4. November Sales and Cyber Monday Statistics Demonstrate Consumer Spend is on the Rise  
Did Cyber Monday spend increase or decrease?
Well, it depends on who you ask:
It appears the efforts put into demand shaping paid off: Even the Adobe data demonstrates promise, reporting Cyber Monday remains the biggest online shopping day of the year at $10.7B in total spend, with peak hour spending reaching $12 million per minute.
Mastercard SpendingPulse data demonstrates a favorable trend for apparel brands in particular, with a 58% increase in apparel spend.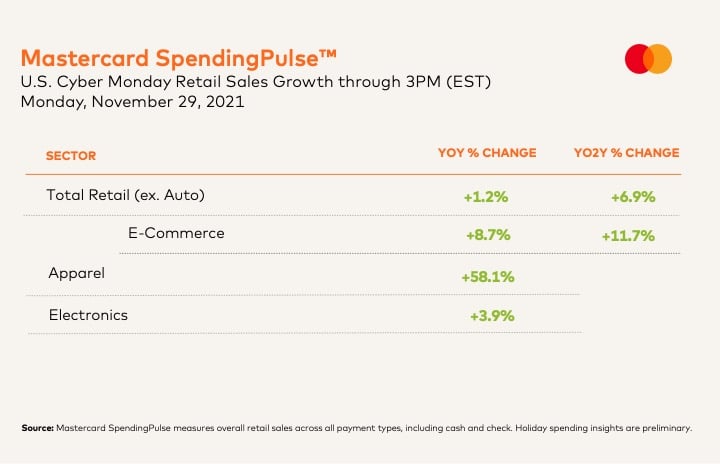 Image source: Mastercard
In fact, from November 2 to November 29th 2021, consumers in the United States spent $136 billion online – a 9% increase from 2020.
In addition, Salesforce reports that overall online sales hit an all-time high of $275 billion, with $62 billion in digital sales during Cyber Week.
An increase in consumer's disposable income offers opportunity for 2022.
According to the National Retail Federation (NRF), consumers' disposable income has gone up 4.1%. This means a win for retailers, as spending has increased by 12%.

5. Pandemic Shopping Behaviors Continue to Fuel an Omnichannel Approach to Retail
Decreased foot traffic and increased digital spend may be here to stay.
According to Rod Sides, Deloitte's sector leader for U.S. retail and distribution, "While consumer concerns about health and safety have eased since the last holiday season, pandemic-influenced shopping behaviors continue to gain traction."
Looking to 2022, Sides said, "Retailers who remain resilient to shifting consumer behaviors and offer convenient options for online and in-store shopping, as well as order fulfillment, will be poised for growth this holiday season, and into the new year."


Curbside pickup is one example of a pandemic shopping trend that has remained strong: For brands offering the service, 18% of all Cyber Monday orders used curbside pick up. This is down just 2% from 2020, demonstrating that – even when shoppers don't go inside – physical stores still hold value in the customer buying experience.
6. Retailers are Taking a Fresh Look at Their Inventory Planning Tools 
While shoppers choosing to spread out their purchases across the entire month may fundamentally change the dynamic around what we consider "Black Friday,"   there are retail inventory planning strategies available to take back control and improve product availability for customers.
Under today's supply constraints, retailers can't plan for open-to-buy as they have in the past.
When you can't order everything you want, it's critical to order the right mix of inventory based on what's available, what is wanted, where it's needed, at the highest margin. With visibility into upstream inventory constraints, retailers can plan ahead and ensure a smoother flow, and can avoid some of the crazy ups and downs that are clogging today's supply chains.
More retailers are also moving away from traditional best-pick demand forecasting to uncertainty forecasting, aka probabilistic forecasting, which takes uncertainty into account to help businesses manage risk.