← BLOG
Agile Supply Chain: How to Bend, Not Break, Your Supply Chain Planning Process
As businesses continue to seek ways to manage supply chain shortages, a strategic planning process is more important than ever.
Many supply chain leaders are exploring the concept of supply chain agility but are left scratching their heads. Breaking down the nuts and bolts behind the operation isn't always easy.
Never fear. I'm here to tell you all about what defines an agile supply chain, what differentiates it from other planning strategies, the importance of agility within the modern supply chain, and – best of all – how to implement an agile supply chain strategy.
What is an Agile Supply Chain?
An agile supply chain is all about flexibility. It uses data, automation, technology, and collaboration to quickly and efficiently respond to sudden changes in the marketplace, supply availability, and customer demand.
Let's break that down. You've got five requirements for an agile supply chain: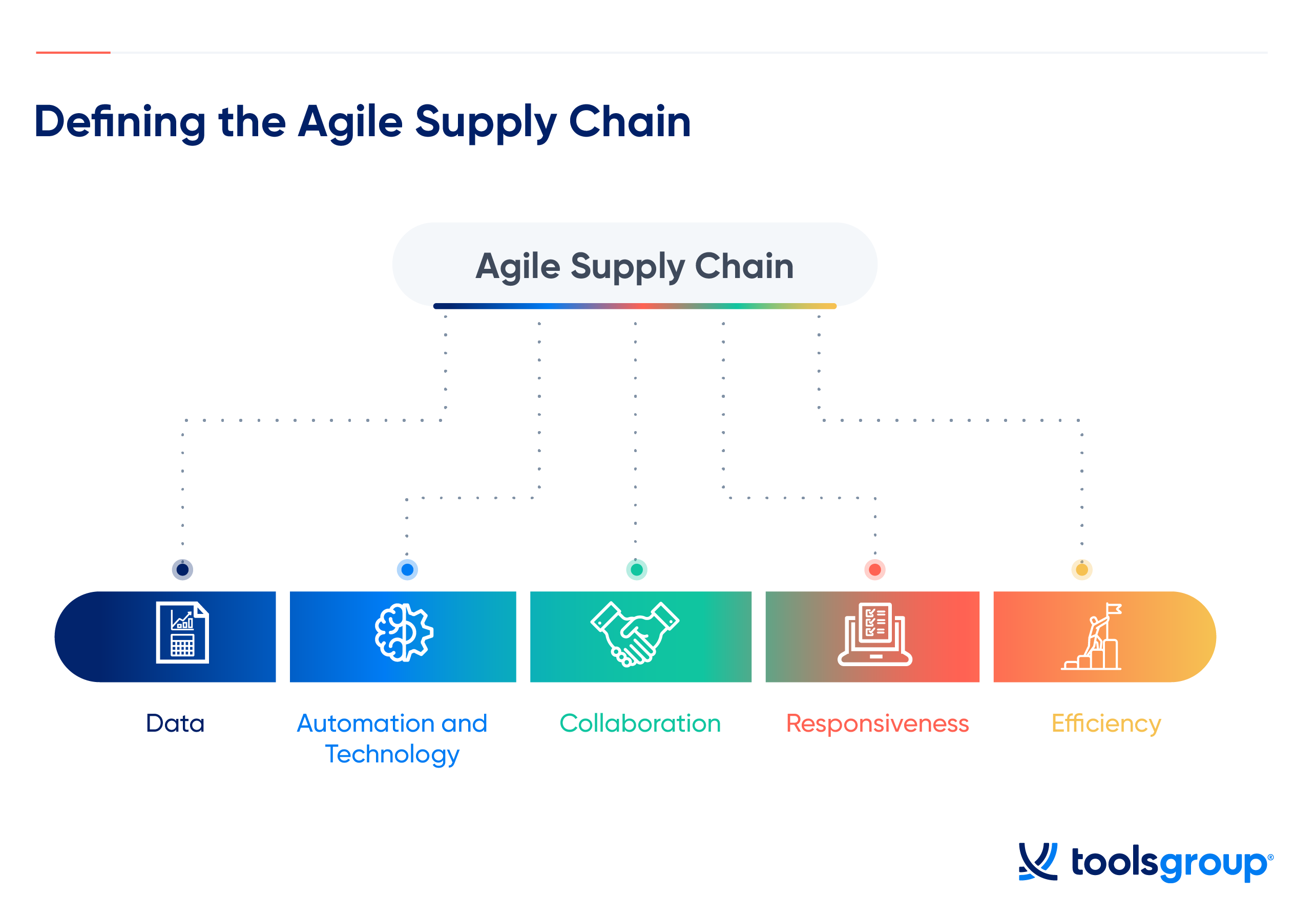 Data – With real-time data, you have increased visibility across your supply chain, enabling you to notice shifts in supply and demand patterns ahead of time, anticipate the effect of supply chain disruptions, and develop a plan of action more quickly.
Automation and Technology – You have supply chain planning systems in place that can process that real-time data – and automate your demand planning – while simultaneously limiting human error and guesstimates that can wreak havoc on your bottom line.
Collaboration – Collaboration helps grease the wheels of an agile supply chain. By breaking down organizational silos, teams can decide how best to respond to fluctuating demand by understanding how that response will impact the company as a whole. This type of insight can help you support the goals and balance the demands of different departments, a key distinguisher of successful S&OP practices.
Responsiveness –  Hesitancy is agility's nemesis, and the effects of disruptions tend to snowball quickly. If you have accurate data when you need it, your team can take decisive action earlier to mitigate those effects, boosting your inventory optimization and reputation among consumers to drive a competitive advantage.
Efficiency – Efficiency requires being adaptable and strategic with your available resources. Responding quickly to real-time data won't do you much good if you aren't able to pivot. But if you're agile, you are neither underprepared nor overreacting. Instead, you're calibrating stock levels, service targets, and planning approaches to be prepared for shortages without getting bogged down by obsolescence and warehousing costs.
What's the Difference Between Lean and Agile Supply Chains?
While they share some similarities, agile supply chains function differently from lean supply chains.
Lean supply chains aim to eliminate non-value added elements from every step of the supply chain, from the raw materials supply to the finished product on the shelf. Close collaboration between supply chain functions including inventory management, manufacturing, distribution, and retail operations is crucial to success. Planners typically use simple tools and FIFO lanes to respond to changes in near-term demand.
This process can be efficient and cost effective, provided the planning team has a highly accurate forecast and a steady, dependable pattern of supply and demand, not susceptible to volatility.
This technique is aided by strong relationships with suppliers and tends to be most effective when producing goods at high volume and low cost.
The downside?
The rigidity and minimalism of lean supply chains leave planners without a safety net.
If something goes wrong–say, a supplier cannot provide raw materials or a product's demand suddenly drops– they're not ready to adapt quickly. The inevitability of inaccurate forecasts often stymies planners using a lean approach.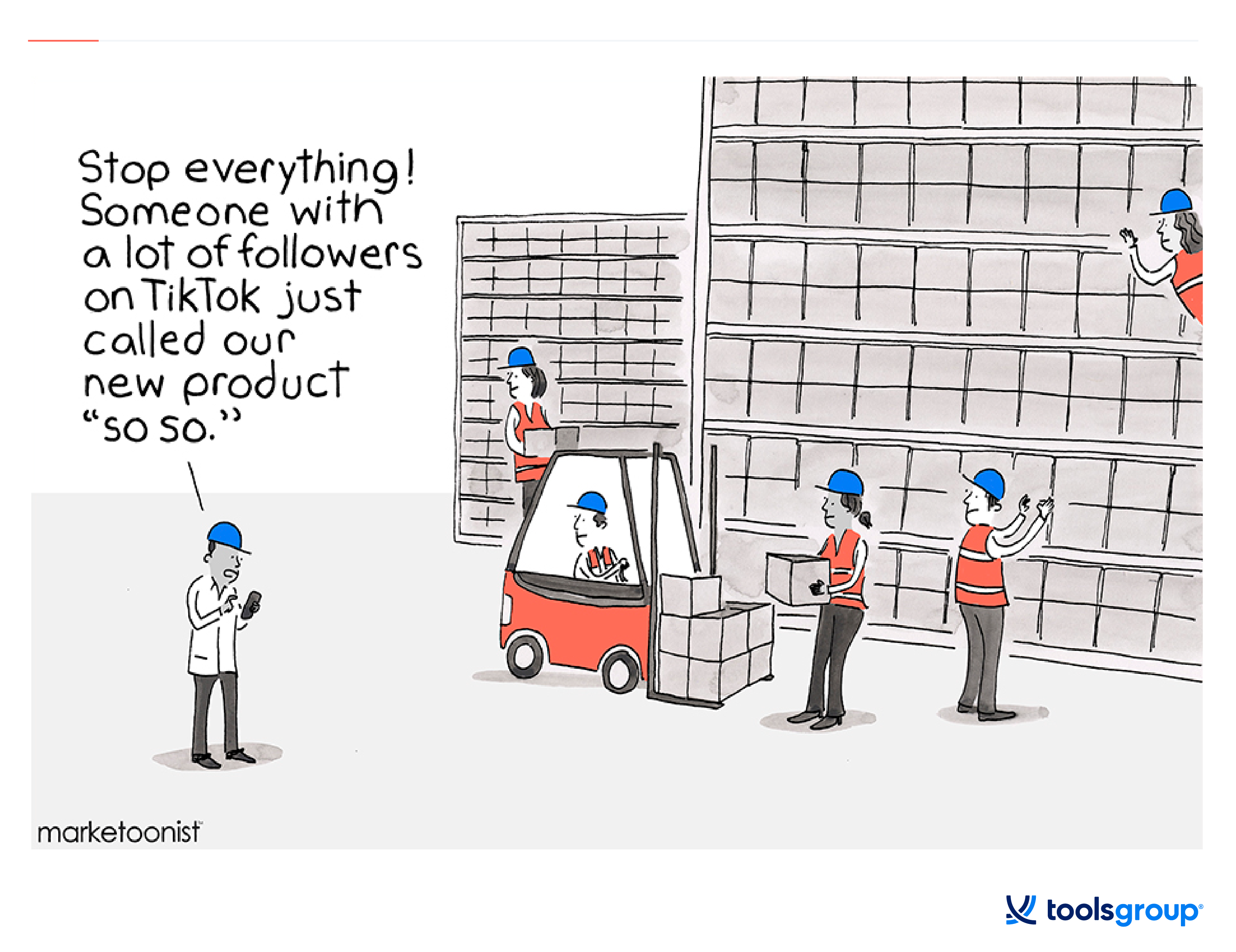 Like lean supply chains, agile supply chains tend to integrate vendors and suppliers closely into their planning processes. However, planners in agile supply chains are less focused on minimizing at all costs.
Instead, they're keeping their eyes on the market and incoming data and tracking trends. By waiting to see how consumers behave before completing production, they can accommodate shifting demand while still being cost effective.
This requires synchronizing incoming data into a real-time picture of consumer trends and available supply.
Planners in agile supply chains use automated forecasting and inventory tools that are sensitive to subtle shifts in demand and may recommend, for instance, a slightly higher safety stock level – which would be avoided in lean supply chains but would provide agile planners with a buffer against sudden increases in demand.
This agile approach enables companies to be flexible in choosing which items they make, how they produce those items, and where they send the finished products.
So which one is best for your industry?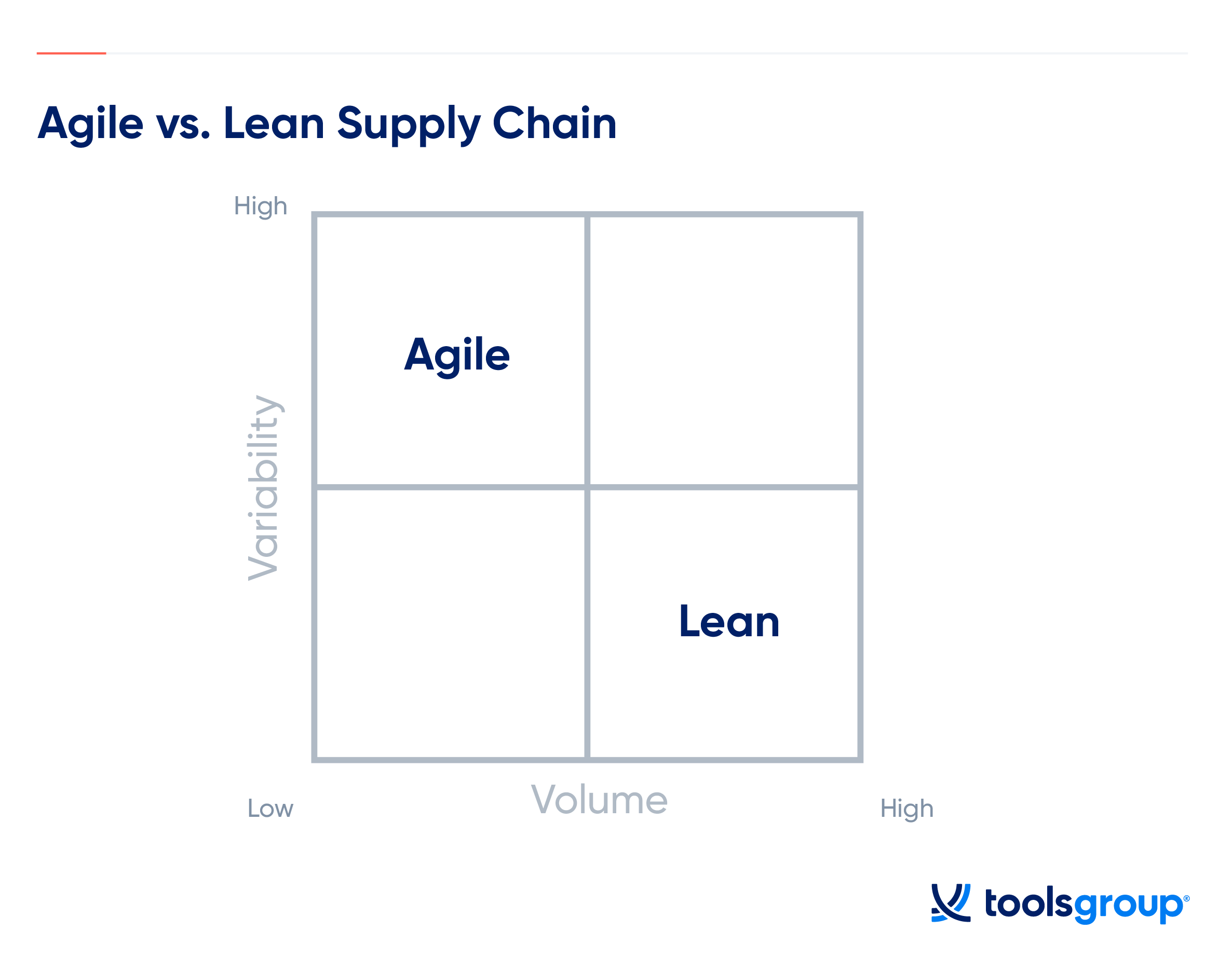 In the past, manufacturers of stable products with long lead times and consistent market behavior favored lean supply chains, whereas companies in fast fashion, food, and other rapidly-moving consumer goods tended to favor agility due to market variability.
Then Covid-19 came along. And suddenly everyone had to contend with market variability.
The inhibited supply of raw materials, bottlenecks and transportation issues, labor shortages, and rollercoaster demand patterns compelled companies to reevaluate their approaches to supply chain management.
According to IDC, 70% of companies are looking to improve supply chain visibility and 80% are looking for ways to be more agile.
The Benefits of an Agile Supply Chain
Agility provides some obvious advantages. With increased visibility, proper planning systems, speedier response times, improved collaboration, and efficient inventory management, an agile supply chain can:
Account for volatility and variable market demand
Get your inventory management under control, minimizing the risk of obsolescence
Reduce costs of production, warehousing, and transportation
Produce a broad portfolio more quickly
Break down organizational silos
Improve supplier visibility
Streamline clunky processes to improve planner productivity
With these systems in place, you're bolstering your relationships with your suppliers, filling empty shelves, and increasing consumer trust in your brand.
How to Implement an Agile Supply Chain Strategy
Now that you know the what and the why, let's talk about the how.
How do you go about implementing an agile supply chain? Here are some guidelines and tips.
Start at the end. Think about what you want your supply chain to look like when you've implemented your new planning process. Collaborate with key stakeholders and ask: What are your goals and how will you measure them?
Identify pain points. Gather feedback and consider your current obstacles and challenges. Identify your blind spots, your siloes, and your inefficiencies.
Assemble the team. Invest in a team dedicated to improving agility and give them the support and tools they need to explore planning options and implement best practices.
Invest in technology. Consider what supply chain software is best suited for your business. For example, demand sensing software can help plan for demand and optimal inventory levels. Incorporate your team's input when considering how it would be used in day-to-day operations.
Involve the whole ecosystem. Employees across departments are integral to this project. Train and equip your people to succeed and regularly gather their feedback so you can adjust and improve your workflows. With company wide buy-in, planners can work more closely with marketing on required inventory levels when planning promotions, and retail teams can align with finance during the merchandise financial planning process.
Communicate with your suppliers and customers. This minimizes the chances of catching them by surprise and undermining those relationships.
Be realistic but optimistic. Understand that change isn't easy – there will be some growing pains, but the results are worth it. Look for opportunities to measure results and share wins, demonstrating the benefits of the process company wide.
Wondering how other companies have successfully implemented an agile supply chain? Check out this video on an agile approach where Michela Vesta, Supply Chain PMO at RAJA Italy, discusses her strategies for increasing agility.
Supply Chain Software: The Key to Agility
An increasing number of companies are realizing the necessity of supply chain software.
According to a study from PwC, "34% of financial leaders surveyed plan to leverage automation to improve the speed and accuracy of decision-making within their supply chains."
In a recent study on supply chain digital transformation, we found that 42% of the organizations surveyed accelerated their digitization plans as a result of the pandemic.
Why?
Because we're living in an era where spreadsheets really don't cut it anymore.
They can't handle the data, they can't guarantee accuracy, they can't provide analytics, they can't flag exceptions, they anticipate trends.
Whether you're looking to improve your forecast, control your manufacturing processes, or use allocation software to get products where they are supposed to be on time, the right technology is essential.
By analyzing swathes of data and generating accurate forecasts and proposals, tools like digitalization, automation, AI, and machine learning help coordinate your network's logistical, financial, and planning operations– a critical capability in this age of supply shortages and erratic consumer trends.
If you're looking to become an industry leader, first survey the landscape.
Get the full study on today's modern supply chain, evolving business practices, and the factors driving digital transformation.
Final Takeaways: The Importance of an Agile Supply Chain
Let's sum up here.
An agile supply chain stays flexible to combat market volatility and alleviate the stresses on your supply chain, using a plethora of technologies and tools to support your team, improve your processes, minimize the effects of uncertainty, and make sure you stay adaptable.
Want to learn more about staying on your toes but don't know where to start? Discover the three key capabilities that will keep your supply chain ready for anything.