← BLOG
Three Tips for Building an Agile CPG Supply Chain
On the surface, it seems like the consumer packaged goods (CPG) industry performed better than most during the COVID pandemic.
Consumer goods e-commerce sales for example increased 91% year over year according to a NielsenIQ analysis.
But for this high SKU count industry where demand is as unpredictable as New England weather, the condition of many consumer goods supply chains is far from rosy.
Anticipate Consumer Demand and Supply Chain Uncertainty with Probabilistic Planning
No forecast can predict the future with absolute certainty.
For uncertain demand environments, probabilistic forecasting is the most reliable forecasting method because it takes inaccuracy and uncertainty into account.
According to Gartner, "Probabilistic planning (where the probability for different outcomes is calculated), would allow companies to set up their plans to be resilient to uncertainty so that the plans are more likely to be achievable and, thereby, deliver on their goals."
A ToolsGroup forecast knows it could be wrong and tells you by how much by providing all the potential outcomes as probabilities that may occur–providing a true picture of real-world variability so you can guarantee service to customers.
A probabilistic approach drives service levels and allows you to prepare for several outcomes through the supply chain.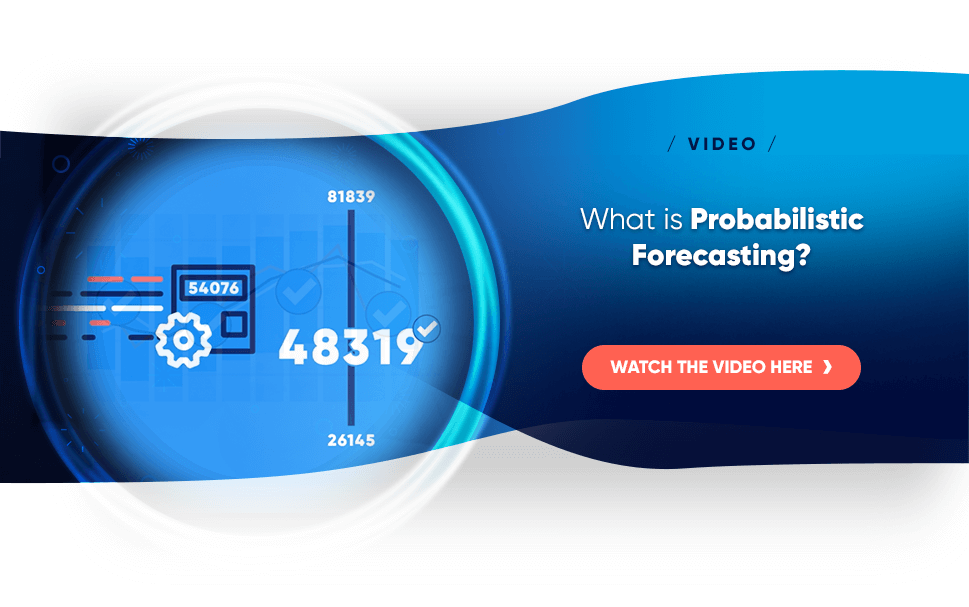 Sense Consumer Demand to Fine-Tune Forecasts
With a reliable probabilistic forecast as a foundation, now you can fine-tune.
Demand sensing is essentially the art and science of picking up on short-term trends immediately so you can better predict what consumers will want, when and where.
Instead of working with the same forecast for a month, you're empowered to challenge that forecast with the latest sales data and make improvements that boost profits.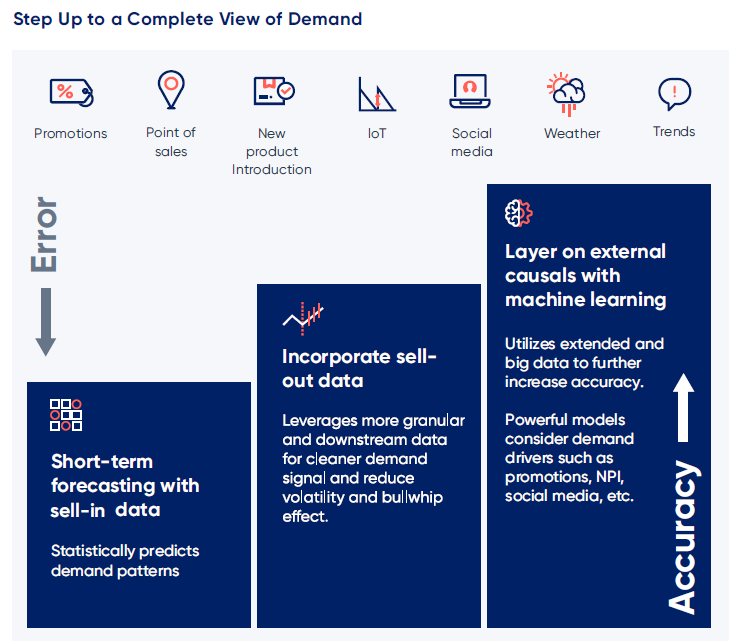 In addition to short-term forecasting, you can also "listen" to external data to gain further insight into demand changes.
Consumer goods supply chains are particularly well suited for this advanced demand sensing because of the wealth of rich downstream consumption data available.
Advanced demand analytics like machine learning can help to gain better insight from downstream demand data like point-of-sale (PoS), promotion, social media, NPI, weather, IoT, and more to improve near-term forecasts.
We've seen a growing trend of CPG companies benefiting from leveraging this downstream data.
A few examples we've written about are Amplifon (Miracle Ear) and a multi-national coffee bar company.
Make Sure Your Inventory is Healthy
Getting to healthy inventory levels is a natural result of leveraging downstream demand with demand sensing.
Consumer goods supply chains have arguably one of the toughest tasks here due to seasonal demand changes and new product introductions.
With the added challenge of demand and supplier instability, many CPG companies are stockpiling excess safety stock.
Employ a multi-echelon inventory strategy to protect supply chain integrity and plan inventory at every level.
Traditional inventory approaches create stockouts and waste.
But a multi-echelon inventory optimization approach proposes optimal inventory levels at each stage of the supply chain, simultaneously balancing across multiple echelons, locations and different levels.
As consumers demand more options and SKU counts skyrocket, the one-size-fits-all logic is outdated.
A better approach is to assign a different service target to each individual SKU-L, achieving the desired global service level.
The way to achieve that is by improving service while minimizing inventory to ensure desired customer service with optimally balanced inventory.
"We had one customer re-up because we could provide them service they couldn't get anywhere else. And we accomplished it without increasing inventory or manufacturing capacity," says Dale Groetsema, Supply Chain Leader for Boise, a manufacturer that produces over 475,000 tons of commodity and specialty papers annually.
Boise was able to reduce inventory by over 20% and improve service levels by three full points.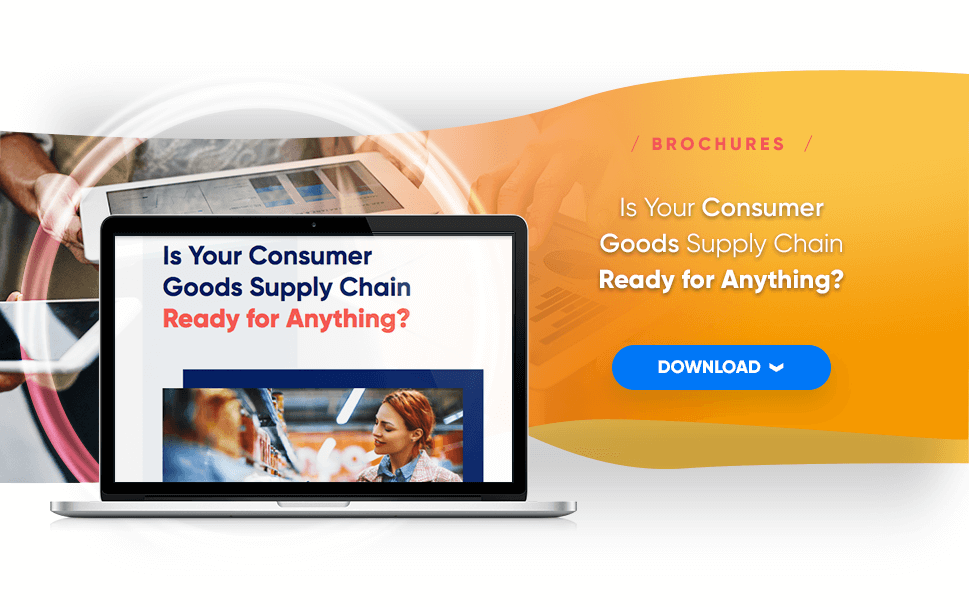 Invest in Digital Planning to Stay Abreast of Evolving Consumer Needs
According to a report by the Consumer Goods Executive Council, a portrait of the new consumer has emerged: digital and demanding.
Quality of service, brands that align with their values and product availability are high priorities for today's digital consumer.
Predicting future behavior will be heavily reliant on demand forecasting and planning, demand sensing and inventory optimization technologies as revealed in the ToolsGroup/CSCMP 2021 Digital Transformation in Supply Chain Planning survey.
Granarolo, a leading milk and dairy company, is a perfect illustration of a supply chain operating in an environment characterized by short shelf life and strong promotional pressures.
Granarolo runs thousands of promotions annually, producing 34,000-item promotion forecasting combinations and causing demand peaks up to 30 times baseline sales.
By digitizing supply chain planning, Granarolo brought its average forecast reliability to about 95 percent for fresh milk and cream and 88 percent for yogurt and dessert.
Inventory levels were reduced by more than 50 percent, cutting capital and lead time in half.
By reducing delivery time by 50 percent, Granarolo also significantly increased product freshness and minimized obsolescence.
The pandemic accelerated digitization plans across multiple industries and supply chain leaders are leaning on technologies to keep up with evolving customer behaviors– the top driver of supply chain digital transformation.
The good news is that most consumer goods companies already have the data they need to achieve big improvements in forecasting and supply chain planning.
The focus now needs to be on the right technology to improve forecasts, inventory and service levels.