← BLOG
How Supply Chain Optimization Enhances Your Strategic Business Plan
Most successful companies complete annual strategic business plans in order to identify and execute upon growth opportunities. Likewise, many growth-oriented companies employ supply chain planning (SCP) software to facilitate their growth and improve efficiency and customer service. However, few fully integrate their SCP strategies into their strategic planning. Doing so has great advantages as documented below.
To begin, a comprehensive strategic or business plan includes the following key components:
Executive Summary: as the name implies, this section summarizes your entire plan
Company Overview: describes the company's mission and achievements to-date
Industry Analysis: details the industry size and trends
Customer Analysis: identifies and describes the key customer segments served
Competitive Analysis: identifies key competitors, their strengths and weaknesses, and your areas of competitive advantage
Marketing Plan: documents your strategy for attracting and retaining customers and developing new products and services
Operations Plan: details your key day-to-day activities and identifies the long-term milestones your company hopes to achieve
Management Team: documents the key members of your team
Financial Plan: forecasts your financial performance and identifies funding needs, if applicable, to execute on your plan
Below are the strategic planning sections that are most impacted by proper supply chain planning:
Financial Plan
Companies that implement SCP gain significant financial advantages that positively impact their financial planning and performance. Among other things, demand forecasting and inventory optimization can minimize inventory, decrease transportation costs and reduce overhead expenses. This in turn allows companies to grow faster with less external financing needs. Likewise, by limiting or eliminating out-of-stock inventories, SCP allows companies to maximize sales.
As such, when appropriate SCP systems are in place, your financial team can more effectively and accurately plan for the future. Sales are maximized, costs are reduced, and external financing requirements are minimized.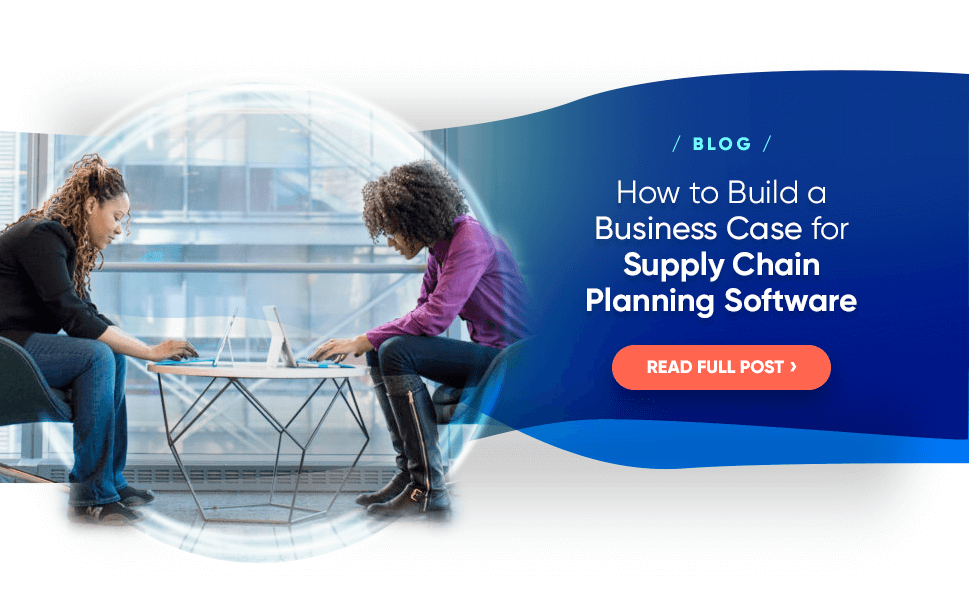 Customer Analysis
The Customer Analysis section of your strategic plan details the customer segments you serve, their wants and needs, and how you will satisfy their needs.
The right SCP system should be an integral part of your plan to satisfy customers. By reducing out-of-stock inventories and/or late shipments, customer satisfaction will clearly rise. Importantly, this will also build customer trust and loyalty, which increase profitability in both the short and long-term.
Competitive Analysis
Most industries are highly competitive. And more often than not, competitive advantages are tenuous.
You should always seek to gain additional areas of competitive advantage. Typically, advantages occur in the forms of better products/services or marketing (branding, promotions, etc.). In other cases, they are based on employee productivity and cost-effectiveness. Digital planning systems can prove invaluable in raising customer service levels and elevating efficiency and productivity. Particularly if you're in a highly competitive industry, having better SCP systems than other companies should be a welcome area of competitive advantage.
Marketing Plan
Your marketing plan details the products and services you offer/will offer, your pricing, your distribution model, and how you will promote your offerings to customers.
When thinking through their promotional strategies, most companies don't fully account for supply chain issues. Specifically, while most companies would love to offer a promotion that resulted in a massive influx of new customers and sales, proper promotion forecasting is challenging. Out-of-stocks and excess inventory is common, resulting in  your company incurring increased costs for rush orders to fulfill demand, or slashing prices to sell off extra product.
Conversely, with the right promotions planning within your SCP systems, you can realize the benefits of promotions (e.g., increased sales and profits) without these potential negative effects.
Operations Plan
In your operations plan you must detail the core day-to-day activities your company performs, the staff required to perform them, and identify the long-term milestones you hope to achieve.
Your SCP systems can dramatically improve your operations planning. Having the right SCP systems allows you to improve the effectiveness of your team. Less number crunching by analysts is needed as the SCP system provides that benefit. Likewise, less time is needed to manage the supply chain and less workers are needed to handle traditional supply chain hiccups (e.g., a vendor's parts showing up late).
With your SCP systems improving the efficiency of your supply chain related workforce, your company is freed up to focus on other key company growth initiatives such as sales growth, expanding into new geographic territories, launching new products, etc.
Summary
Having the right supply chain planning systems installed in your company allows you to decrease costs, improve customer satisfaction, reduce lost sales and drive profits. Plus, when you integrate these benefits into your strategic plan, you'll find your company has more capital and bandwidth to pursue growth initiatives. The result is both short and long-term company growth and competitive advantage for which every company should strive.
Dave Lavinsky is the president and co-founder of Growthink. Since 1999, Growthink has developed business and strategic plans for more than 5,000 companies and their business plan template has been used by over 1 million entrepreneurs and businesses.