← BLOG
The Top 15 Omnichannel Retail Trends to Watch in 2023
Your digital and brick-and-mortar sales channels aren't operating in separate vacuums. 
In fact, according to Harvard Business Review, 73% of shoppers prefer shopping via multiple channels.  
In a world where customer expectations are higher (some food delivery services actually put the groceries right into your fridge), and where customers select retailers based on products being in stock and reliability of delivery, optimizing the customer experience is a must to stay on top. 
With Google reporting that omnichannel shoppers have a lifetime value that is 30% higher than those who only shop via one channel, getting your omnichannel strategy right is critical to creating a customer experience that drives profitability. 
That's where omnichannel retail trends enter the equation. In this post, we're covering the top omnichannel trends that are earning market share. Read till the end to find tips on how to execute these trends and boost ROI.
What is the Omnichannel Retail Experience?
The omnichannel retail experience connects sales channels in the physical and digital worlds, creating a seamless shopping experience for customers. Essentially, omnichannel retailing connects a brand's various modes of selling. 
Examples of ways customers are using omnichannel retail include:
Buy online and pick up in-store (BOPIS)

Buy online and return in-store (BORIS)

Using shop-by-store features to check inventory availability before going to make purchases in-store

Researching products in-store then buying online

Buying products in-store, then having them shipped to their homes

Researching products online, then going to buy them in-person

Buying in-store with digital payment methods that connect to e-commerce loyalty programs 
2022's Top Omnichannel Retail Trends
Omnichannel is king in 2022. 
Whether you're looking to set up a physical store to complement your existing digital presence, or you're a brick-and-mortar operation looking to expand into the digital marketplace, you'll want to know which omnichannel capabilities to incorporate into your strategy.
Here are 15 omnichannel trends to consider adopting this year.
1. Leveraging Omnichannel Retail to Create a Seamless Shopping Experience
According to Deloitte, 96% of retail executives believe consumers want a seamless experience across channels in 2022.
Statista research further demonstrates the importance global executives place on an omnichannel strategy, with 67% of North American and European e-commerce decision-makers reporting an omnichannel strategy as very or quite important.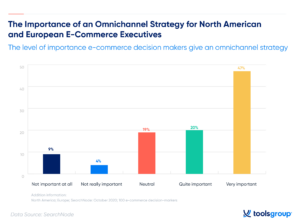 BOPIS (more on that in a moment) is one of the most common examples of omnichannel retailing.
When looking at how omnichannel retail increases sales, consider the fact that 54% of consumers say they are likely to look at a product online and then purchase it in-store.
Alternatively, 53%  of consumers say they are likely to look at it in-store before purchasing a product online, demonstrating how consumers use multiple channels for both the consideration and purchase phases of the buyer's journey.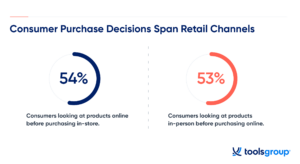 In creating a seamless omnichannel experience, it is imperative to ensure your products are available when and where the customer expects them, with inventory optimized to the ideal location. 
Imagine when a customer spends the time to search your digital platform, make their purchase decision, enter their payment details, then travel to your store…only to find that item is, in fact, no longer in stock. 
Inventory availability is the heart of a smooth omnichannel experience and is required to overcome the risks (such as decreased loyalty and the loss of repeat purchases and referrals) when omnichannel goes wrong.
2. Inventory Visibility
Today's retailers are embracing inventory visibility to streamline omnichannel operations. By connecting their systems and utilizing a single source of truth for operational inventory, they can get real-time data on how transactions are affecting inventory levels across locations.
This inventory visibility gives retailers the ability to re-allocate items when needed and enables an improved shop-by-store experience for customers.
Giving customers these real-time inventory insights are crucial for retailers across the globe. 
Google's global research on countries including Australia, Brazil, Canada, France, Germany, Italy, Great Britain, and the United States revealed that 46% of shoppers confirm inventory availability online before going to stores.

The number increases with younger generations: 60% of Gen Z customers sometimes or always check in-store inventory availability online before going to make a purchase in-store.
3. E-commerce to Brick-and-Mortar
As pandemic anxiety dwindled, consumers began scratching their long-neglected itch for the in-store shopping experience. 
Despite the fact that two in five shoppers "couldn't live without online shopping," 54% of consumers prefer a brick-and-mortar shopping experience above any other channel.

Sales growth on Shopify's POS outpaced e-commerce growth in 2021, and this isn't as surprising as one might assume. 47% of consumers report that having a local presence significantly impacts the brands they shop from, and 32% of brands are answering this need by establishing pop-up shops around the country. 
Digitally native brands that thrived during lockdown are taking advantage of retail vacancies and favorable commercial lease terms to plant roots in the physical retail space. 
31% of brands said they plan on expanding or establishing a physical retail footprint this year.

4. The Rise of Buy Online Pick-Up In Store (BOPIS) 
The BOPIS strategy takes the shopping experience to new heights, providing unprecedented convenience. It allows customers to get the best of both worlds: Online browsing (with filtered searches, of course) and the instant gratification of in-store pickup. 🙌
The pandemic naturally gave rise to this trend due to the need to limit contact with others. However, even with shutdowns behind us, now that people have experienced the convenience of curbside pickup, it's a trend that's here to stay–and one that drives results.
According to Google, omnichannel strategies drive an 80% higher rate of incremental store visits. 
Once at the brick-and-mortar location, 85% of BOPIS customers make an additional purchase in-store, yielding more sales and higher basket size.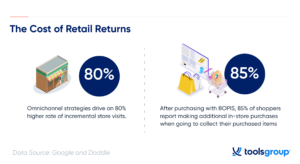 The financial benefits of this program are so worthwhile, retailers are offering discounts to encourage the use of BOPIS and click-and-collect services. 
Take Ulta, for example.
The cosmetics brand is sending push notifications to its app users, offering shoppers a promo code for $10 off when they buy online and pick up their purchase in-store or curbside.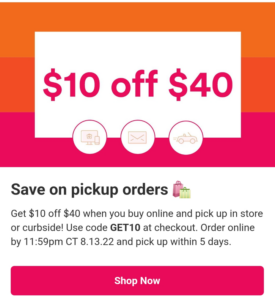 Offering BOPIS is now a must-have, but underlying tech constraints may contribute to inventory inaccuracies, data processing delays, and disjointed customer journeys.  
When working to create a seamless omnichannel experience, logistics and inventory tracking are the biggest challenges retailers face when implementing and managing this strategy.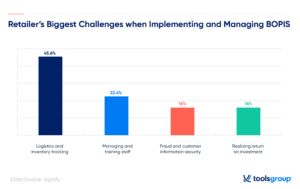 The solution to this challenge?
A central source of inventory data that can enhance location awareness — creating an improved BOPIS or curbside pickup experience and driving more in-store sales.
Retail planning systems that offer features including automated allocation and replenishment also help retailers maximize efficiency while ensuring products are in the optimal locations. 
5. Buy Online, Return In-Store (BORIS)
Today customers don't just want the option to pick-up purchases in-store; they want the ability for in-person returns as well.
To meet these expectations, retailers are implementing buy online, return in-store (BORIS). This allows customers to return online purchases in-store with nothing but their emailed purchase confirmation. 
In-person returns save customers from the need to print a shipping label, package up returns, and get out that noisy roll of packing tape.
While in-store returns can be an inconvenience for retailers–particularly when it comes to localized assortments–it does provide benefits in terms of that seamless omnichannel customer experience retailers seek to achieve. 
It also drives revenue: According to Shopify, offering the option to return in-store increases the likelihood of purchase by a global average of 47%.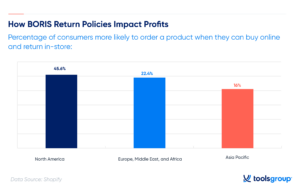 6. Social Media Selling
Social media scrolling is the new window shopping. 
Social commerce is popping more than ever, with sales set to triple by 2025. Compliment your friend's outfit, and there's an increasing likelihood they'll say they discovered it on TikTok or Instagram. 
Consider this example of a seamless social commerce shopping experience. 
You're scrolling through your friend's stories on Instagram, when suddenly a sponsored ad appears. Instagram has the data on what you like, so there's a good chance it appeals to your desire for an impulse purchase.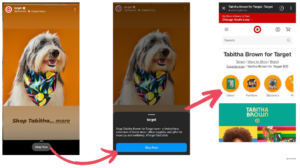 You click "shop now," taking you to the store's website, where you filter products to view what's in stock at your local store. You then make your purchase, selecting in-store pick-up, and collect it on your way home from work the next day.
And just like that, you've experienced firsthand how social media can drive impulse purchases.
Platforms are also adding new features to simplify social selling and increase customer engagement, with some tactics, such as live streaming, growing in popularity.
Livestream selling app installs were 61% higher between January 2021 and September 2021 than in that same period in 2020, and global ad spend for social commerce was 26% higher in Q3 of 2021 than in Q3 of 2020.
7. Leveraging Customer Data
If you want to optimize the omnichannel customer experience, you need data.
Google Chrome isn't blocking third-party cookies until 2023, but it's happening nonetheless. That, in conjunction with customers' heightened privacy concerns, is the reason many brands are shifting toward first-party data.
In 2022, 42% of brands plan to offer personalized product recommendations by way of quizzes, custom mobile apps, and first-party or third-party behavioral data.
And in response to growing privacy concerns, 44% of brands are prioritizing transparency in how they use customer data.
Customer data is also available through a variety of other sources, such as customer loyalty programs and POS data.
Don't look to the past. Use your data to predict the future.
Spreadsheets are one way to manage customer data and inventory plans, but they only provide historical data–making inaccurate demand forecasts more likely.
With a post-pandemic word causing additional forecasting challenges, retailers are planning for the future–and covering opportunities missed by their competitors–thanks to retail forecasting tools powered by AI.
For example, demand sensing software helps you extract signals from noisy demand and rapidly react to market changes, ensuring you can meet customer demand downstream.
Find out why you should be using demand sensing to react faster to market changes →
8. Personalization
Omnichannel personalization occurs when retailers can combine customer data from multiple channels and platforms with other sources of data, such as loyalty programs, product reviews, or POS data.
This enables brands to create an overall picture of consumer preferences, and, as a result, make strategic decisions and offer messaging customized to an individual's interests.
Examples of these messages can include promotions and other advertisements as well as product recommendations.
Personalization based on interests and past purchases heavily impacts purchasing decisions. 
One way to capitalize on this is by integrating your point-of-sale system with your e-commerce platform. This omnichannel approach provides a holistic view of the customer's purchase history.
9. Supply Chain Collaboration
The initial disruptions of the pandemic may be behind us, but the supply chain is still rife with challenges.
According to Deloitte, 68% of retail executives believe that supply chain disruption will impact growth. 

While retailers are working to build resilience, Jackie Ferrari, Founder and Chief Executive, American Fashion Network LLC, explains how there is still room for retailers to improve, sharing with the Wall Street Journal: "Covid was a time to rethink how you do things, but I don't see many retailers making fundamental changes in their supply chains…They got intoxicated by people rushing back to stores and went back to their old habits."
As retailers continue to improve coordination throughout each link of the supply chain, a focus on communication, both internally and with suppliers, will help optimize product flow and capacity planning throughout the supply chain. 
Improving collaboration and communication helps overcome a fragmented supply chain, and other challenges such as uncertain lead times.
10. Automation 
Omnichannel is all about optimizing the customer experience, and automation simplifies that process with tools like customer support chatbots, behavioral triggers that automate personalization, automated abandoned cart messages, and more.
Automation also plays a key role in the retail planning process. It reduces the level of effort required to conduct planning, allocation, and replenishment, resulting in a 25% increase in planning efficiency.

11. Customer Expectations: The Need for Consistency, Speed, and Stock Availability 
As omnichannel competition rises, so do customer expectations, and the desire for consistency, speed, and inventory availability across all channels.
As a result, 35% of companies are planning to invest in more customer service channels. Retailers are also upping their game when it comes to technology, data analytics, and transparent communications with customers.

Consistency
90% of customers expect consistent interactions across sales channels. 
They want the promo code they find on social media to work in stores. They want the sale reflected on the site's homepage to be honored in-store. They want their cart to remain consistent whether they are shopping online or in the app.
To meet these high expectations, retailers are collecting more first-party data and regularly updating it.
It is also important to understand how omnichannel marketing fits into your overall strategy. The entire organization–including in-store associates interacting with customers are aligned on the management and execution of any promotions you are offering.
Speed
Whether buying online or having it delivered to their homes, customers want their products at speed. 
90% of consumers view 2-to-3 day shipping as the baseline expectation, and 30% expect same-day delivery. 
With so many households in the United States having an Amazon Prime subscription, the expectations for two-day delivery come at no surprise. 
Specialty retailers have taken note, with 75% of specialty retail supply chain leaders making two-day delivery a priority.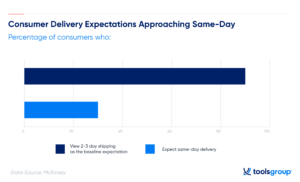 Proper allocation of inventory is vital for meeting these demands, while offering the added benefit of cost savings. 
Product Availability and Optimized Inventory
50% of customers use BOPIS for its convenience, and discovering a product you've already paid for online is now unavailable is far from convenient. 
That inconvenience costs retailers more than lost revenue–it also has a negative impact on long-term loyalty. A recent Retail Touchpoints report demonstrates that retailers' number one loyalty challenge is out-of-stocks caused by supply chain disruptions, as cited by 44% of respondents.
12. Contactless Payment
Retailers are offering more methods of contactless payment across all sales channels. 
For example, not only are online stores accepting Apple Pay, but physical stores are also accepting Apple Pay and other contactless "tap" payments. 
A Mastercard study of 17,000 consumers across 19 countries (including Australia, France, Germany, Italy, UK, US, Span, and South Africa)  demonstrates that 79% of consumers worldwide are using touch-free payment.  
Contactless shopping doesn't stop with in-store payment, though. With curbside pickup, customers never have to exit their vehicles or have a single employee interaction.
13. Digital Transformation 
Making sure that only in-stock items are available for online purchase requires a single source of truth for product and inventory information. That's why retailers are integrating their tech stack to provide a consistent inventory view across all channels.
Technology can also transform the way brands handle customer support by predicting the issue before the customer explains the reason for the call and by connecting phone, email, and messaging support chats for seamless hand-offs.
Retail planning software enables seamless data transfer, helping retailers meet inventory targets in times of unpredictable demand and availability. Retailers rely on this automation technology to eliminate the need for manual reconciliation, data entry, and purchase order generation.
14. Appointment Shopping
Appointment shopping is as simple as making a reservation: All customers need to do is make an appointment online, then show up at their selected time to shop in-store.
Throughout 2021, the number of installs for appointment booking apps increased by 23% globally.
Shopify merchants are using these apps as part of their omnichannel sales strategy by booking one-on-one appointments that enable a truly personalized in-store shopping experience.
Here's an example of the appointment shopping experience offered by Nordstrom: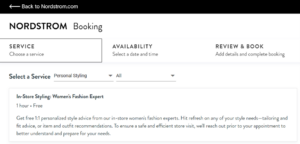 With the option for women's styling, men's styling, buying a gift, and more, Nordstrom stylists give customers a free service–and the confidence that their purchases will keep them on-trend–while also boosting the company's bottom line.
The strategy is a hit for consumers, with 34% likely to participate in 2022.

15. Sustainability and Social Responsibility
According to a global study by PwC, environmental, social, and governance (ESG) factors affect the purchase decisions of 40% of consumers worldwide. 
Across the 25 countries and territories that participated in PwC's survey, ESG factors had the most influence on shopping behaviors in India, the Philippines, and Vietnam, and with the least impact in Japan, France, and Hong Kong.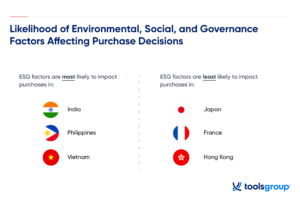 Many of today's consumers are willing to pay more for sustainable products. While consumerism isn't exactly conducive to a sustainable lifestyle, omnichannel might be bridging that gap in the coming years.
Subscription services help keep shoppers off the road, limiting purchase-related emissions to the delivery driver. Some retailers are sharing emissions data with customers by adding carbon footprint labels to certain products or sales channels. 
Some retailers in closed-loop systems are opting for reusable packaging as well. 
Alla Valente, Forrester Senior Analyst, recommends, "If you offer secondhand or refurbished goods in your assortment, promote those to customers who may be looking for sustainable (and available) options."
If you offer secondhand or refurbished goods in your assortment, promote those to customers who may be looking for sustainable (and available) options."
How to Apply Today's Trends to Your Omnichannel Retail Strategy 
Today's omnichannel retail trends are working wonders for both retailers and consumers.
Consider the fact that, at Target, multichannel customers spend 10 times more than digital-only customers and four times more than in-store shoppers.  
Zara boosted digital sales by 74% after adopting omnichannel. 
So, how can brands new to these omnichannel trends jumpstart or improve their strategy?
Communication and collaboration will always play a part in success.
According to Brian Cornell, Target Chairman and CEO, "The days of only one function driving any successful initiative are behind us. Everything we do requires strong coordination of cross-functional teams—from digital to store operations to merchants and more, everyone plays an integral role. And it all starts with a clear understanding of consumer expectations and the right prioritization."
The days of only one function driving any successful initiative are behind us. Everything we do requires strong coordination of cross-functional teams—from digital to store operations to merchants and more, everyone plays an integral role. And it all starts with a clear understanding of consumer expectations and the right prioritization."
Getting the right technology is also crucial in omnichannel retailing. 
You need to connect your view of inventory across sales channels, giving you the inventory visibility required to gain a competitive advantage.  
Don't just collect customer and inventory data. Power your analytics with AI in order to:  
More accurately forecast demand to meet ensure inventory availability

Meet consumer's need for speed with improved product allocation 

Personalize the shopping experience
Most of all, remember that omnichannel retail trends are constantly evolving, and with the supply chain being volatile at best, inventory optimization and advanced inventory planning tools are vital to meeting customer expectations. 
Interested in learning more?
Check out our proven retailer ROI report to see how a comprehensive retail planning solution can transform your omnichannel strategy.