← BLOG
Retail Supply Chain Planning Best Practices from Frost & Sullivan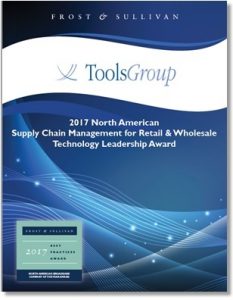 Frost & Sullivan has reported its best practices in technology leadership in supply chain management for the Retail and Wholesale Distribution Industry. The global research and consulting organization starts by saying, "Forecasting demand and positioning inventory has become difficult for retailers in a multi-channel environment." But they cite three best practices for excelling in this challenging environment:
Improved demand planning by leveraging data from order lines, channels, points-of-sale, and marketing
Advanced demand analytics and demand sensing(bolstered by machine learning) for finding patterns
Supply Chain Planning (SCP) built around a single, end-to-end, highly automated and probabilistic model that reduces demand data latency
One key component of retail SCP excellence, according to the firm, is the use of a bottom-up approach to demand forecasting. Many companies still employ a top-down method, creating a single, aggregate demand number to drive their forecast. They say retail SCP excellence is empowered by bottom-up techniques that incorporates granular details like the line items in customer orders. This "outside-in" tactic translates multi-channel demand into the forecast and supply chain.
Frost & Sullivan focuses on elements that can't be adequately accounted for with traditional forecasting—things like promotional impact, social sentiment, sales potential of new product launches, and changing external data and macroeconomic indicators. The business consulting firm says as much as 30% of revenue can be linked to these demand shapers and early indicators of product demand.
The firm says demand sensing helps forecast which inventory to produce and where to stage it through the ability to listen to social channels and gage social sentiment. Retailers that exhibit SCP excellence not only predict potential performance through early indicators like social media and web page visits; they turn machine learning loose on product attribute clusters and market characteristics to "learn" from historical data and strengthen the forecasts. The machine learning engine can engage across all supply chain planning, including demand forecasting and collaboration, S&OP, demand sensing, promotion forecasting, and multi-echelon inventory optimization.
Retailers that exhibit excellence in supply chain planning also synchronize demand and supply. They not only forecast more accurately, but also replenish inventory optimally with new orders and allocations. Frost & Sullivan cites a retailer that manages more than 6000 points-of-sale with only one demand planner. The company gets data every 15 minutes to monitor demand, inventory, and replenishment requirements with almost no human intervention. Their best practices achieve greater supply chain visibility, increased shelf fill rates, and reduced lost sales at point-of-sale.