← BLOG
What You Need To Know About The State Of The Retail Worker Shortage
Retail workers are at the heart of the economy, making the continued retail labor shortage a top challenge for retailers–one that appears here to stay.
Some headlines provide hope, with statistics showing improvement, while others give mixed messages.
For example, according to a recent PwC survey, acquiring and maintaining talent is one of the top two risks for business executives. Yet 50% of these same executives are reducing headcount.
The Current State of the Retail Worker Shortage: Are Retail Workers in Demand?
The worker shortage exists on an odd see-saw that swings between labor shortages and the effects of Covid-era over-hiring.
With reports of retail layoffs and overstaffing at companies (such as Walmart and Amazon) to cover Omicron-related staffing shortages, it would appear the shortage of workers may be abating.
Yet according to retail advisory firm IHL, "The most significant challenges to inventory distortion are the availability of workers and the disruptions outside of the immediate control of the retailer."
Overall, the situation is fraught with uncertainty, and the worker shortage is a major concern to retailers–particularly with the increased demand for associates during the holiday season.
Retail Labor Shortage Statistics – The Numbers Behind the Headlines
As per a recent report by CNBC, the labor department in the United States has 5.5 million more job vacancies in retail than the workforce available to fill those jobs.
The risks surrounding the retail labor shortage aren't new.
In October 2021, Brian Olsavky, CFO of Amazon, claimed that the company would require 150,000 extra workers to cater to the heightened customer demands during the holiday season.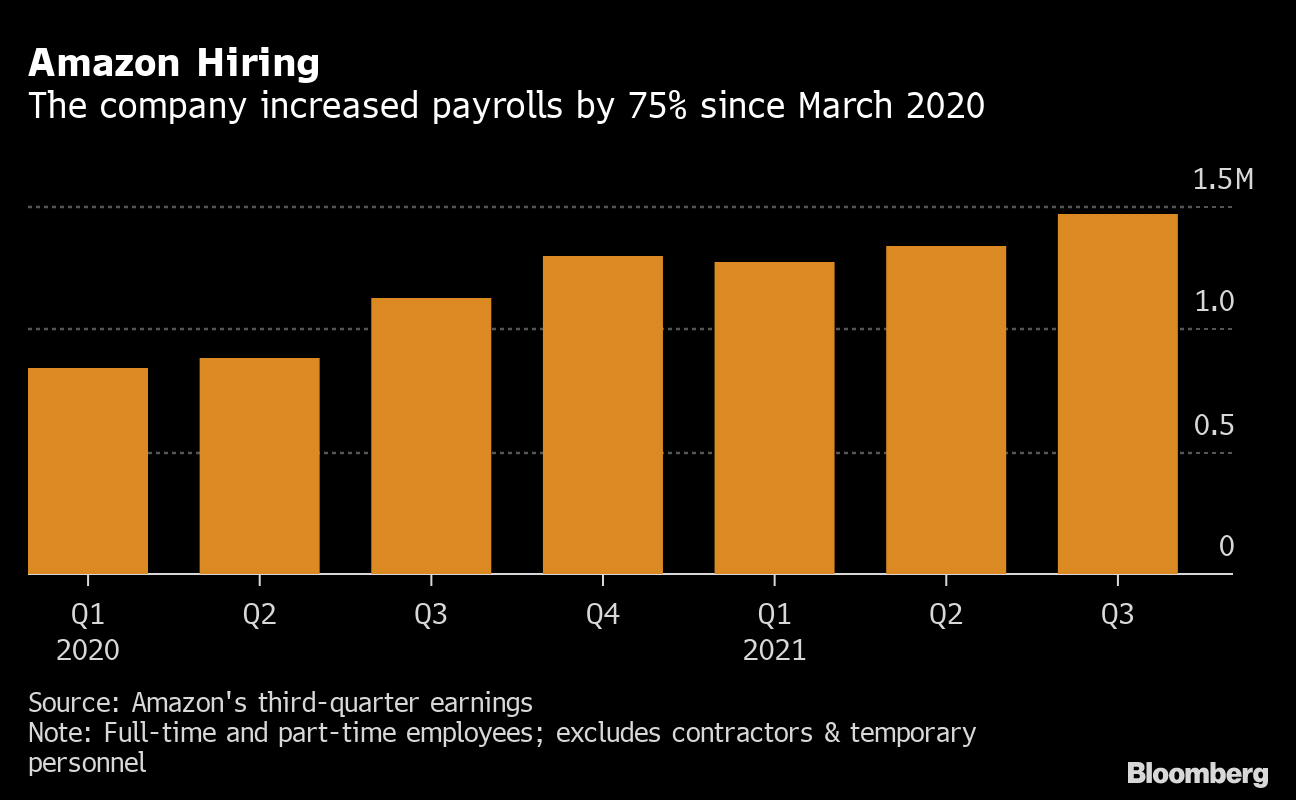 Source: Bloomberg.com
And now, almost a year later, retailers are still concerned about filling positions.
According to NRF, employers across industries are struggling to find and retain workers, with the national labor force participation rate still 1.3% below its February 2020 rate, despite enticements like improved workplace flexibility, benefits, and wages.
The article states that "presently, there are nearly two open jobs for every unemployed worker."
Additional statistics further illustrate the continued prevalence of the global retail labor shortage.
A Mixed Message: Hiring Halts and Reductions Despite Continued Shortages
Despite the need for retail staff, the hiring spree to meet the surging demand for retail workers did suffer a pullback.
And as recession skirts the edges of budget plans, more companies are rethinking their hiring strategies. Retailers are no exception.
Facing an economic downturn, we've seen retail layoffs at a number of major players in the industry, including Allbirds, Bed Bath & Beyond, PVH Corp., Shopify, ThredUp, and Walmart.
Looking at the hiring landscape, it is evident that the retail sector has been exposed to unprecedented challenges, which have further worsened since the pandemic
Covid has provided the opportunity and the space to consider alternate avenues of income, preferably ones that have more scope for career growth.
But the Labor Shortage Remains a Top Retailer Challenge
Despite some improvements, a shortage of skilled workers remains a challenge across both frontline workers and executive offices.
Where Are All the Retail Workers?
The demand for retail workers to fill positions in stores, warehouses, and the manufacturing plants of vertically integrated retailers is not decreasing anytime soon.
As explained by McKinsey, "No other US industry is more affected by the 'Great Attrition' than retail, simply because it employs more people than any other sector in the US economy."
From the United States to Europe, it's a worldwide challenge for retailers.
Consider that:
Some retail industries which require specific skills and experience, like the luxury industry, have been facing a shortage of in-store workers who can feel the pulse of high-profile Gen-Z clients as well as old-school veterans.
Moreover, the new policy of purchasing online and picking up in-store adds to the already high-stress environment for in-store employees. When customers arrive curbside to collect their purchase, they have no intention of waiting.

The Importance of Finding Frontline Retail Staff for Peak Holiday Season
When looking to the holidays, retailers who want to maximize peak season profit opportunities need frontline workers more than ever.
Last-minute gift givers depend on in-store shopping for last-minute purchases. Others do their holiday shopping in-person to ensure they are picking a present with quality that shows they care.
And those extra shoppers signal a need for more associates, not only due to extended shopping hours, but to keep lines to a minimum. Those who don't have enough staff risk losing profits at the finish line: According to original research by IHL and ToolsGroup, 14.5% of people leave stores without buying what they intended to purchase simply because the line was too long.
Retailers looking for extra holiday staff also face another risk: The growing trend of "quiet quitting."
According to Forbes, retailers planned to hire 500,000 to 665,000 seasonal employees in 2021. However, waning employee loyalty in the retail sector may widen the workforce gaps and make filling positions–even seasonal ones–with enthusiastic employees more of a struggle.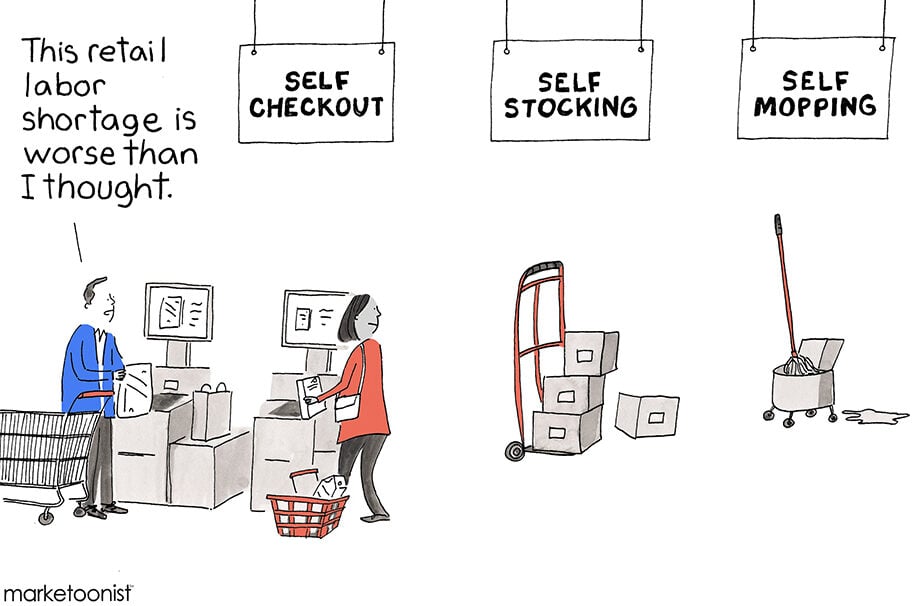 The Need for Corporate Retail Talent
When discussing the retail labor shortage, many focus on retail associates interacting with customers, or other frontline workers in manufacturing, warehouses, and distribution.
But with a shortage of skilled workers in office jobs as well, retailers are also in need of white-collar workers. In addition to existing hiring plans, employee retention could prove to be a problem, with a global PwC study revealing 1 in 5 employees are likely to quit in 2022.
In the wake of the Great Resignation, retail executives are taking action to retain corporate employees.
For instance, Target offered its workers the opportunity to work in a hybrid model where employees could determine when they would need to be in the office and when they would rather work from forecasthome.
Retailers who need to fill corporate positions face the same challenges they face when looking for store associates: There's not enough workers. Applications for white-collar jobs have reached a "breaking point," falling 35% between May and June of 2022.
Sourcing staff with the skills needed for a digitally-transformed economy also proves difficult–particularly when data analytics are essential to unlocking business growth.
Data-driven decision gives retailers increased efficiency, minimized waste, and the ability to spot opportunities to increase profits and customer loyalty. But the data science abilities needed by corporate brands often aren't taught in college, making it even harder to find staff with these skills.
According to Upwork's 2022 Future Workforce Report, data science and analytics roles are the hardest to fill, as cited by 60% of hiring managers.
Effects of the Labor Shortage on Corporate Workers
A shortage of workers means even retail executives are facing long hours, high-stress, and endless to-do lists.
But there's another–surprising–result from the shortage of store associates.
To optimize labor costs, retail enterprises are asking their corporate workforce to multi-task, managing the store as well as the system operations.
Macy's, for instance, has been urging its corporate employees to work in-store during holiday sales, when customer traffic is at an all-time high.
As per the memo, "Experience Elevation Elves," Macy's asked its corporate employees to opt to work in-store for three days, 9-to-5 shifts, at a time when the company wanted to fill 76,000 vacancies in its stores.
Online grocery store Hy-Vee announced in 2022 that it would shift 500 of its corporate workforce to in-store jobs, to minimize expenses.
Why Is There a Shortage of Retail Workers?
Three main factors play a role in the ongoing hiring difficulties.
How to Hire in a Labor Shortage: Attract More Retail Staff and Meet Customer Expectations
Meeting consumer expectations depends on retail team members who work in-person.
From behind-the-scenes operations and dispatching shipments to stocking shelves and interacting with customers, the shopping experience depends on work that can't be done remotely.
And with customer loyalty levels on the decline, the need to source these frontline retail workers is more imperative than ever to business success.
Heading into peak holiday shopping season, here's how companies can attract and grow a strong employee base.

Overcoming Retail Labor Shortages with Technology
When looking for ways to solve the retail worker shortage, one of the top tactics companies are turning towards is technology and automation.
Here are some of the myriad ways technologies are meeting the challenges of the worker shortage.
Creating the Optimal In-Store Experience for Employees and Customers
As more companies continue to boost wages to stay competitive, authentic care for every associate is the best way to attract high-quality talent. In turn, the care you show employees builds morale and job satisfaction, resulting in a better customer experience and increased customer loyalty.
It's also important to remember that retail runs on inventory. Optimized inventory means customers are less likely to turn to store associates for help when products are out-of-stock, increasing satisfaction for customers and retail workers alike.  Real time inventory visibility provides the same benefits, giving shoppers and staff the ability to see exactly what stock is available in-store.
Find out how you can leverage inventory to create the optimal experience for everyone at your store, and stay up to date on the latest retail-related risks and opportunities.
Check out the State of Retail Inventory and discover nine actionable tactics for overcoming inventory disruptions.