← BLOG
Q&A with Three-Time Women in Supply Chain Award Winner, Inna Kuznetsova
We recently had the opportunity to sit down with Inna Kuznetsova, three-time winner of the Food Logistics and Supply & Demand Chain Executive's Women in Supply Chain award.
Over the course of her career, Inna has occupied multiple positions of leadership within the technology and supply chain arenas. She has a history of lending her considerable experience and unique perspective to pioneering new initiatives, strategies, and methodologies. She also is an advocate for women, and, as discussed below, has initiated the ToolGroup Women's Network to support the advancement of women in supply chain and across industries.
In her first year as CEO of ToolsGroup, Inna has led the evolution of the company on all fronts – from product development to customer relationships. Under her guidance, ToolsGroup has made significant enhancements to its solutions and successfully integrated acquired technologies into its supply chain planning suites. ToolsGroup has also gained industry recognition, including being named a Notable Vendor in the Gartner® Midmarket Context: Magic Quadrant™ for Supply Chain Planning Solution.
Read on for her insights on 2024 supply chain trends, innovation, and women in the workplace.
1. What key challenges and trends will affect supply chains going into 2024? How will the role of supply chain within the global economy change?
Inna: Supply chains will continue to be a great focus of the C-suite and investors in 2024. High interest rates and inflation impact the disposable incomes, reduce sales forecasts sharply, and contribute to the extensive pressures on working capital.
In addition, the geopolitical factors impacting sourcing and re-shoring (changing the locations of productions to elevate risks imposed by the relationship with China) are likely to continue throughout 2024 until we see the inflation and interest rates going down.
As a result, all supply chains will continue to attract scrutiny for efficiency, flexibility, and optimization – and investment for improvement. It is one of the best places to be if you want to make the world better, because this is where the action is.
Supply chain is one of the best places to be if you want to make the world better because that is where the action is."
2. How can companies best prepare for these trends? What technology/strategies should they be implementing? How are you preparing and supporting your customers?
Inna: Managing supply chain and retail planning efficiently requires deep knowledge and the right tools.
First, with a large number of SKUs, stores and locations, it is prime for leveraging AI for deep granularity.
Second, new risks – and the last few years show that new supply chain risks emerge daily – can and should be factored into demand and supply forecasting through the use of probabilistic models. As a pioneer of using the probabilistic model in supply chain planning ToolsGroup knows first-hand how efficient it can be in lowering or even completely avoiding the bullwhip effect.
Third, leveraging a digital twin for full inventory visibility in real time becomes more and more critical.
Fourth, there is a growing trend in the industry for connecting the planning and execution – from production planning and network design to allocation and order management. It provides for anticipating the changes and adjusting to the changing market conditions faster.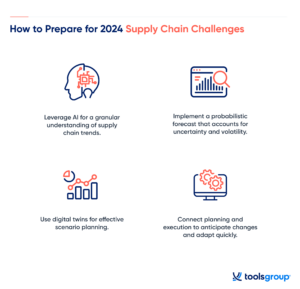 3. What do you think are the particular strengths women contribute to business objectives and supply chain success, and how can companies better empower women to leverage those strengths?
Inna: I think companies benefit from deploying and empowering the best talent regardless of gender. Men and women can equally contribute professionally. I am not a fan of stereotyping and assigning certain skills or abilities to each gender; all people are different and have strengths and weaknesses regardless of their sex.
What companies should do to stay competitive is to offer an environment where nobody feels disadvantaged because of who they are – including a need to fight biases or feeling included. It starts from the top and it is important for management on all levels to watch out and promote the right behavior. In addition, women are often disadvantaged by having less access to networks, mentorship, coaching or being 'seen' in leadership roles. This is why we have created the women's network to bring in examples of great role models, change the perception, and offer a safe, supportive environment to share experiences and seek advice.
Offer an environment where nobody feels disadvantaged because of who they are. It starts from the top and it is important for management on all levels to watch out and promote the right behavior."
4. How can women better advocate for themselves? What lessons have you learned that you would pass on to the next generation?
Inna: Like many women of my generation, I have encountered biases such as being interrupted more frequently than men or being held to higher standards. While my male counterparts often stepped up based on potential, I found that I had to earn promotions through concrete achievements. These situations are widely acknowledged to erode our confidence, foster imposter syndrome, and curtail our opportunities for engaging in significant projects and obtaining promotions.
One of the most valuable lessons I've acquired is to avoid attributing my challenges solely to my gender. Instead of dwelling on the origins of these challenges, I've chosen to concentrate on strategies to overcome them. It means striving for continuous professional growth, pushing my own boundaries, pursuing bigger objectives, and embracing higher risks that might intimidate others.
Another crucial insight I've gained is the necessity of cultivating a diverse network. Often, opportunities arise from connections with individuals we only know in passing. Someone with whom I've shared a panel discussion, engaged in conversation at an event, or connected with through social media could very well become a catalyst for new job prospects or exciting projects. Their networks and spheres of influence might differ more significantly from mine than those of my immediate colleagues and friends. Thus, the process of constructing a personal brand, expanding networks, widening access, assisting others in advancing, and seeking assistance when required becomes an essential skill to master.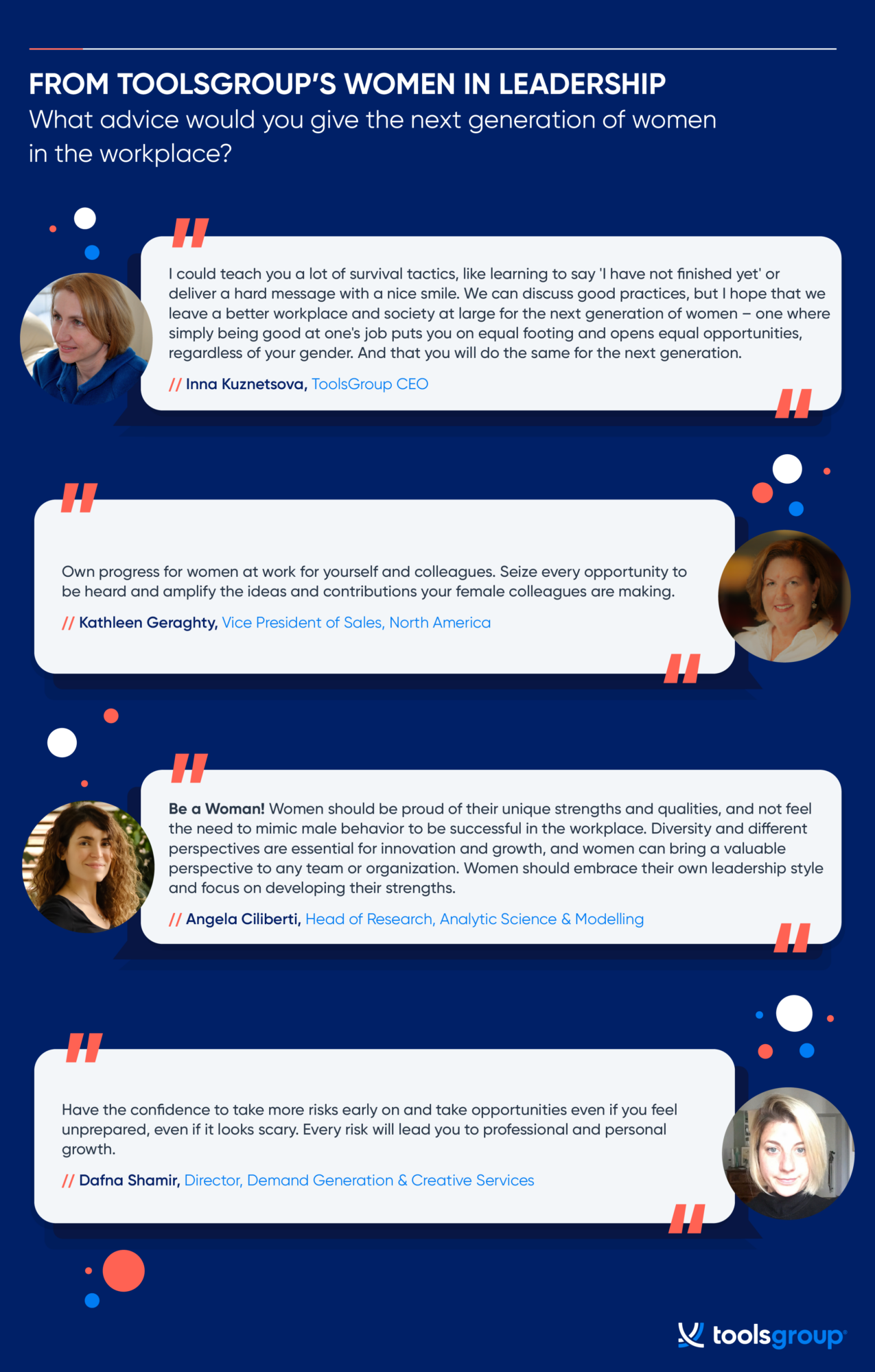 GARTNER is a registered trademark and service mark of Gartner, Inc. and/or its affiliates in the U.S. and internationally and is used herein with permission. All rights reserved.
Magic Quadrant is a registered trademark of Gartner, Inc. and/or its affiliates and is used herein with permission. All rights reserved.
Gartner does not endorse any vendor, product or service depicted in its research publications, and does not advise technology users to select only those vendors with the highest ratings or other designation. Gartner research publications consist of the opinions of Gartner's research organization and should not be construed as statements of fact. Gartner disclaims all warranties, expressed or implied, with respect to this research, including any warranties of merchantability or fitness for a particular purpose.