← BLOG
ToolsGroup Announces Launch of Dynamic Fulfillment for Real-Time Order Fulfillment Optimization in Retail
Looking for a deeper discussion on Dynamic Fulfillment? Register for our upcoming webinar here and get an in-depth view from the experts.
Managing omnichannel fulfillment is complicated. And the larger your network, the more complicated it becomes.
Trying to manage an effective ship-from-store program only exasperates this issue.
You not only need to manage an ever-increasing lot of centralized distribution centers, but hundreds of stores on top of it.
Being expected to evaluate every possible option at the time an order is placed in order to find the highest margin, lowest cost option can often feel absolutely overwhelming.
This is why ToolsGroup is thrilled to announce the launch of our Dynamic Fulfillment solution.
A significant addition to our Inventory Hub® product, Dynamic Fulfillment leverages advanced optimization logic to determine what to ship, from where, in real-time, to reduce shipping costs, improve margins, and satisfy empowered customers. By interfacing with existing order management systems, Dynamic Fulfillment empowers retailers to see results faster and deliver business benefits immediately.
Hear more about this exciting launch from our CEO, Inna Kuznetsova:
Omnichannel fulfillment introduces new complexity into sourcing decisions. The increased size of the fulfillment network – from a handful of centralized fulfillment centers to hundreds of stores – makes it difficult to evaluate every possible option at the time an order is placed.

Our Dynamic Fulfillment solution analyzes hundreds of thousands of fulfillment permutations in real-time and optimizes based on multiple variables, considerably reducing shipping costs and delivering significant margin improvements."
Keep reading to discover what makes Dynamic Fulfillment such an essential tool for retailers around the world, as well as the true differentiating value it can provide for your business.
Debuting Dynamic Fulfillment
Dynamic Fulfillment was created with one goal in mind – making omnichannel fulfillment easier and more profitable. It accomplishes this in a number of different ways:
Reduce actual cost-to-serve by minimizing shipping and labor costs
Increase margins by avoiding forecasted markdowns in stores
Maximize profitability while meeting customer SLAs
Integrate seamlessly with any OMS through API-powered composable architecture
Power faster, more accurate decision making with real-time data on inventory
The results amongst current Dynamic Fulfillment customers are staggering – an average of 3-5% savings on average shipping costs, to go along with a 1-2% margin improvement thanks to markdown avoidance.
How Dynamic Fulfillment Works
Dynamic Fulfillment, as opposed to traditionally static, rules-based sourcing logic, is built on a comprehensive, cost-based approach.
The reasons for this are many.
Traditional sourcing uses sequential rules to make decisions, but as a result it can only consider fulfillment locations that meet the selected criteria "rules" to be selected. This  approach suffices only when optimizing for a single objective (such as shipping cost reduction) or a single channel.
However, in today's omni-channel, ship-from-store environment, it will lead to some very unintended consequences, including poor business performance and lower customer satisfaction.
As an example, let's say you're trying to fulfill a pallet order of heavy items in Boston, MA. Your sourcing logic goes as follows:
Minimize number of shipments, then
Ship closest to the customer, then
Pick location with the highest inventory
As a result of this logic, your fulfillment system sourced and fulfilled the order from a store in Oakland, CA – on the other side of the country.
The reason?
They were able to get all the items needed in one shot.
The repercussions are obvious. A much higher shipping cost, resulting in a higher  cost-to-serve, a slower time-to-deliver, and general inefficiencies all across the business.
With Dynamic Fulfillment, the focus is instead on taking the full business objectives for fulfillment and funneling that through prediction-based algorithms.
These algorithms calculate cost-to-serve and operational behavior to predict the actual, total cost to fulfill an order.
And by evaluating every possible outcome, you're able to quickly determine the right choice for each fulfillment quickly and easily.
Dynamic Fulfillment's Core Components
Dynamic Fulfillment is made up of three core components that help facilitate its optimization capabilities: Shipping Cost, Labor Cost, and Expected Revenue. Each component is a key cog to determining the optimal fulfillment outcome, based on predetermined business goals.
With labor and shipping costs, they are determined by a list of predetermined variables, as shown below: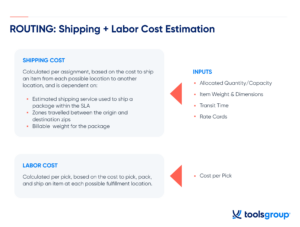 Expected Revenue, like Shipping Cost, is also calculated based on assignment, determined by expected revenue from the last unit of an item in each eligible location. This is determined via:
Estimated stock-out date for an item in a location
Estimated selling price of an item in a location on the stock-out date
This is then used to mathematically calculate the overall expected revenue and optimal plan: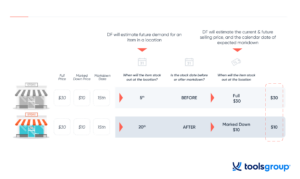 Once the calculations are made, the details are then funneled through Dynamic Fulfillment's optimization engine to determine the best possible outcome.
Given the dynamic fluid nature of the retail environment, inventory availability, selling channels, and node shipping capacity are considered in real time to provide continual optimal results.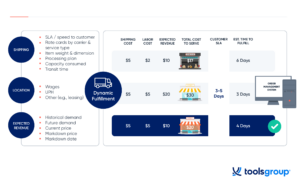 Node Balancing
When evaluating fulfillment options, Dynamic Fulfillment may find multiple plans that all have the same cost-to-serve.
So what acts as the tie-breaker?
In these cases, Dynamic Fulfillment considers backlog and utilization in each location.
For reference, if the backlog equals 1, it means that location is fully utilized for the day. A backlog rate of under 1 means that location is underutilized, and a backlog greater than 2 means the location is overutilized.
This is important because it indicates how long it takes to get that order out the door to the customer.
Let's look at the example below.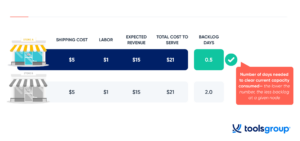 Store A has .5 backlog days, while Store B is at 200% utilization.
What this means from an operational perspective is that the item in question can be shipped the same day from Store A, but can't be shipped for at least two days from Store B.
By fulfilling from Store A instead of Store B, a company can get goods to the customer faster, elevating customer satisfaction, while reducing strain and labor in overutilized nodes within the network.
Key Takeaways
Dynamic Fulfillment by Inventory Hub® is an industry-leading fulfillment engine and an incredibly exciting addition to the retail suite of solutions at ToolsGroup.
Whether you're a retailer struggling to make your ship-from-store program profitable and simpler, or are just looking for ways to further optimize and improve on your fulfillment capabilities, Dynamic Fulfillment can help you take the next step in your execution planning.