← BLOG
Supply Chain Innovation Case Study: Demand Data Powering Growth
Last week we talked about demand sensing and market-tuned forecasting, and the importance of capturing granular supply chain demand data. This week we'll go beyond the abstraction and look at how one company does it—and achieved 3X growth, without adding headcount and years ahead of schedule.
Costa Express capitalizes on the growing demand for fresh, high-quality coffee on the go. The UK's largest and fastest growing coffee shop brand outfits its partners—airports, rail stations, hospitals, universities, and convenience stores—with self-serve touchscreen machines and replenishes the coffee and supplies.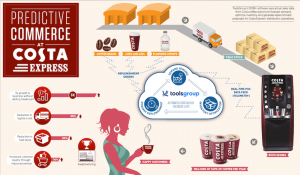 Costa's unmanned coffee bars already provided real-time reporting on machine performance and drink sales. But the sales data wasn't being used for replenishment; there was no system in place to consolidate and analyze the data. Costa relied on manual, spreadsheet-based estimates based on current stock holding and average cup sales.
That approach couldn't scale with Costa's caffeinated growth; the business was adding partners at a rapid pace. To keep up with the expansion and remain profitable, Costa launched a major supply chain transformation—adding a new logistics/warehousing partner, a new IT system, and a new process of purchasing stock directly from suppliers.
They also installed new supply chain planning software. ToolsGroup's SO99+ takes point-of-sale data from the unmanned coffee stations to forecast demand, optimize inventory, and generate replenishment proposals for Costa's distribution and procurement operations. The kiosks capture demand data in real-time and feed it back every 15 minutes to the central demand and inventory system; the software calculates replenishment order requirements each night. (See Infographic Above)
Costa tracks demand surges and generates a forecast highlighting kiosk and distribution center replenishment exceptions for 3,500+ machines requiring frequent, low-volume/low-value deliveries. The replenishment plan enables Costa to optimally manage the supply of ingredients—coffee, flavored syrup, cups and lids—from a central warehouse to its partner sites.
Six months after going live, Costa reduced the field stock at its partner sites by 20%. It lowered delivery refusals by those partners by 50%—meaning it was getting the replenishment formula right. It reduced its annual logistics operating costs by 30%, with an associated annual CO2 savings of 70 (metric) tons. And it increased its Net Promoter Score—a key measure of customer satisfaction—by 10%.
There's also a governance benefit. Says Supply Chain Manager Chris Clowes, "In some countries that we're entering, we're legally required to make month-end declarations, so our new level of forecasting accuracy is extremely helpful."
Clowes concludes, "So far this project has gone far better than we ever could have imagined. When you make all the changes we did to our supply chain—all during a period of high growth—anything less than a disaster is quite good! As it is, we've actually managed to grow our revenue and reduce our inventory costs, so I'm very pleased."
Next week we will look at four specific ways demand sensing can improve forecasting in your business.