← BLOG
ToolsGroup Announces Significant Enhancements to SO99+ for Improved Supply and Demand Planning
Powerful, AI-driven dynamic planning is good news for everybody – from executives to planners to consumers.
At ToolsGroup, we spend a lot of time working and partnering with our customers to overcome their top supply chain challenges.
That's why we eat, sleep, and breathe innovation and never stop looking for ways to help our customers get the most out of their partnership with us and make their supply chains a force for good in the world.
So we're excited to be delivering significant enhancements to our solution and expanding our already formidable and innovative forecasting, inventory optimization,  and replenishment capabilities that help our customers deliver on promises to their customers, while reducing inventory (and their carbon footprints) and boosting profitability.
Take it from our CEO, Inna Kuznetsova:
As businesses continue to face significant and ongoing supply chain disruptions, demand and supply planners need to be able to act quickly and decisively. With SO99+ v8.60, we are proud to deliver the most comprehensive version of our product yet, with innovative, AI-powered dynamic planning capabilities that will continue to allow our customers to navigate uncertainty and make better, faster decisions.
Explore the capabilities below to see how, with the release of v8.60, ToolsGroup has further improved its ability to drive decision making at the speed of business and deliver supply chain agility and resilience with expanded dynamic demand planning capabilities across the board.
Enhancements to Dynamic Demand Planning
Our customers will benefit from several significant enhancements to SO99's Dynamic Demand Planning capabilities.
Advanced NPI Capabilities
ToolsGroup's New Product Introduction (NPI) feature empowers users to better leverage historical product data – or establish effective product baselines where no history data is available – to create and refine forecasts for new products.
With v8.60, ToolsGroup has expanded this feature with a number of new capabilities centered around a new, user-friendly dashboard, including:
The ability to easily identify the variables that most impact new product performance and optimize plans with multiple graphical models so planners can quickly select their ideal plan.
New Feature Status, which ensures every defined product attribute is tested to detect any issues that might impact a successful NPI.
Prediction What-If Analyses that create fictional scenarios to test changes in predicted values and each variable affecting launch performance, creating a much more reliable launch forecast.
Multiple model plotting options, include bar- and bee-swarm plots to visualize results the way each user prefers.
These new features deliver higher overall forecast quality and a more transparent, intuitive process for successful product launches, while also delivering more transparency to users so they can better understand the rationale behind SO99's forecasts.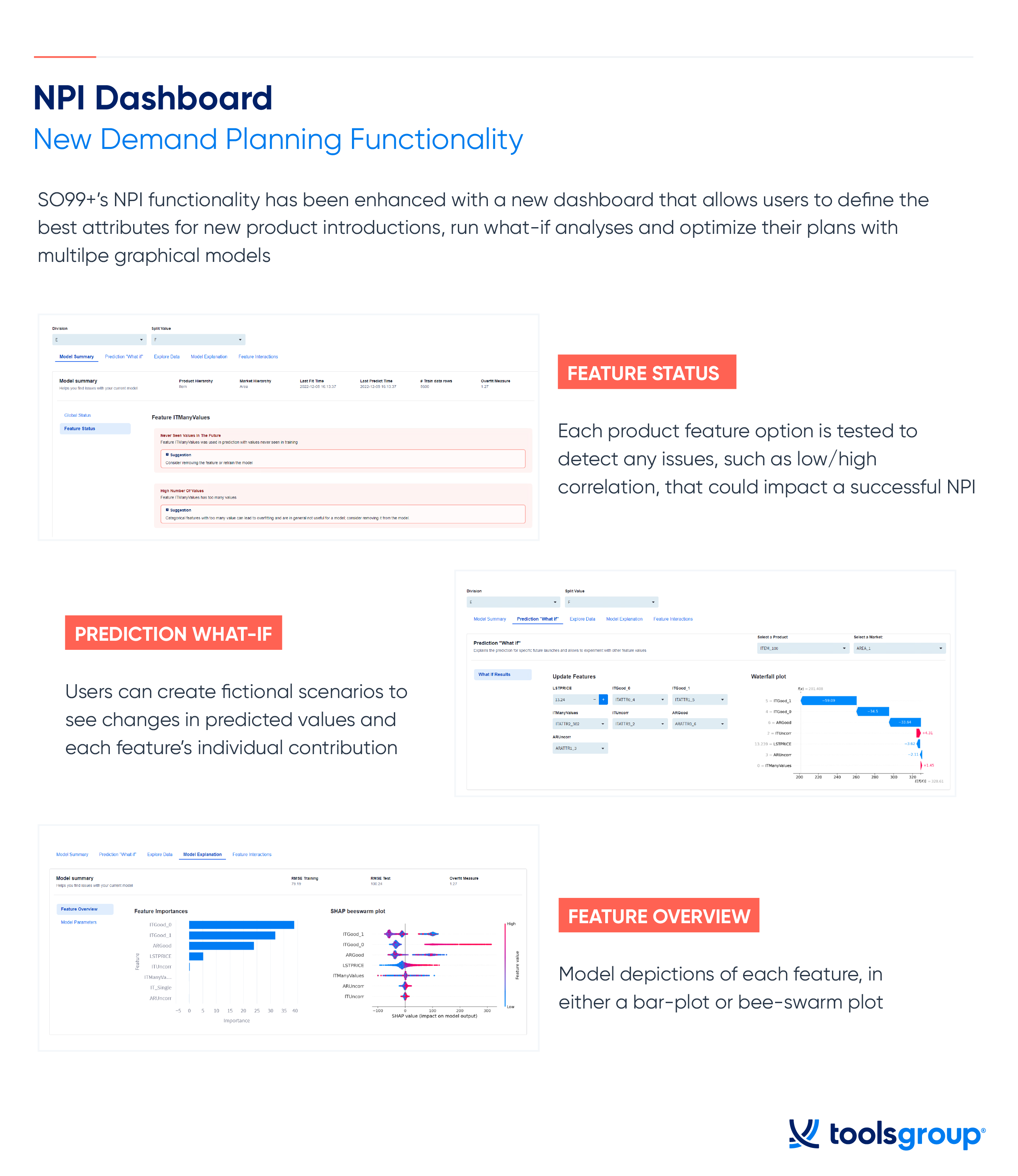 Automatic Machine Learning Tuning
V8.60 has also added numerous ways for users to save time by enabling them to automate previously time-consuming manual tasks.
Users can now have SO99+ autonomously detect the optimal hierarchy levels to be used by its Seasonality and Daily Profiles clustering engines, all while incorporating their historical data into forecasts.
This ensures higher-quality clustering results and, therefore, better forecast accuracy, all while simplifying and shortening the overall process, improving the end user experience
Automatic Forecast Model Backtesting
V8.60 has added automatic back-testing as an integrated functionality, allowing users to automate what has historically been a very time-consuming, manual process.
Through calibration, users can easily configure simulations – each with a defined set of parameters – and store results for later use.
This allows for faster implementation processes thanks to easier-to-validate models, higher overall forecast accuracy as a result of those validated models, and dynamic forecast-to-forecast comparisons.
Re-Forecasting Based on Pre-Orders
Historical data sits at the center of all the work planners do. However, using that same data to draw conclusions from current trends to determine future demand can be difficult.
Now with v8.60, users can incorporate orders as they happen into their probabilistic forecasts to determine future demand, improving short- and medium-term forecast accuracy while enabling customers to respond quickly and proactively to market changes.
It further analyzes how customer orders have been collected in the past to account for patterns, while at the same time being able to set a time horizon on orders to determine accuracy against current forecasts.
The end result is simple: higher short- and medium-term accuracy and more proactive planning.
Aggregate Forecasting
Across certain industries, products can co-exist across various hierarchy levels depending on if you're looking at them from a demand planning or supply planning perspective.
While you might stock a pair of sunglasses by size and/or color, you'll typically forecast by what model of sunglasses they are.
With v8.60, these contrasting processes can work in parallel.
Demand planners can forecast at any desired aggregate level without losing the more nuanced, atomic (item/area) level needed by supply planners.
This ensures a much greater degree of flexibility and stability in user demand and supply planning – by allowing each to co-exist without limiting either – while still ensuring higher-quality, more stable forecasts.
Enhancing Machine Learning Engines with LightGBM for Greater Speed and Performance
SO99+ has further been enhanced with Microsoft's leading Light Gradient-Boosted Method, or LightGBM for short.
This advanced modeling technique significantly improves machine learning performance by delivering a faster, higher-performing ML engine with a much shorter time-to-train, delivering better time-to-value for customers across the board.
Plus, this functionality is scalable regardless of organization size and can drastically reduce both batch processing speed compared to standard machine learning algorithms, as well as overfitting and results instability, thanks to LightGBM's more accurate forecast outcome.
It's a functionality we are very excited to introduce in v8.60 and expand and grow over time!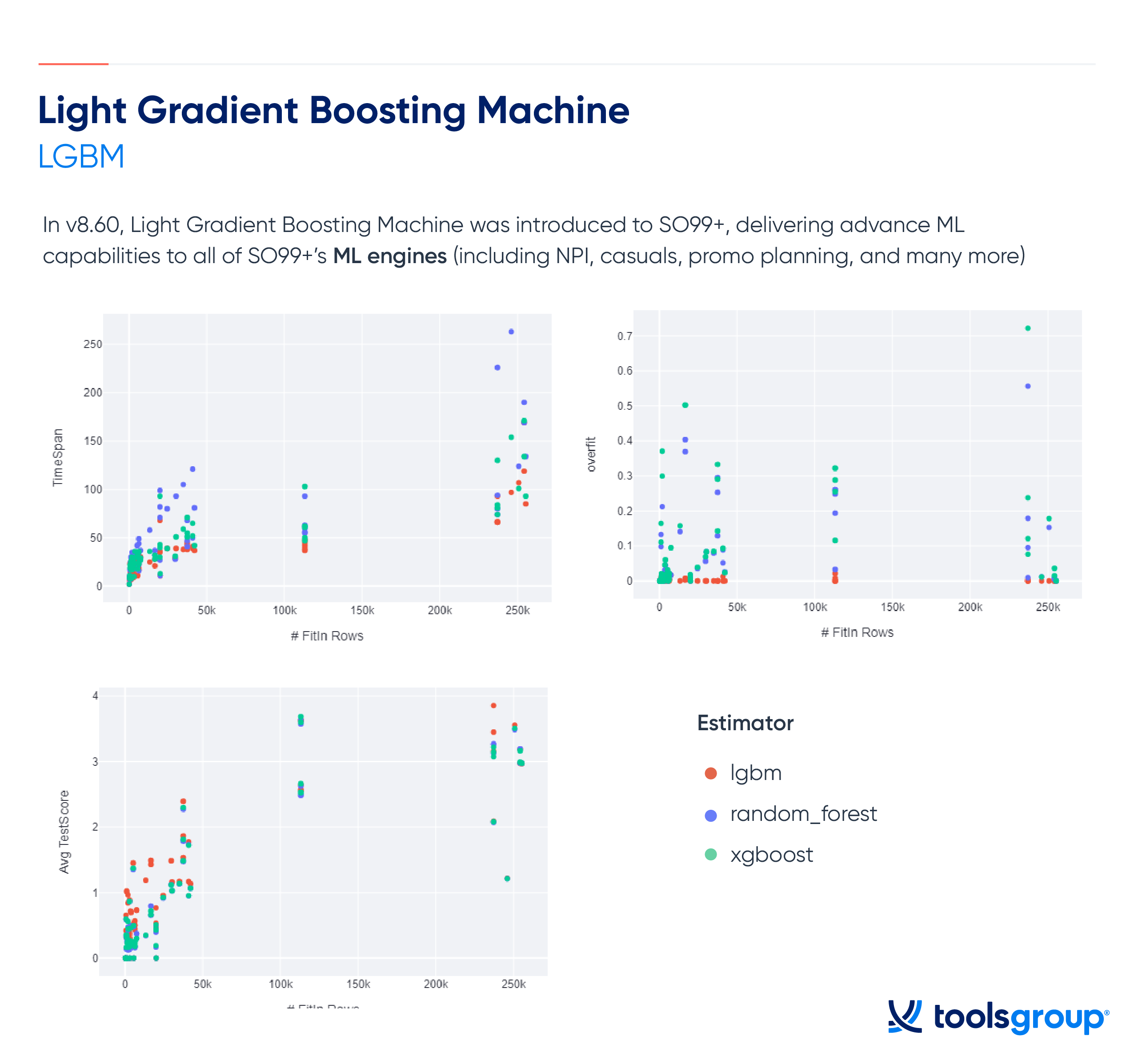 Enhancements to Dynamic Supply Planning
We have also introduced several new features and enhancements to further enhance  SO99's dynamic supply planning capabilities.
Dynamic Multi-Sourcing
In a post-COVID world, and despite suppliers' best efforts, delays or sudden demand spikes inevitably cause supply issues.
That's why SO99+  plans simultaneous replenishment from multiple suppliers and allows users to set back-up suppliers to empower their businesses to flexibly tackle demand shortage whenever they come up.
Orders are automatically generated to back-up suppliers based on pre-set stock levels and expected delivery delays from the original supplier, ensuring reduced demand risk.
For businesses, this helps them keep their stock levels more stable, reduce supply risk while improving overall order fill rates, and increase their flexibility to deal with demand changes, wherever they pop up.
Dynamic Lost Sales Stock Adjustments
Historical bias often negatively impacts forecasts by creating a false expectancy around future demand.
With SO99's enhanced Dynamic Stock Leveling capabilities, our software automatically looks back at historical sales and fills in gaps where there is a significant deviation from those same historical forecasts.
This ensures that future forecasts are no longer skewed by periods of zero demand due to stock-outs (a.k.a. lost sales).
The end result is higher quality forecasts that reduce under-bias, all while allowing planners to be more efficient and spend their time on value-added tasks.
Probabilistic Bill of Materials (BOM)
Some businesses have Bill of Materials (BOM) that employ multiple possible component options.
To account for this complexity, SO99's probabilistic capabilities allow organizations to take into account the probability of certain components being used to better determine the specific component quantities needed for the BOM at the very start of the planning process.
This data can either be imported or taken from historical consumption for each kit component relative to its alternates.
The data then is further enhanced as the BOM is used, giving a clearer and more predictable view of how often a component can expect to be used and ensuring companies no longer have to fear over- or under-stocking each comparable option, reducing overhead costs while maintaining order fill rates.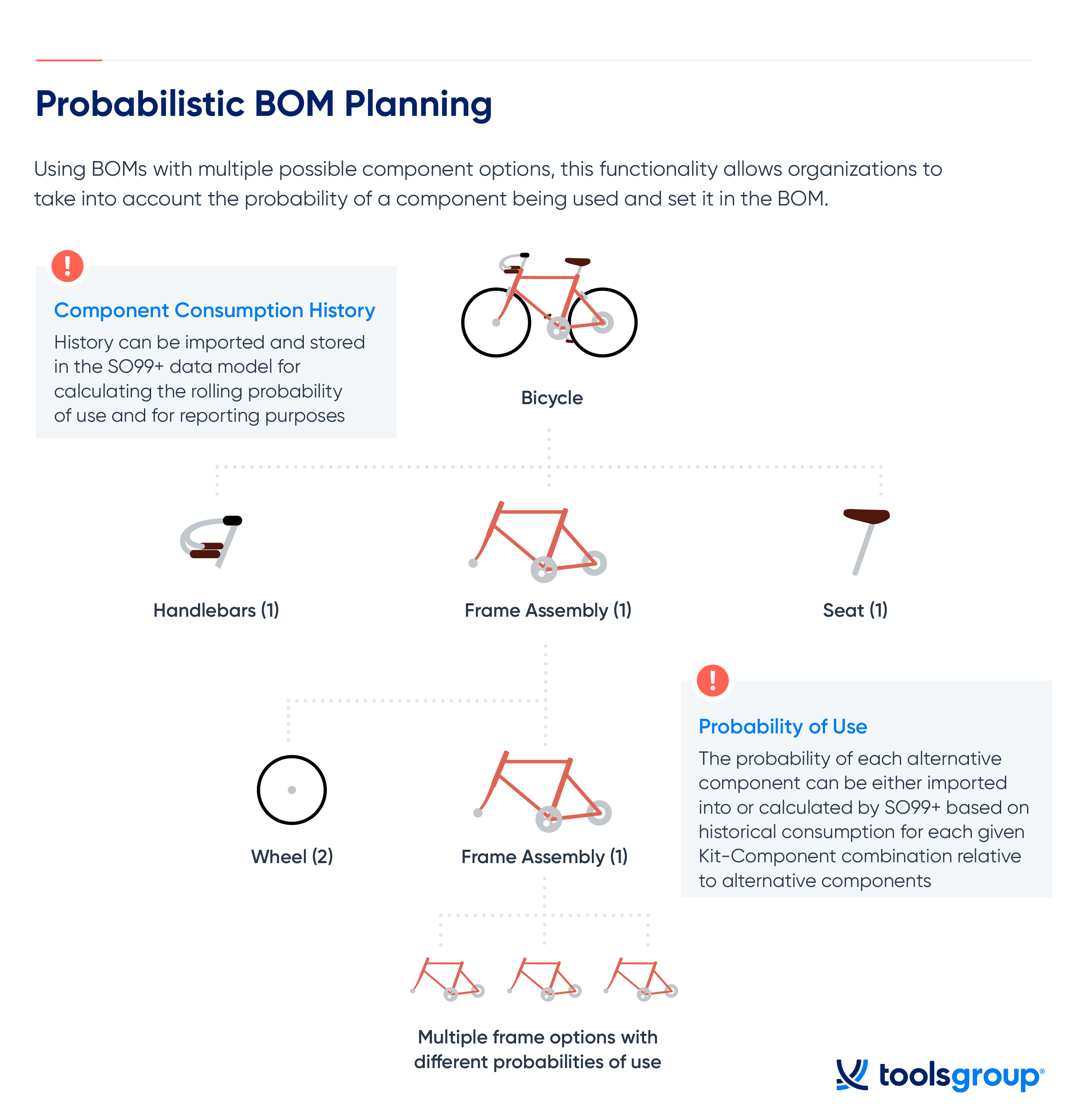 Replenishment Engine Modularization
With this release, we have further enhanced SO99's Replenishment Engines. Now, users can utilize SO99's Stock-to-Service Curves as a micro-service, usable in other applications in an organization's supply chain technology stack.
This level of flexibility ensures that users can take full advantage of SO99's best-of-breed supply chain planning capabilities across their organization, all while continuing to deliver better results at lower costs.
We've also added additional Replenishment Engine updates, such as:
Replenishment Incoherency Detection which automatically detects inconsistencies in data definitions and constraints, and notifies users to take remedial action to address them
Supplier Constraints Enhancements, including the ability to automatically synchronize replenishment lead times for products dealing with the same supplier constraints
Building On Existing Innovation
These dynamic demand and supply planning capabilities add to the existing innovations in SO99+, such as:
Probabilistic Forecasting that combines historical, real-time, and other demand-relevant data into an probabilistic model that determines the possibility (and likelihood) of a range of outcomes, accounting for risk and enabling greater planning dexterity. It seamlessly self-adjusts to a wide variety of demand behaviors, generating optimal forecasts in uncertain demand scenarios.
Demand Sensing designed to help users better leverage granular data to capture changes in the market before they happen, ensuring they can proactively adjust their demand planning and lower downstream latency while still delivering optimal service levels, ensuring fewer lost sales and increased revenues.
Self-Adaptive, Frequency-Based Forecasting that more effectively forecasts both fast- and slow-moving items by capturing network-wide changes and events and accounting for not only order size but also order frequency, delivering the most accurate forecast available.
Built-in Machine Learning Engines mapped to every unique attribute that can affect a forecast, from seasonality and promotions to causals and external factors, ensuring the most accurate and robust forecasts on the market
Service-Driven Planning, a unique technology that creates inventory plans based on service level targets.
Multi-Echelon Optimization & Replenishment, an advanced optimization technique that determines the optimal levels of inventory across the entire upstream and downstream supply chain network which allows customers to both decrease inventory across the ecosystem while increasing service level performance.
Stock Mix Optimization, the setting and planning of differentiated and market-oriented service level targets as an optimal compromise between service and inventory.
What-If Scenario Planning, the simulation and optimization of inventory and service levels trade-offs and their impact in different design scenarios.
Distribution Requirement Tunnelling™, the time-phased planning of inventory and safety stock parameters and the visualization of performance against those parameters in a replenishment tunnel dashboard.
Network Balance that ensures the right balance across the distribution network for each item in the Bill of Materials, including optimal staging, fair allocation of source availability, and automatic inter-depot transfers.
Supply Constraints, the mapping and modeling of all relevant supply chain constraints like shipping/receiving calendars, supply lots, order frequency, order constraints, and replenishment dates.
Optimized Replenishment in challenging supply chain configurations such as multi-sourcing, network lost sales, equivalent products and inventory lot expiration dates.
Aggregate Constraints, the planning of purchase and transfers to meet supply and capacity aggregate constraints, optimizing the service level in the network through the use of requirement tunnels.
Key Takeaways
The SO99+ Supply Chain Planning Solution is the market leader in dynamic planning.
The system can automatically adjust inventory and replenishment based on supply conditions, mitigating the risks caused by supply and demand uncertainty. It quickly adapts to changes in demand, market conditions, and supply chain disruptions, and optimizes the flow of goods in order to reduce costly transfers, increase efficiency, and improve supply chain sustainability. Making better and faster decisions ensures service level targets are achieved regardless of market conditions and supply chain disruptions.
Backed by ToolsGroup's powerful AI capabilities and innovative mindset, SO99+ delivers the supply chain planning horsepower needed to drive decision making, navigate uncertainty, and deliver results at the speed of business.
Want to learn more about how you can stay one step ahead of uncertainty and keep customers happy without sacrificing margins or getting buried in excess stock?
Check out the Guide to Overcoming Inventory Disruption to Maximize Service Levels and Profit for the insights you need today.