← BLOG
What Caused the Baby Formula Shortage + 7 Ways Consumers and Companies are Coping
When it comes to defining "the essentials," few products are as vital as baby formula.
In the face of baby formula shortages, parents who depend on it are currently facing challenges full of anger, frustration, and tears.
The Baby Formula Shortage by the Numbers
While stock levels were consistently low, the crisis reached a new level in the spring of 2022, when, in April, almost 30% of the top selling baby formula products were out of stock.
And things have only gotten worse: As of May 8th, the state of Tennessee hit out-of-stocks of 54.7%, with eight metro areas facing shortages of 50% or more.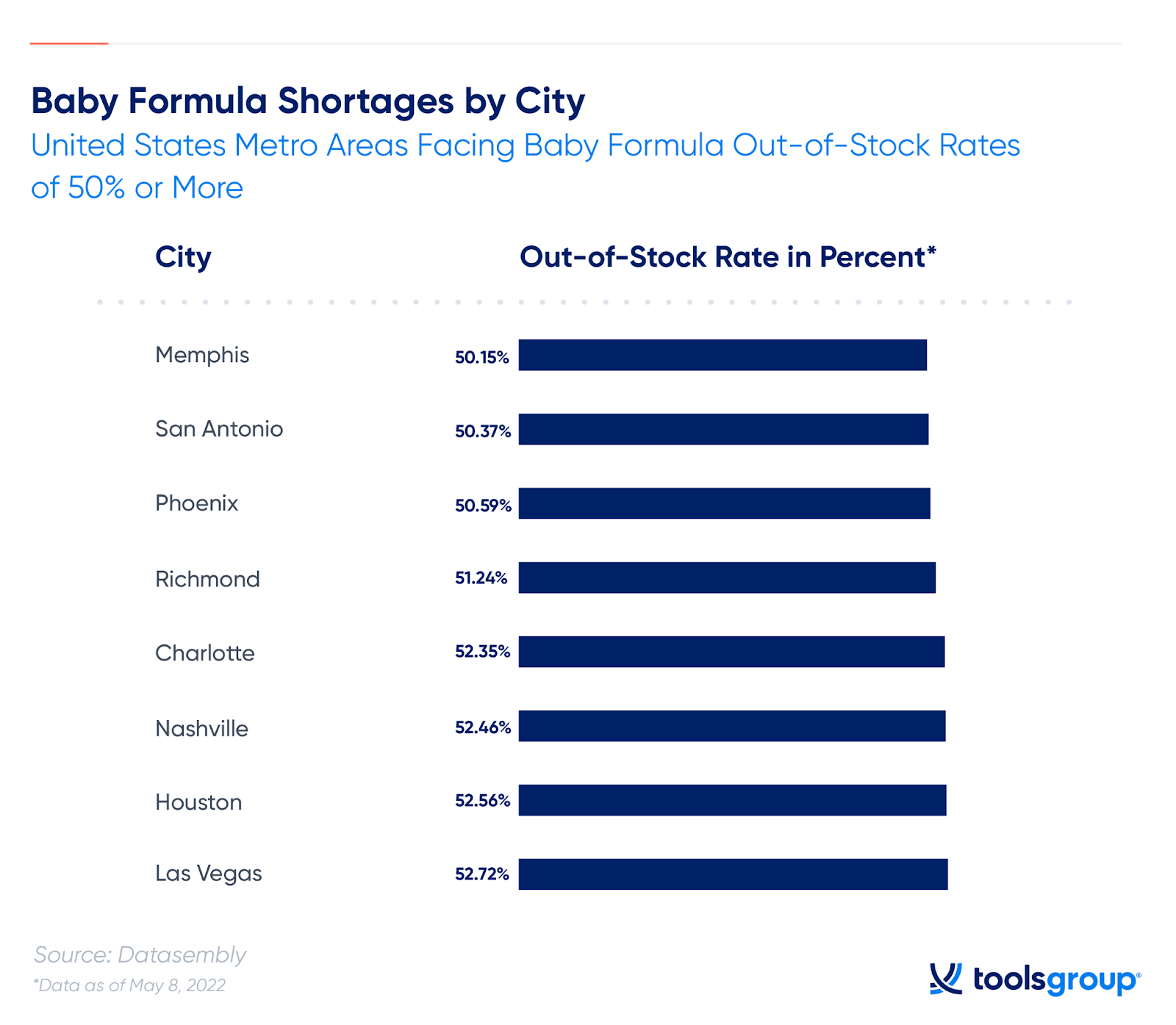 In total, approximately 40% of retailers in the United States are out of stock as of mid-May. That's a 9% increase in the last month alone.
Data also shows that half of US states are experiencing out-of-stock rates between 40% and 50%: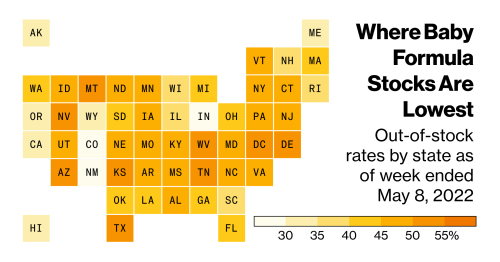 Image source: Flipboard
The Need for Infant Formula: The Latest News and Updates
As the story continues to unfold, here is an updated timeline of the major events surrounding the crisis: 
May 19, 2022: FDA commissioner Robert Califf is questioned by a House appropriations subcommittee, making him the first official from the FDA to testify in front of Congress regarding the formula shortage. Califf said parents "should begin to see improvement" in finding formula "within days."
May 18, 2022: The House passes both of the two bills created to address the baby formula shortage. The primary bill would give $28 million in emergency funding to increase formula inspections at foreign manufacturing plants, prevent consumers buying fraudulent products, monitor the supply chain, and prevent future shortages.
May 18, 2022:

President Joe Biden

invokes the Defense Production Act

in order to minimize bottlenecks in the production of formula. "Operation Fly Formula" authorizes the Defense Department to use commercial aircraft to fly formula supplies that meet federal regulations into the United States.

May 18, 2022

: The FTC issued a

consumer alert

, warning parents of scammers exploiting the crisis. Scammers are setting up fake websites and social media profiles with recognizable logos to sell overpriced formula that is never delivered. 

May 18, 2022

: It was announced that

two children in Memphis

, a toddler and preschooler, were hospitalized due to the shortage. Both children have short gut syndrome, and the specialty formula they required was not in stock.

May 17, 2022

: The

House of Representatives

introduces two bills designed to address the baby formula shortage. The

HR 7790

bill would give the USDA $28 million in emergency funding to address and overcome current deficiencies, in addition to mitigating the risk of future formula shortages.

HR 7791

, the Access to Baby Formula Act, is designed to ensure families in need can utilize their WIC benefits to buy formula despite supply chain issues or public health emergencies  

May 17, 2022: From Europe, Nestle begins to send rushed air shipments of two products, Gerber Good Start Extensive HA and Alfamino, to the United States. The products, needed by infants with cow milk protein allergies, were already approved for sale in the U.S.
May 16, 2022

: Abbott and the FDA

reach an agreement

for Abbott to reopen its plan and

restart production

of baby formula at its plant in Sturgis, Michigan, following the February 2022 product recall. It is expected stocks may reach shelves in approximately July.

May 12, 2022

:  President Joe Biden

meets with executives

at Target, Walmart, Nestle and other major retailers and manufacturers regarding the infant formula shortage. The White House administration

announces

steps to address the shortage of infant formula.

May 8, 2022

: For the week ending May 8th, the

nationwide out-of-stock percentage

for baby formula climbed to 43%.  
What's Causing the Baby Formula Shortage?
Like the chicken shortage and other issues surrounding the supply chain crisis, infant formula shortages originated with COVID-19 disrupting the supply chain, triggering the lack of labor, transportation, and raw materials.
And when lockdown hit, fear of the unknown led many parents to stockpile formula. As families used up their stockpiles, sales plummeted. This made it incredibly difficult for manufacturers to accurately gauge the market size for production.
According to Ben Reich, CEO of Datasembly, "This issue has been compounded by supply chain challenges, product recalls, and historic inflation. The category started to see stocking challenges beginning in July 2021, and the situation has continued to worsen into 2022."
This issue has been compounded by supply chain challenges, product recalls, and historic inflation. The category started to see stocking challenges beginning in July 2021, and the situation has continued to worsen into 2022."
– Ben Reich, CEO, Datasembly
Research from the consulting firm Demographic Intelligence shows that while births rose in early 2022, breastfeeding rates among new mothers dropped dramatically.
This also resulted in an increased formula demand, leaving shelves sparse all over the country.
Abbott Laboratories Product Recalls: The Reason for the Baby Formula Shortage
The situation became dire in February of 2022 when Abbott Nutrition, one of the country's three main powdered formula manufacturers, voluntarily recalled several formula brands and shut down its Sturgis, Michigan factory.
Image source: Sturgis Journal
The shutdown resulted from a federal investigation following four cases of infant bacterial infections in babies who consumed formula from the plant, with the FDA reporting two deaths.
Cronobacter sakazakii, the bacteria causing three of the four infections, wasn't found in any of the formulas tested, but the bacteria was detected in a non-product contact area.
These infections can be deadly for infants, causing sepsis, severe meningitis, seizures, brain abscesses or infarcts, hydrocephalus, and long-term neurological problems in the most severe cases. The mortality rate for infants who develop Cronobacter meningitis is as high as 40%. 
The CDC typically receives reports of 2-4 infant infections per year. However, only one state requires the reporting of these infections (thank you Minnesota), so this number might be underreported.
According to the CDC, manufacturers report it isn't currently possible to produce sterile powdered infant formula. This means that the formula could be contaminated with pathogens (like Cronobacter) if raw materials are contaminated, or if the formula touches a contaminated surface in the manufacturing plant.
A Limited Number of Formula Manufacturers
How did one company recall cause a nationwide crisis?
For starters, Abbott's product recall had such an intense effect due to its large market share. The most recent number available from a 2011 USDA report cites Abbott holding a 43% market share.
Abbott also has strong ties with the USDA's nutritional supplement program, WIC, holding exclusive provider contracts in a number of states.
Across the country, the WIC is responsible for almost half of formula sales. Aside from Abbott, Mead-Johnson and Nestlé also have WIC contracts, resulting in a total of three major manufacturers of formula.
When production halted at Abbott, the largest of the three, the remaining manufacturing company's capacity plans and resources were not able to cope with such unexpected increased demand.
What Baby Formula Products Were Recalled?
Three Abbott Nutrition infant formula brands have been recalled in powder form: Similac, Similac Alimentum, and Elecare. Liquid formula products were not included in the recall.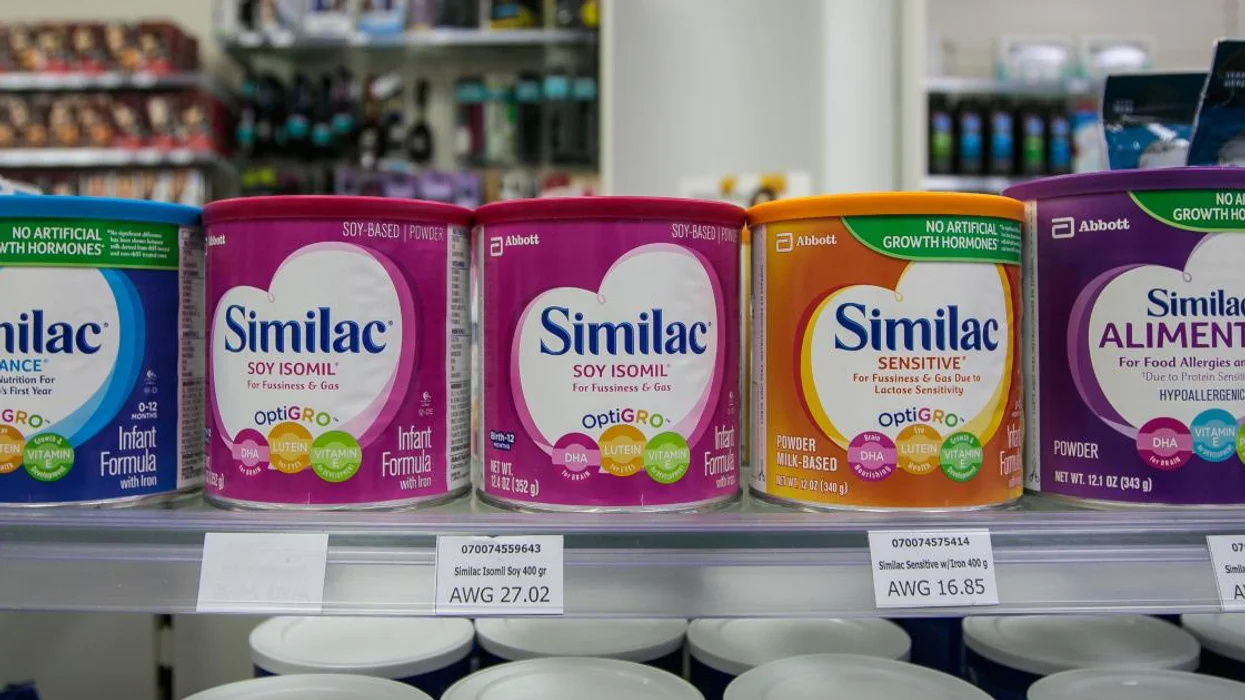 Image source: MTL Blog
The Canadian Food Inspection Agency (CFIA) also issued a recall on Abbott powdered baby formula brands, including numerous Similac products, due to the same fears of microbial contamination.
The FDA is advising consumers not to use Similac, Alimentum, or EleCare powdered infant formulas if it meets all three of the following conditions:
First two digits of the code are 22 through 37, and
Code on the container contains K8, SH, or Z2, and
Expiration date is 4-1-2022 (APR 2022) or later.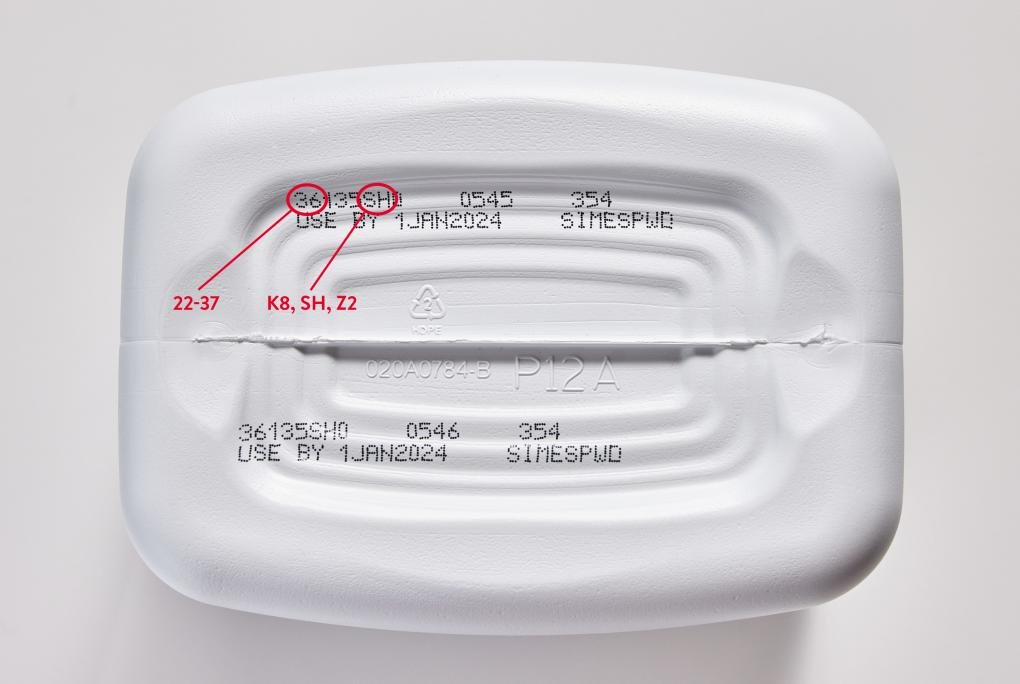 Image source: FDA 
You can also check the lot number here on the Abbott website.
7 Ways Parents, Companies, and Regulators are Dealing with the Baby Formula Shortage
When a supply chain crisis hits–particularly one that affects young lives–everyone takes action, including parents, the government, and corporations.
Here are seven ways people and companies are responding to the crisis; stepping up to support children and each other.
1. Parents In Search of Alternatives are Seeking Medical Advice
For any parents unable to maintain a regular feeding or looking for recommendations, talking to their licensed healthcare provider is always the first step.
According to medical professionals like Dr. Katie Lockwood and the FDA, parents should not make their own formula. Refrain from both diluting formula and using cow's milk and granulated sugar to make it at home, as this prevents the baby from receiving the nutrients they need to survive.
Additionally, parents should avoid using toddler formula as it is not regulated by the FDA in the same way as infant formula and will not contain the necessary nutrients.
2. The Search for Baby Formula That's in Stock
To locate formula, consumers are regularly checking with local stores and pharmacies. Larger stores tend to run out first.
Unless the child has allergies or sensitivities, according to pediatrician and spokeswoman for the American Academy of Pediatrics, Katherine Williamson, it is generally believed all major brands should be okay if they contain the same nutrients. (Any doubts, be sure to check with your doctor).
When still struggling to find formula, parents are calling local food banks for further assistance. If the family qualifies for WIC, they can contact their local agency for help.
Extended family members spread out across the country are also on the hunt for formula.
Elyssa Schmier, mother of an eight-month-old boy, shared with Fortune, "I've looked online, I have my mom in Boston looking, my mother-in-law in Florida looking…Everyone we know is looking for us and no one can find it."
Parents are also turning to Facebook groups for information and support, although, it's important to note–purchasing formula from unconventional retailers or via social media is not recommended as these purchases can result in counterfeit products.
3. Breast Milk Banks are Seeing an Increased Demand
In response to the shortage, many parents are turning to breast milk banks.
According to Human Milk Bank Association of North America's Executive Director Lindsey Groff, "Every milk bank that I have spoken with has seen a major increase in demand."
In addition to supporting the need for milk itself, Groff shared with NBC News the emotional toll the shortage is taking on parents: "The challenge is not only to feed these infants, but to reinforce to parents that they are doing a great job…There is no judgment here. They are reaching out. That's part of problem-solving."
The challenge is not only to feed these infants, but to reinforce to parents that they are doing a great job…There is no judgment here. They are reaching out. That's part of problem-solving."
– Lindsey Groff, Executive Director, Human Milk Bank Association of North America
While it is never safe to buy breast milk from an unverified source or a stranger, according to the Program Director of Mothers' Milk Bank of the Western Great Lakes, Susan Urabanski, "Very often, donor milk is a very appropriate option for most babies."
And while milk banks come with a fee, it can at times be covered by insurance.
4. Breast Milk Donations are On the Rise – Here's How to Donate
Moms are doing what they do best, stepping up to support each other, with women who are able donating and their unused breast milk.
View this post on Instagram
Last Thursday in Massachusetts, the Mothers' Milk Bank Northeast received 35 calls in one day from people looking to donate–compared to a usual average of 30-35 calls per month.
The Human Milk Banking Association of North America (HMBANA) accredits milk banks to ensure safety, and is appealing to more mothers to donate extra breast milk.
If you're interested in donating milk, the HMBANA requests finding a milk bank here, at one of their 31 non-profit locations.
5. The White House and President Biden Are Addressing Manufacturing Regulations and Increased Imports
A whopping 98% of baby formula consumed in the United States is manufactured domestically, causing calls for government action.
The White House announced new actions intended to increase supply after meeting with formula manufacturers and major retailers.
In response to the shortage, health regulators are allowing the fast-tracked importation of formula manufactured overseas.
The administration is requesting more states relax their rules on the sizes and types of formulas eligible for government benefits so that parents can use subsidies for whatever they can find. Additionally, they are working with the Federal Trade Commission and state attorneys to stop price gouging.
The FDA will be announcing speed imports from Mexico, Chile, Ireland, and the Netherlands.
6. Retailers Coping with Infant Formula Stock-Outs
Out-of-stocks (OOS) are something every retailer hopes to avoid. Yet, when it comes to the shortage of baby formula, many stores haven't had a choice.
Data from Datasembly shows that, following the recall in April 2022, baby formula shortages reached out-of-stock percentages topping 30%, before the recent spike to 43%.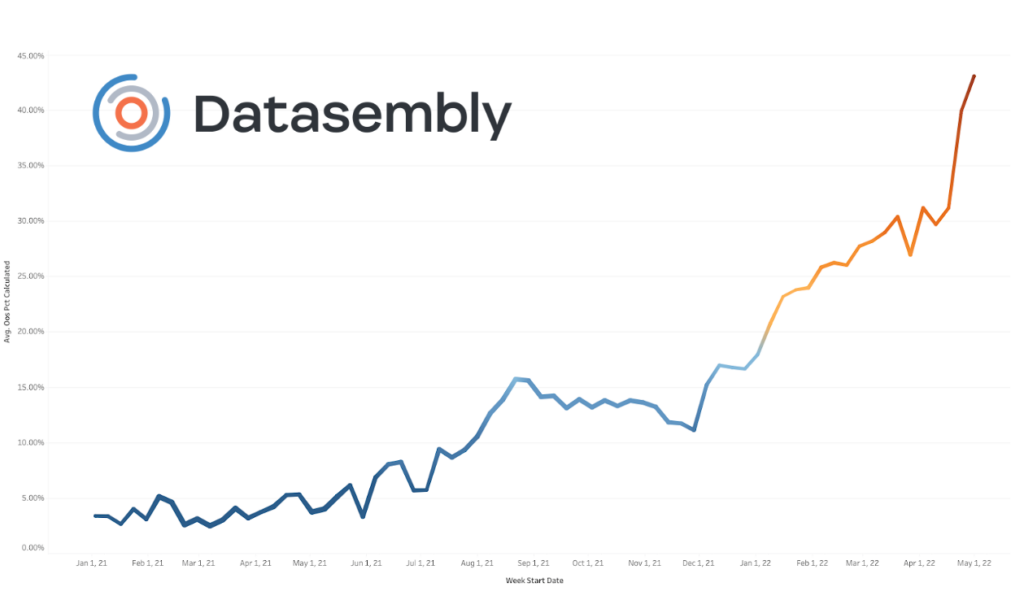 Data source: Datasembly
Faced with the uncontrollable shortage of purchases, many retailers are setting purchase limits.
As of publication, CVS and Walgreens allow three formula containers per person, and Target allows four for online purchases. Costco limited purchases to five per member while supplies last. Amazon is taking steps to keep formula available on the site, and they're also monitoring offers for price gouging and removing violating listings.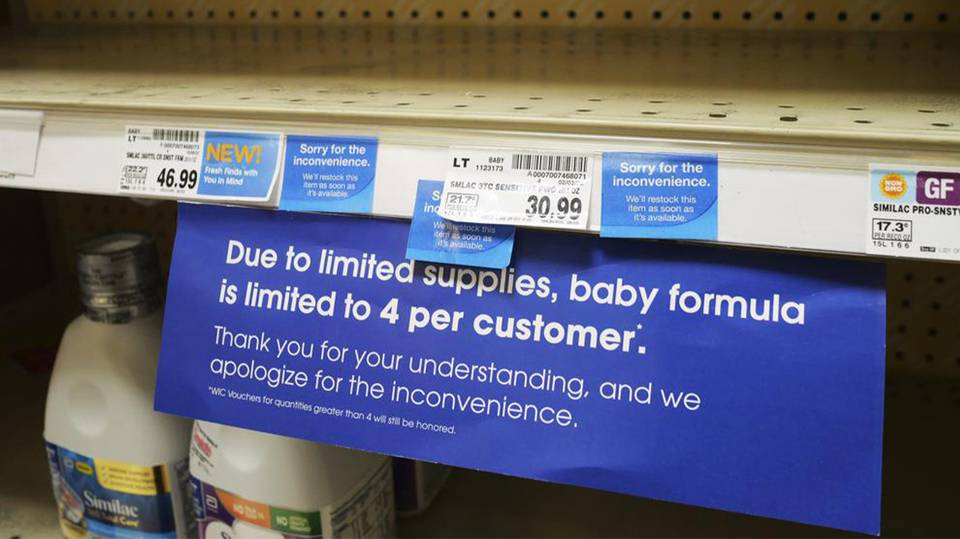 Image source: Mahoning Matters
7. Other Baby Formula Manufacturers are Increasing Production
After speaking with all infant formula manufacturers, the FDA shared that all are producing at an expanded capacity. Gerber increased the amount of formula available to consumers by 50% in March and April, and Reckitt is supplying over 30% more product this year.
In addition to the increased production, Reckitt is cutting back on the usual cost-savings strategies regarding transportation and logistics.
Robert Cleveland, Rickitt's Senior Vice-President, North America and Europe Nutrition, shared that, in addition to giving plants "unlimited overtime," they are focusing on shipping at speed: "We normally might pack an entire truck before we ship it. For timeliness, we're not doing that. We're packing it with as much product as we have and then we're just getting it out the door."
We normally might pack an entire truck before we ship it. For timeliness, we're not doing that. We're packing it with as much product as we have and then we're just getting it out the door."
– Robert Cleveland, Senior Vice-President, North America and Europe Nutrition, Rickett
Nestlé is flying in baby formula specifically for infants with cow's milk protein allergies. The shipments of Gerber Good Start Extensive HA and Alfamino are being expedited via air to fill immediate needs.
When will the baby formula shortage end?
In response to the severe lack of specialty formulas for babies with sensitivities (most of which are manufactured at Abbott's Michigan plant), the FDA gave Abbott the go-ahead to release some of these formulas not impacted by recalls on a case by case basis.
The company is coordinating with physicians and hospitals to provide these products to infants in need, free of charge.
Murray Kessler, Chief Executive of Perrigo Company PLC, a company that makes baby formula for retailers such as Walmart and Amazon, has manufacturing facilities running at 115% of capacity, and believes shortages and high demand will remain for "the balance of the year."
The FDA and Abbott Reach an Agreement on Plant Reopening
On Monday, May 16th, the FDA and Abbott reached an agreement on the plant re-opening, as shared in the Abbott press release.
The plant had already been taking action and submitted a plan to the FDA on April 8th that included corrective actions such as updating education, training, and safety procedures, and updating water, cleaning, and maintenance protocols.
Robert B. Ford, Abbott Chairman and Chief Executive Officer, shared: "Our number one priority is getting infants and families the high-quality formulas they need, and this is a major step toward re-opening our Sturgis facility so we can ease the nationwide formula shortage. We look forward to working with the FDA to quickly and safely re-open the facility."
Our number one priority is getting infants and families the high-quality formulas they need, and this is a major step toward re-opening our Sturgis facility so we can ease the nationwide formula shortage. We look forward to working with the FDA to quickly and safely re-open the facility."
– Robert B. Ford, Chairman and CEO, Abbott
When Will Baby Formula Production Resume?
The FDA believes production will restart approximately two weeks from May 16th. To do so, Abbott must bring on a qualified expert to oversee improvements at the Sturgis plant.
In order for the plant to open, "The proposed consent decree also requires the implementation of a sanitation plan, environmental monitoring plan and employee training programs," and, once open, it will take six to eight weeks before the product hits store shelves.
The FDA also issued guidance to bring more international formula products to the United States. These relaxed import restrictions will last 180 days and should bring more formula to US shelves in the next several weeks.
How Companies Can Reliably Predict Demand Following Shortages and Stockouts
Covid-19 already demonstrated the need for a digitized supply chain in order to reliably predict consumer demand.
Across the world, retailers faced everything from alcohol bans in South Africa to an unimaginable demand for jigsaw puzzles, with Australian Prime Minister Scott Morrison even labeling them an "essential" item.
Yet, many big brands and household names still place too much trust in spreadsheets. Consider the fact that, one year from now, historical POS data on baby formula will have little value in accurately predicting consumer demand.
But customers still expect brands to have products in stock at the exact moment they decide to buy.
And for essential items, such as the formula that feeds infant children, no excuse for stock-outs will be accepted–particularly when production and distribution levels return to normal.
Companies using demand-planning software backed by artificial intelligence and machine learning can reliably predict the wants and needs of consumers.