← BLOG
NRF 2022: 4 Big Session Themes from Retail's Big Show
In a bold move which bore resemblance to the fighting spirit of the retail industry as a whole these past two years, the National Retail Federation (NRF) Big Show 2022 went ahead as planned in New York City despite rising COVID cases and reduced attendance.
Sessions from providers and retailers throughout the event conveyed a bullish outlook for the year and renewed commitment to enable the new level of post-pandemic service consumers expect. Here's a look at four mega- themes from NRF 2022 sessions.
Resilience and Adaptation to Outsmart Supply Chain Challenges
In his opening keynote address, Target CEO Brian Cornell said the supply chain crisis necessitates greater data transparency and analytics to win in the short term. Upstream supply visibility is crucial. Longer term, Cornell believes the infrastructure bill will help modernize ports, roads, and bridges. We must incentivize more Americans to get into the supply chain industry.
As for goods and labor inflation, "We've lived through these before and we can anticipate macro changes," says Cornell. Target will provide alternatives. "Consumers vote with their wallets and footsteps."
Chewy has tripled revenue in the last three years and has 20 million active customers. CEO Sumit Singh described the company's "speed of innovation and quality and longevity of customer care and customer experience" as its North Star amid supply disruptions. A happy team drives better customer experience, which drives loyalty.
As the port of Long Beach continues to suffer blockage and delays, companies are taking a fresh look at alternate ports for supply chain relief. Portland, San Diego, and Cleveland are cited by American Shipper as locations with more capacity to consider. Target CEO Brian Cornell said his company has begun to utilize other ports and unload in off-peak hours.
Sam Ruda, Director Port Department, Port Authority of NY and NJ attributed the 30% spike in container volume to the huge increase in consumer demand, but encourages retailers to consider New York and New Jersey ports as they flex capacity and benefit from a host of infrastructure projects.
The new infrastructure bill invests $17 billion for shipping ports, but Ruda maintains "We can't build our way out of this problem. We need to address the data."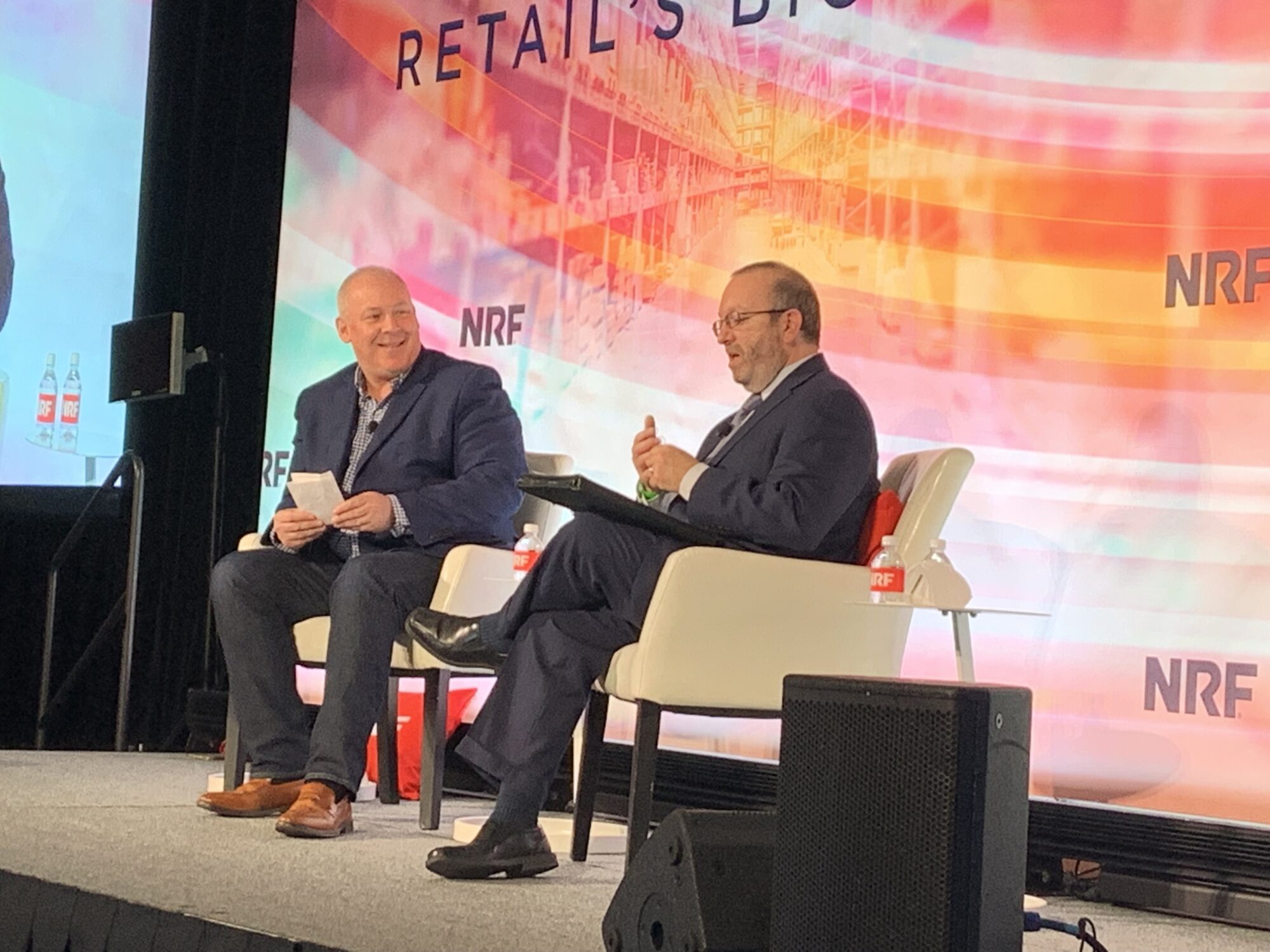 Sam Ruda, Director Port Department, Port Authority of NY and NJ, speaks with NRF's Jon Gold about what ports are doing to facilitate the flow of goods.
The New Empowered Consumer (and Employee)
Many sessions highlighted the changes in consumer and employee expectations and attitudes. Carla Harris, Morgan Stanley Vice Chair, described this as an "amplification of choice and voice". There has been a shift in contract between retailer and consumer: customers have a new appetite for choice, and retailers are making investments in delivery options and customer service to maintain loyalty.
Customers are seeking a new level of transparency, diversity, and ESG commitment. About two-thirds of US online consumers wish that companies were more transparent about their business practices. In addition, they believe that companies are responsible for protecting the environment. (Forbes)
A shift has also occurred in the "contract" between employer and employee. Fueled in large part by more time at home during the pandemic, employees now want to do their work at different hours and with flexibility to work from home. In April 2021, 649,000 retail workers quit their jobs, retail's largest drop in 20 years. (Washington Post).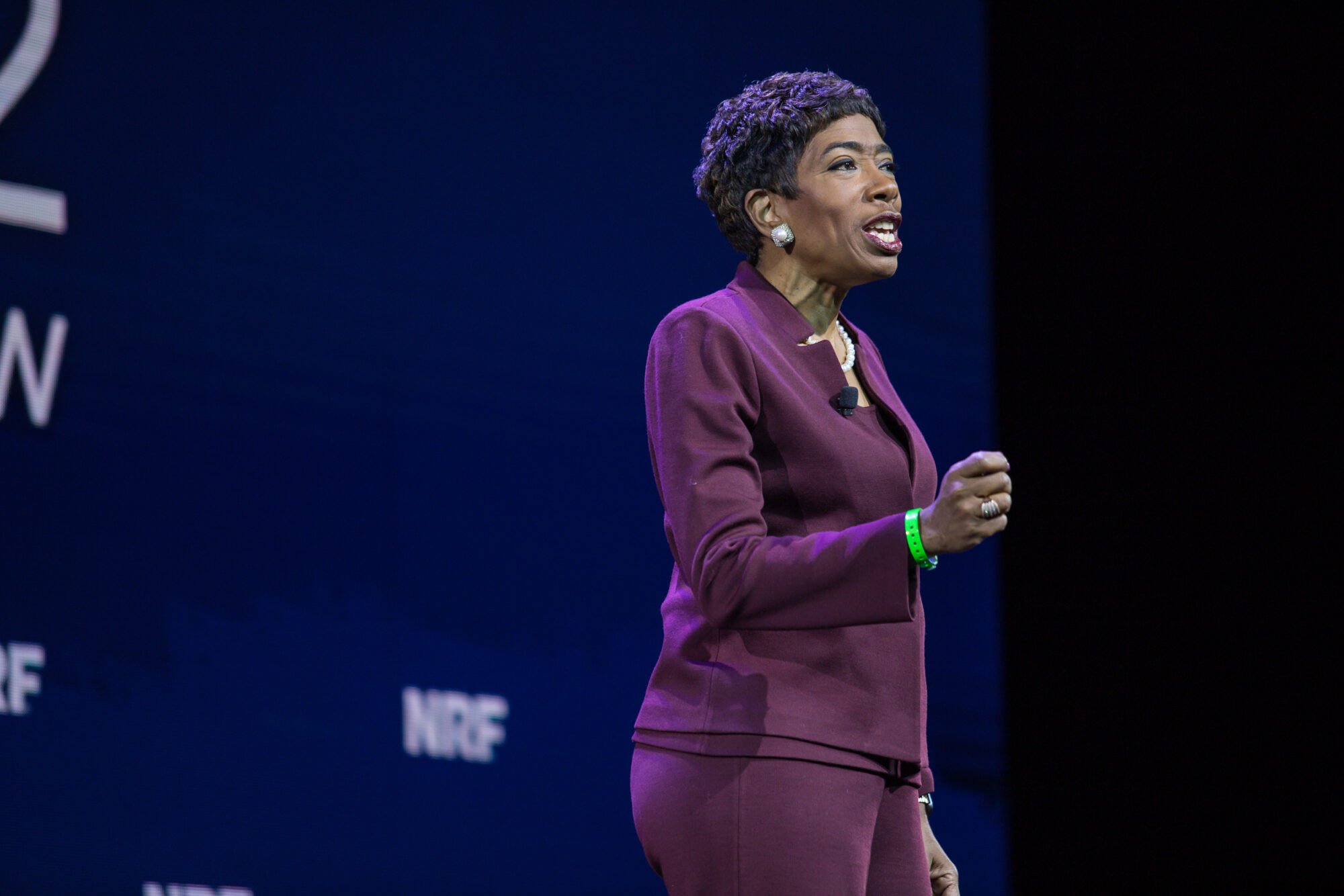 Carla Harris, Morgan Stanley Vice Chair, shares her predictions for 2022 and advice for retail leadership. Photo credit: National Retail Federation
Harris offered retailers leadership advice for retaining staff, including "show your authentic self" and "be transparent about what you know and don't know." In today's volatile environment, leaders must "create clarity even if you can't see."
Remote work doesn't appear to affect staff productivity. In a study by Mercer, an HR and workplace benefits consulting firm, 750 of 800 employers said that despite remote work, productivity was the same as or higher than it was before the pandemic.
A session highlighting women in the retail workforce cited that around 85% of retail purchases are made by women, but men are still the clear majority of NRF attendees. Two million women left the workforce since February 2020–roughly twice the men's deficit.
Karen Etzkorn, CIO of Qurate Retail Group suggested retailers need to do a better job of inspiring women and mentoring them to take risks in their careers–without sacrificing their families.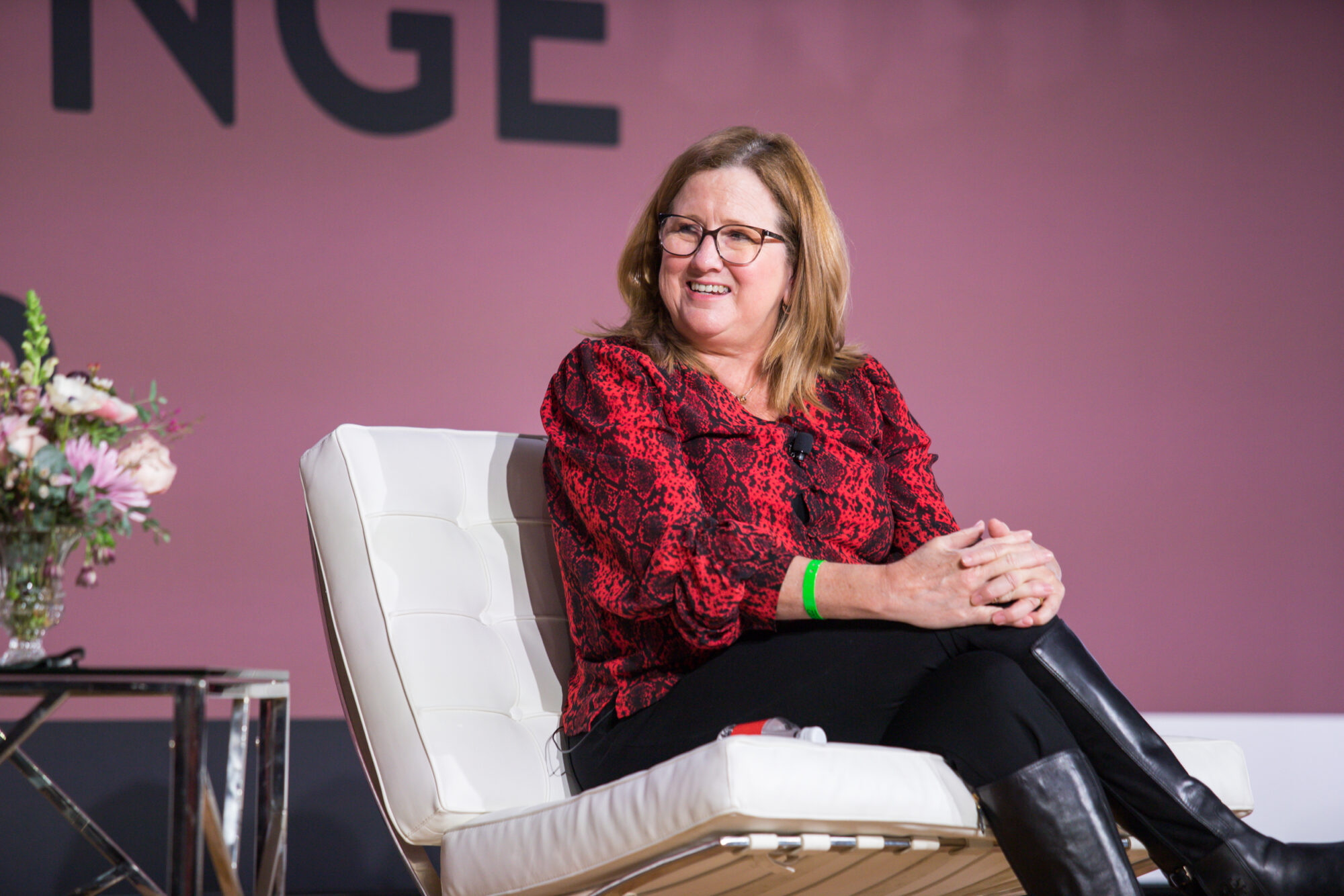 Karen Etzkorn, CIO of Qurate Retail Group suggested that companies may be focusing too much on hiring the cultural fit and should also hire for cultural "add". Photo credit: National Retail Federation
Online and In-Person Shopping Must Coexist
Pete Nordstrom, President and Chief Brand Officer at Nordstrom explained that Nordstrom's data-driven assortment and allocation strategy aims to get the right levels of products in the right places to satisfy consumers–across a combination of physical and online channels. According to NRF, 80% of shopping still happens in stores, and nine of the top 10 ecommerce websites are run by retailers that also operate bricks-and-mortar stores.
A natural 10% vendor turnover every year phases out older items and brings in new upcoming brands and items. Nordstrom explains that they aren't "married to brands" but focus on what is  important to customers.
Carla Harris of Morgan Stanley also attested that there is no substitute for human touch in a retailer-consumer relationship. Will this become a great differentiator as retailers seek to deliver online and in-store experiences that make customers feel good?
Target CEO Brian Cornell said a continued focus on flexibility and adaptability, and investing in physical stores–new stores, remodeling, and increased use of stores as fulfillment hubs–has helped Target accelerate post-COVID growth. Customers have appreciated same day fulfillment options and drive-up service.
New Era of Sustainability
Returns are 8-9% percent of the $6 trillion retail economy. With ecommerce, the return rates are tripled. Becca Meinz, Vice President, End to End Supply Chain Strategy for Best Buy explains that the reverse supply chain is critical to the circular economy. But with an average of 30 touches on the reverse side compared to seven for new products, it's crucial to get it right.
Open box returns are plugging holes in Best Buy's assortment with laptops in high demand. And Gen Z is embracing buying non-new products, creating a way to reach new customers. According to Meinz, "recycling is a last resort. We try to find a happier reuse outcome."
On-demand production is a growing trend with a significant potential to reduce waste. Jason Berns SVP, Product and Manufacturing Innovation for Ralph Lauren explained that creating custom items benefits the retailer, consumer, and the environment:
Because on-demand items are always full price sales, they offer a greater margin
Experiential retail delivers something something special to the consumer
With good sell-through, on-demand production creates less waste and reduces overproduction
Production-to-Purchase Retail and Supply Chain Planning
ToolsGroup is how retailers, manufacturers and distributors improve product availability while right-sizing inventory, no matter how complex their supply chain is or how much demand changes. Amid the explosive growth of multichannel, shifting customer requirements and ongoing supply uncertainty, our retail and supply chain planning suite optimizes and automates supply chains from production to purchase.