← BLOG
Gartner Supply Chain Symposium 2022 Highlights
The 2022 Gartner Supply Chain Symposium is back to its pre-pandemic glory, if the crowds and session lineup were any indication. Coming out of the breakouts felt a little like exiting a nightclub at closing time, and the healthy keynote session attendance and lively expo hall felt almost like old times.
Sure, COVID still made a cameo here and there, but the overall theme was all about how to "stop coping—and start offsetting". Supply chain professionals are plowing forward, and looking for advice, technology, and networking along the way to ensure a bright future.
Here are a few highlights from three days in [mostly] sunny Orlando for the 2022 Gartner Supply Chain Symposium.
It's time to stop coping and adopt an "offset strategy"
With the new post-pandemic reality playing out around us, the pace of business has accelerated and those who haven't moved past "coping" will be left behind.
Eighty-three percent of the workforce feel overwhelmed. It's time to respond to complexity with simplicity, dare to say no, and ruthlessly prioritize to projects that deliver the most value.
Evolving customer expectations are adding to the pressure on businesses. Gartner keynote presenter Ken Chadwick says "Just-in-time isn't dead, it's just shifted to "just the customer." Sixty percent of supply chains have been designed for cost efficiency, not agility. It's crucial for businesses to adopt practices that drive growth and deliver value while optimizing for cost.
Part of offset strategy also includes technology change. People are still taking advanced tools and downloading them into spreadsheets (you know who you are!) Today there are 3.5 years of tech innovation separating digital leaders from laggards. Part of advancement is the understanding that humans and technology work better together than independently.
Tip: Automating supply chain planning tasks with AI can reduce planner workload by 50-90%.
How AI Supply Chain Planning Automation Elevates the Role of Planners
Growth remains the #1 priority for CEOs
Fundamental shifts in history (like COVID) change how markets behave, and CEOs must respond.
Investment in both technology and supply chain continue to increase year-over-year.
According to Gartner's 2022 CEO survey, growth is still the #1 priority (the same as 2021). Workforce concern increased 27%, environmental sustainability up an astonishing 300%, and supply chain improvement was up 75% from the previous year.
Talk about cognitive overload! The challenge for CEOs is how to put all the priorities together in cohesive initiatives without burning out staff.
According to presenter Ken Chadwick, "CEOs are looking at how we can make our people more productive in the work they're doing using AI and machine learning tools."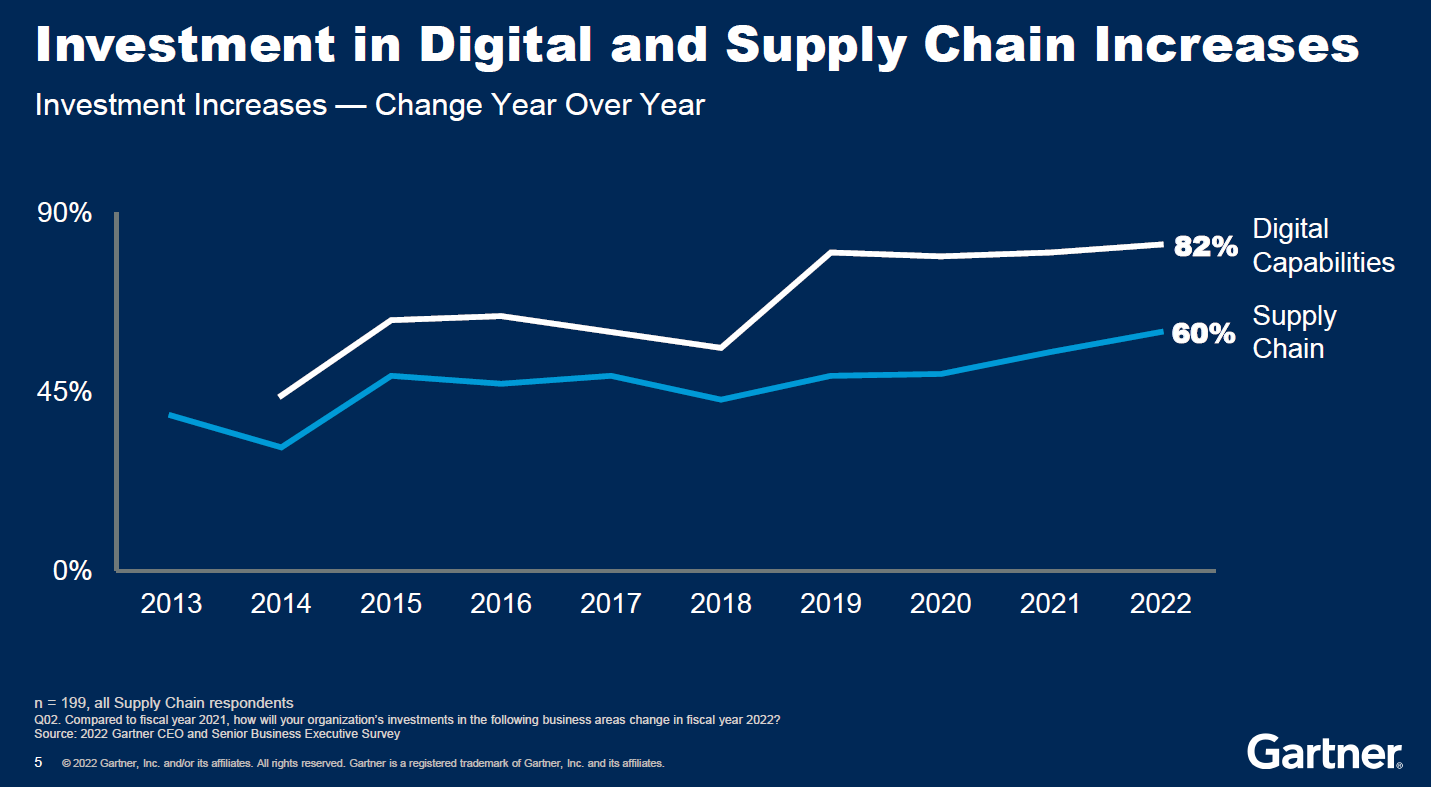 CEOs are concerned about the "new human deal"—the hybrid approach to home/office work mode—particularly its [perceived] impact on productivity and output and culture engagement and morale (new human deal is hybrid approach to home/office)
Workforce priorities need to be realigned: the survey shows CEOs are concerned with attracting talent to their companies, but don't devote as much energy to programs for upskilling and motivation.
Tips for successful planning transformations
Several breakout sessions were devoted to demystifying supply chain planning technology and how to run successful implementations. Gartner's Chris Poole explained that supply chain planning teams sometimes get frustrated because they don't get connected to commercial people. It's critical to bring together demand creation and supply capability. You can "win hearts and minds across the organization by explaining what's in it for them, and how they contribute to the ultimate financial outcomes of the company."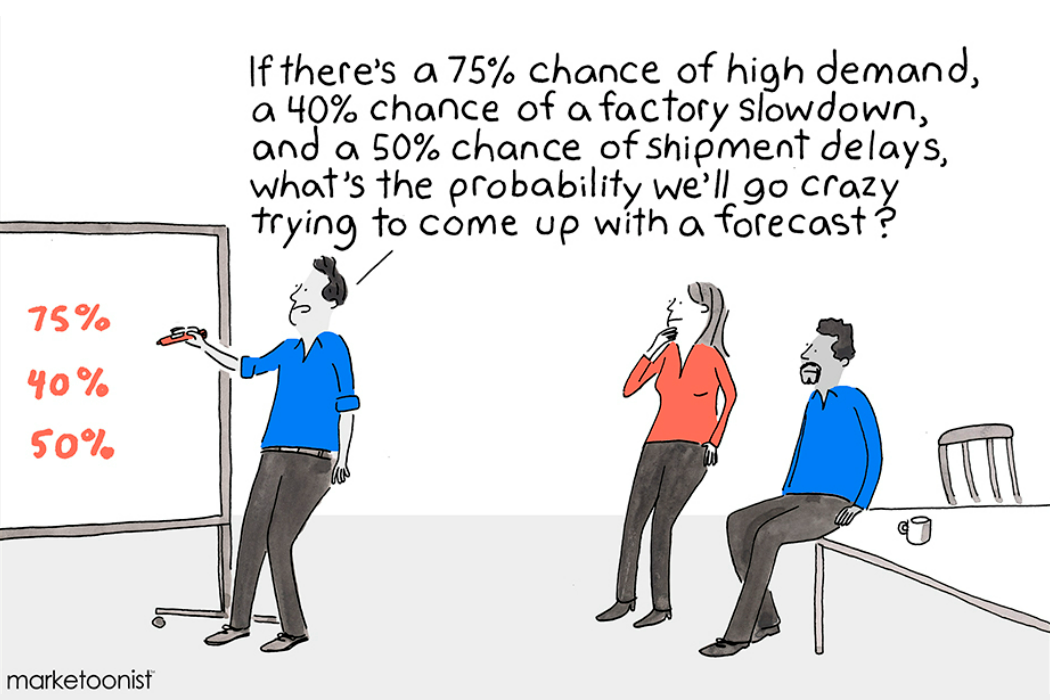 Crucially, many companies fail to connect supply chain planning outcomes to CEO goals. Quantify planning benefits in the language of the sales/marketing/finance teams: revenue, profit, working capital, and cash flow. For example:
Better service = more sales
Greater productivity = higher profit margin
Lower inventory = better cash flow, freed-up working capital
Winning in retail
Considering 72% of companies say having sustainability initiatives attracts customers to them, and 70% say being green attracts investors, it's crucial for companies to converge growth with sustainability.
The last mile of retail delivery is still hugely inefficient. Only one in four U.S. delivery vehicles are more than half full by weight, and carbon emissions are steadily increasing.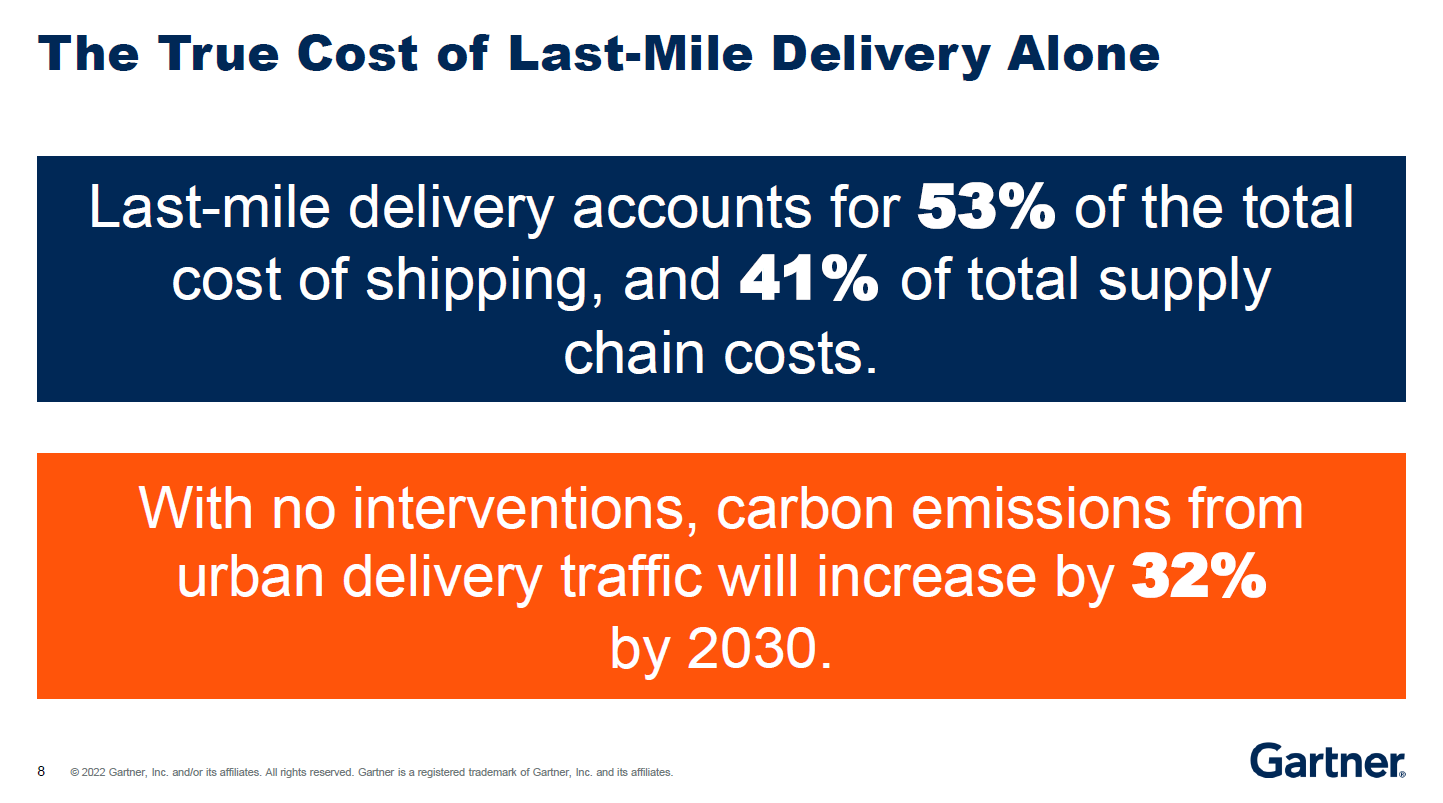 New consumer collecting options such as self-serve outside and inside the store and assisted service in store are gaining momentum. Multi-vendor pickup sites are on the horizon.
The end goal is to offer efficient fulfillment options that delight consumers. Understanding the retail customer's preferences is imperative to designing your own options.
A session highlighting the newly released Market Guide for Retail Planning, Replenishment and Allocation Solutions explained that just having AI/ML and improving forecasting accuracy is no longer a vendor differentiator for retail planning solutions. Look for providers that demonstrate broad geographic presence, deployed AI/ML use cases, and experience in your retail segment. Probabilistic forecasting is also an emerging requirement for retail planning.
Driving ROI:
The Business Case for a Comprehensive Retail Planning Solution
StoreBound shares its winning ecommerce strategy
Fast-growing houseware company StoreBound has launched over 200 products (and counting) and sells them to customers online through Amazon and several other ecommerce sites.
StoreBound was growing at a rapid rate, and with reseller brands and complexity rising, spreadsheets were unable to support their planning processes and provide accurate forecasts, as Vice President of Operations, Jim Schreiber, can attest:
"It got to the point where we couldn't get a grip on inventory, fill rates were varying and generally dropping, and the costs of storage and lost sales were hindering our growth. Who wants to work with a company that can't fill orders? The pandemic was responsible for many of these issues, but we also didn't have the right tools in the right place at the right time."
StoreBound turned to ToolsGroup. Just a few months after go-live, the company is already seeing benefits across customer service, logistics, and warehousing.
Probabilistic forecasting in the spotlight
Probabilistic forecasting was described in the session by Gartner as a "revolutionary" method.
It's all about forecasting precision vs. accuracy: Deterministic plans are precise but inaccurate; a probabilistic plan is accurate but imprecise.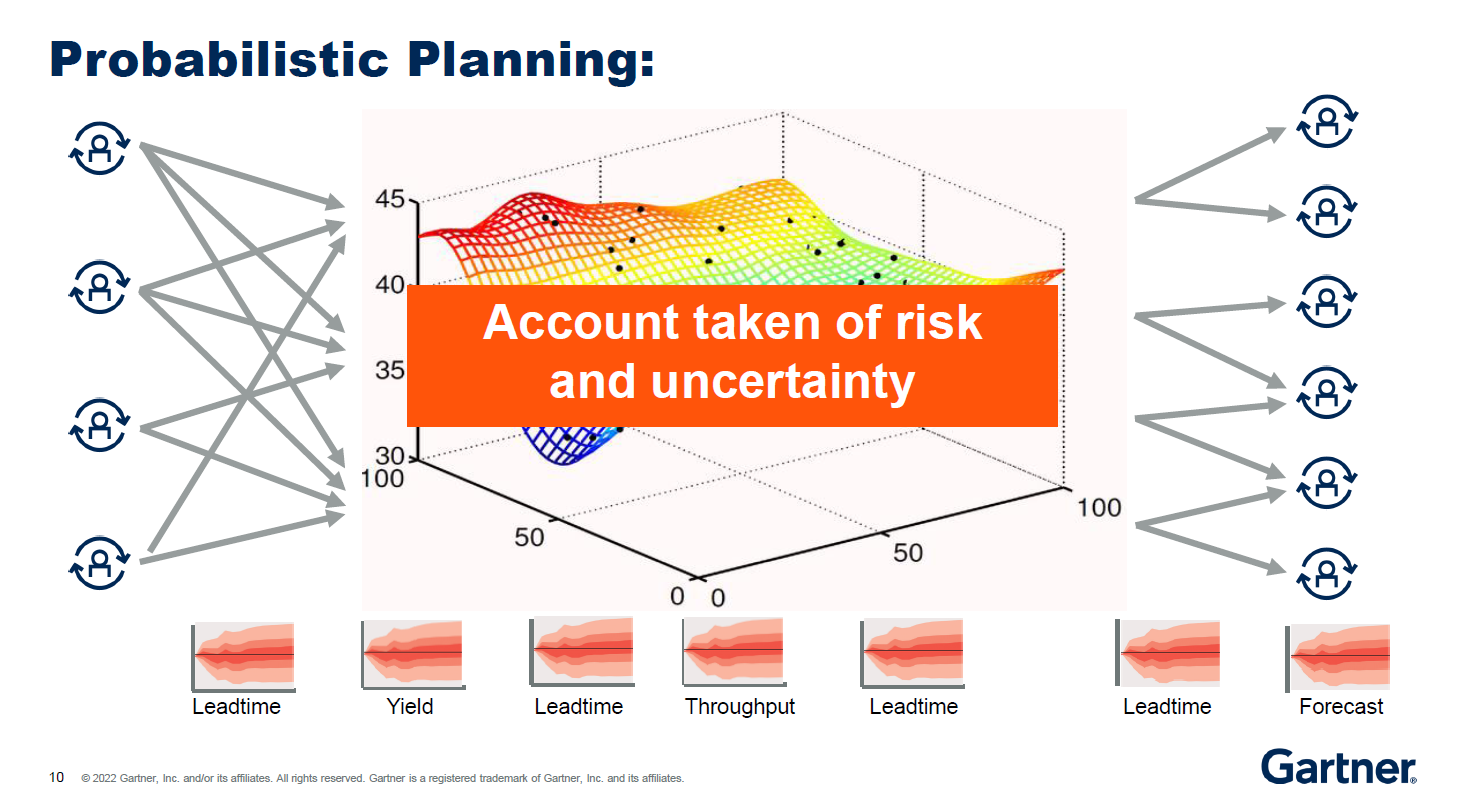 Probabilistic forecasting can be a competitive advantage. Some vendors have long had probabilistic approaches (ToolsGroup!); and the technology is moving beyond forecasting to capacity planning, manufacturing scheduling, etc.
Is S&OP Dead?
The fact is, explained Gartner's Pia Orup Lund, S&OP was created for a different time, when environments were predictable. Now we need to be more resilient and agile, and our S&OP processes need to change.
So, is S&OP dead? Well, sort of. We're more constrained by our S&OP processes than our technology, and we need to do a few things differently, including:
Aligning plans to our business objectives: this is more important than balancing midterm plans. We are creating plans not aligned with business strategy.

Change our fixations on horizons (strategic, tactical, operational)—this is outdated. Teams should switch their focus to IMPACT of decisions rather than TIME HORIZONS. Decisions have strategic, tactical, or operational impact regardless of time horizon.
Human/machine symbiosis gains traction
With shrinking supply chain domain knowledge and a challenging labor market, AI automation is more critical than ever before. Advanced analytics is a top technology investment area and data scientists are enjoying a 10-point increase in the perceived import of their roles.
We need to capture human knowledge to augment machine intelligence and vice-versa.
Across the spectrum of supply chain decisions and tasks, there is a varying degree of human/machine involvement. For example, Nestlé fully automates fulfillment, but keeps humans in the loop for prioritizing payment risks.
We're all in this together
Closing keynote historian and author Jon Meacham shared anecdotes and facts about the last 100 years of the American presidency to inform our future. His words are good advice for all of us: "Lend a hand in the morning because you might need one in the afternoon. This is what makes democracy work."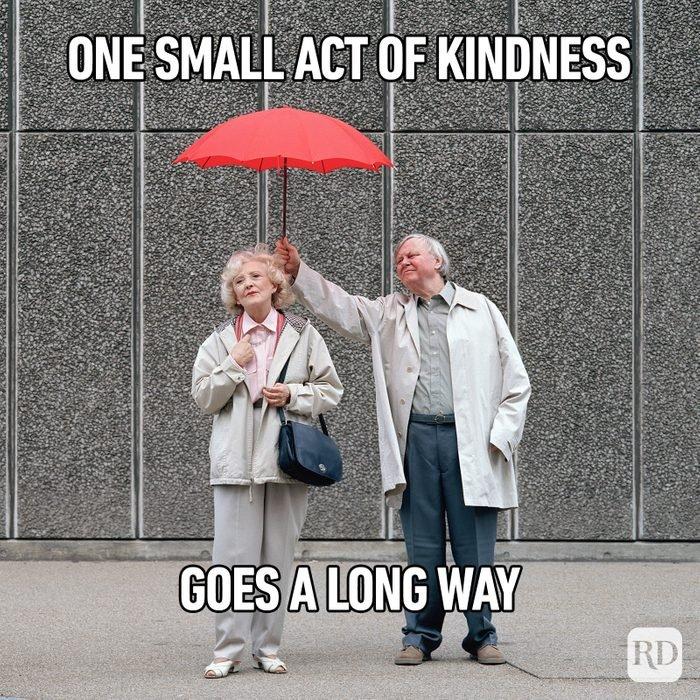 Image credit: Reader's Digest