← NEWS
Global Study Reveals 53% of Vital Digital Supply Chain Transformation Efforts Hamstrung by Skills and Labor Crunch
Leaders surveyed in third annual ToolsGroup and CSCMP report are "extremely concerned" about external supply chain threats but lack people to make transformation succeed
BOSTON (May 12, 2022) The third annual study by ToolsGroup, a global leader in supply chain planning software, and the Council of Supply Chain Management Professionals (CSCMP) has found that while more companies than ever (93%) are actively engaged in digital transformation, the people/skills deficit is the number one obstacle (53%) standing in the way of their efforts.
With respondents' top growth investment for 2022 being "increasing recruitment and training efforts", this year's study reveals the profound effect that current labor shortages are having on digital supply chain transformation.
From January to March 2022, CSCMP and ToolsGroup surveyed more than 300 supply chain professionals around the world. While most companies started 2022 with a positive business outlook, they remain extremely concerned about external factors that have impacted supply chain planning strategies in the last two years. Supply chain delays (25%), surging inflation (24%) and escalating fulfillment costs (19%) top the list of external concerns. In comparison, respondents were less concerned about internal issues such as shorter product life cycles, risk of obsolescence, or more production options.
Download the complete report:
External factors also influence the 2022 objectives for digital transformation in supply chain planning. As a response to labor shortages and the "great resignation", 51% of companies say they will increase automation in 2022 to focus staff on higher value activities.
At 47% each, developing better and faster reactions to unplanned disruptions and increasing supply chain resilience are the other top objectives for 2022. Last year's top objective–to keep up with evolving customer behaviors and expectations–has plummeted to number five in 2022, demonstrating just how profoundly external factors are disrupting all supply chain activities.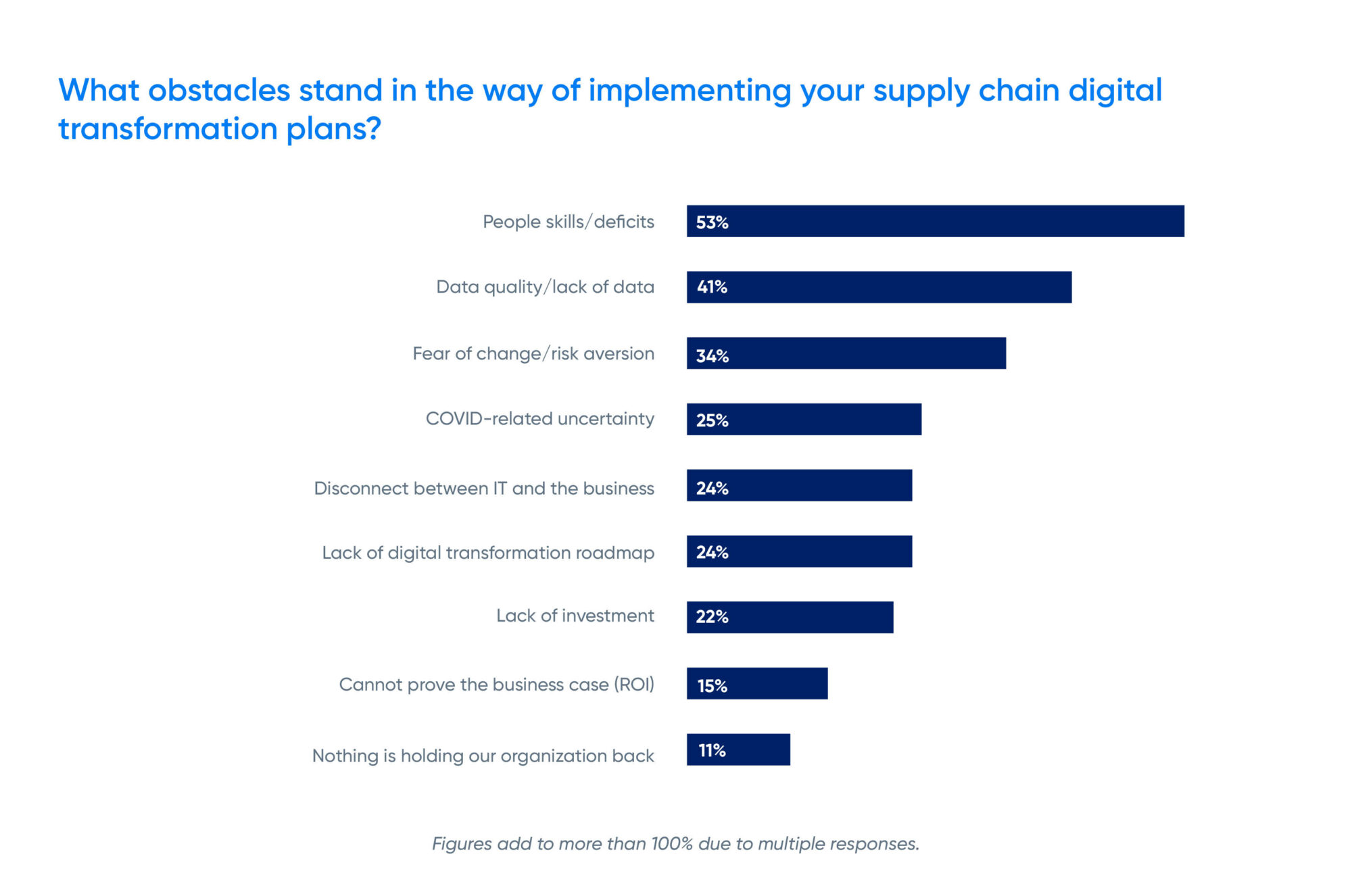 But while external factors are pushing the digital transformation initiatives, it's the people factors that are perceived as the most critical success factors. Half of the respondents (50%) said a continued focus on people, process, technology and security implications is vital to delivering successful digital transformation results, followed by change management and effective communication (45%) and the need to develop leadership-driven goals (43%).
"The past two years have put a spotlight on the need for digitizing supply chain planning, and fortunately, more companies than ever are responding by stepping up efforts to transform their operations," said Caroline Proctor, chief marketing officer, ToolsGroup. "The percentage of companies that are not pursuing a digital transformation strategy at all is, at 7%, the lowest we have measured so far. Our findings reveal increasing investments in software, automation and people."
The survey results show that companies are charting a steady course toward digital transformation"
"The survey results show that companies are charting a steady course toward digital transformation," observed Mark Baxa, CSCMP president and CEO. "As supply chain challenges become more frequent and intense, company leaders are increasingly focused on implementing solutions that can help them better manage risk, bypass skills shortage and become more resilient."
About ToolsGroup
ToolsGroup is how organizations improve product availability while right-sizing inventory, no matter how complex their supply chain is or how much demand changes. In a world that rarely follows the rules, our retail and supply chain planning suite optimizes and automates supply chains from production to purchase, enabling manufacturers, distributors and retailers to be ready for anything. That's why global leaders like Absolut, BP and Harley-Davidson rely on us year after year. For more information, follow ToolsGroup on LinkedIn, Twitter, YouTube, or visit www.toolsgroup.com.
About CSCMP
Since 1963, the Council of Supply Chain Management Professionals (CSCMP) has been the preeminent worldwide professional association dedicated to the advancement and dissemination of research and knowledge on supply chain management.  With CSCMP members located around the world representing nearly all industry sectors, government, and academic, CSCMP members receive unparalleled networking opportunities, cutting-edge research, and online and on-site professional educational opportunities.  To learn more, visit cscmp.org and find CSCMP on social media: Twitter, Facebook, LinkedIn, CSCMPtv, and Instagram.