← BLOG
Three Things Telecom Supply Chains of the Future Need to Do Now
The telecommunications industry has become so highly commoditized that customers perceive only marginal differences in products and prices among the various market players. Want to have a winning telecom supply chain? Market leadership depends more and more on operational excellence, and making smart tradeoffs that optimize cost and service levels to meet executive-level goals–and surpass customer expectations.
Here are three things to start doing now to prepare your telecom supply chain to compete in this increasingly complex and challenging market:
1. Transform telecom supply chains to a service-driven model
Factors like growing competition from upstart players, new 5G services, broadband landlines, rapidly-changing consumer behavior, accurate sales forecasting becomes impossible. The new telecom reality has driven a new and better way to strike the optimal balance between meeting (or exceeding) customer service expectations and capital expenditure investment. Telecom companies must pivot to a service-driven approach.
Service-driven operations focus on achieving a target service level by hedging against demand variability and supply uncertainty. This model allows you to balance company-wide objectives with operational targets, market trends, and customer preferences.
Think of service-driven planning as an intelligent thermostat for your supply chain. You set aggregate and service class goals for different product groups or markets; the planning system will automatically translate customer service goals into SKU level service targets for each item within each service class.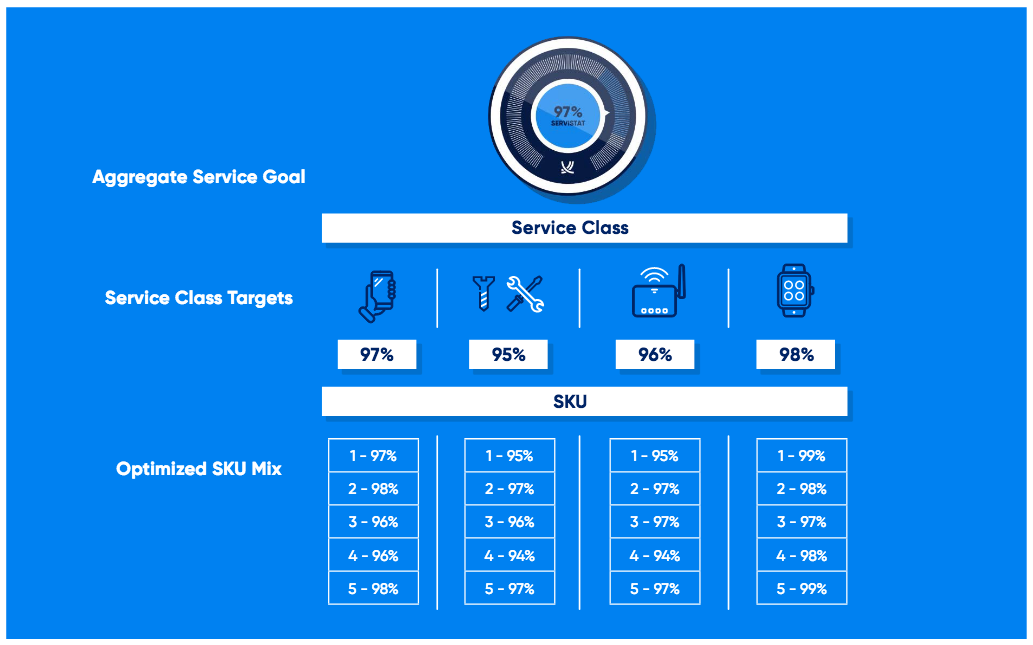 2. Put telecom operations in the lead in transformation
This new service-driven telecom supply chain approach calls for service-driven operations and developing new skills, capabilities, and competencies. Your telecom operations must craft a detailed vision for building greater resilience and profitability. This should involve using data and analytics to improve predictability and strike the right balance between service and cost.
The crucial role operations teams play includes:
Designing the transformation plan
Designing the communication plan: internal (sales, marketing, finance, C-suite) and external (suppliers and distributors)
Carefully replacing the current framework and legacies
Coordinating the implementation and system integration requirements with IT
Developing a simultaneous change management project to consolidate the transformation plan in the organization
Invigorating the company with new competitive advantages
3. Guarantee product availability with an SKU-level plan
The key to guaranteeing product availability while respecting inventory constraints and reaching financial targets is to satisfy top-down goals with a granular, SKU-level plan. This allows commercial and marketing teams to analyze and fill the gap between top-down and bottom-up numbers.
With ToolsGroup supply chain planning software for telecom you can connect all the dots in one solution to:
Integrate stakeholders across the organization and over time to translate targets into operations
Automate forecasting complexity to empower operations to focus on strategic work
Reach and exceed economic goals
For one telecom customer, we built a service-driven 'dynamic response network' that integrated demand planning, sensing and multi-echelon E2E inventory optimization. Demand is sensed at the stores and translated into signals, which are propagated through the entire supply chain of the stores/distributors, the telecom operator and OEM suppliers. Its multi-enterprise network visibility is further enhanced with time-phased demand signals, inventory, replenishment and projections that enable collaboration between the trading partners. The E2E process guarantees customer service with high global supply chain efficiency.
The results: a 33% inventory reduction and product availability increased to 96%.
By initiating service-driven planning models, your telecom operations will be equipped to drive significant cost efficiencies and revenue growth–simultaneously. These three crucial practices will increase your chances of achieving market leadership by delivering an unbeatable customer experience while meeting company goals. Download our ebook to get the full guide to operations-led telecom supply chain transformation.