← BLOG
Supply Chain Planning with Microsoft Dynamics AX
Microsoft Dynamics AX is a powerful mid-market ERP platform with the capacity for medium-size companies to expand and transform their businesses. But growth poses supply chain planning (SCP) challenges. Expanding your business creates increasingly complex demand forecasting, and you are challenged in supply chain planning with Microsoft Dynamics to service an extended product line and customer base.
This invariably leads to manual interventions and firefighting, as you struggle to manage demand volatility and improve forecast accuracy while dealing with the limitations of a basic supply chain system. It eats up resources and time, and as the effort grows, drives up total cost of ownership (TCO). (For more on this topic, see When SMBs Hit the Inventory Planning Complexity Wall)
Here are some planning challenges companies typically face when trying to do supply chain planning with Microsoft Dynamics:
Smaller firms might manage "unforecastable" demand by exception; but as product and channel diversity increases, the problem becomes consuming
Struggling to identifying the right mix of inventory to serve multiple channels (e.g., retail, wholesale, foreign distributors, internet)
Difficulty in reliably making informed tradeoffs that balance service levels and inventory
Outgrowing monthly forecasting, and needing reliable weekly (or even daily) forecasting to more quickly identify demand patterns
We have seen Dynamics AX users each face growing pains that are somewhat different; reminiscent of the first sentence in the novel Anna Karenina, "All happy families are alike; each unhappy family is unhappy in its own way".
But a common thread was that they all upgraded to more advanced supply chain planning to overcome their challenges. Here are a few examples:
Ratioform Packaging, a market leader in packaging for shipping, warehouses, and offices, was having a tough time balancing costs with service level for its slow-moving items, leading to too much inventory and manual work for planners. They implemented a SCP system that took into account individual order-lines instead of aggregated demand. "We were able to free up planners for other tasks," said Uwe Füllenbach, executive board member. "We reduced safety stocks significantly, especially of fast-moving items, and our order cycles are shorter. We improved availability by 3-4 points, and achieved the 97% service level goal expected in our industry. We completely recouped our investment within just one year."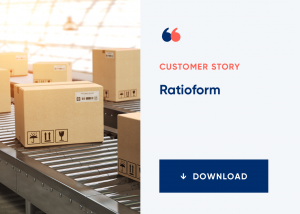 At Kronans, a large pharmacy chain in Sweden, each local pharmacy manager was manually setting order parameters for every item, a time-consuming process that led to sub-optimal inventory levels. Kronans implemented a SCP solution that automatically calculated the best replenishment and inventory parameters for its total product range, on a daily basis, across all the pharmacies. Product replenishment is now fully centralized. The company decreased inventory levels by 15% and increased service levels by 1.5%.
As Lantmännen Unibake grew, the international bakery company needed to stay competitive through more effective and standardized local planning in a global distribution environment; a new SCP solution enabled it to make global, proactive decisions on capacity and supplies, and reduce inventory, production, and transportation costs.
Paints and coating supplier Tikkurila Oyj implemented a forecasting solution to replace old technology; the system featured an online portal for gathering market intelligence to manage campaigns.
More business means more complexity and new challenges. While Microsoft Dynamics AX has the platform power to handle larger businesses, the supply chain planning challenge requires a more advanced and integrated SCP solution.
---
Click below for a list top 10 of symptoms that you outgrowing your supply chain planning software.