← BLOG
ToolsGroup Drives Continued Innovation with Enhancements to JustEnough Retail Planning & Execution
Retail customers need more than just an omnichannel experience. They need retailers to deliver dynamic, unified commerce experience. 
To guarantee customer-centric experiences across every retail channel, retailers need to create agile, resilient operations to adapt to changing consumer behaviors.
This is why ToolsGroup is excited to announce significant enhancements to our JustEnough Dynamic Retail Planning & Execution solution.
These upgrades deliver on the promise of event-driven planning and execution while adding significant functionalities that expand and nurture our retail capabilities.
Hear more about this exciting update from our CEO, Inna Kuznetsova:
With this new release, merchants achieve the operational agility and resilience they need to deliver an enhanced shopping experience across all channels. Connecting real-time inventory insights with merchandise planning applications enables truly dynamic retail planning. This not only improves the experience for customers but also optimizes business performance and supports sustainability objectives."
Explore the capabilities below to see how v2023.1 has fundamentally shifted the narrative on what is possible with ToolsGroup's retail planning solution.
Debuting ToolsGroup JustEnough
Officially announced in January, v2023.1 brings JustEnough's real-time capabilities to the forefront.
Utilizing our Inventory Hub Dynamic Data Unification Platform, users can now allocate, replenish, and fulfill using real-time inventory insights and a single, easy-to-use dashboard.
Thanks to these innovative solutions, users can improve their processes and:
Respond to changing shopping patterns in real-time, with thresholds and tolerance to eliminate "nervousness" in the system
Automate order creation and ensure budget adherence
Adjust order fulfillment dynamically, ensuring online orders are fulfilled from the most profitable location possible
JustEnough is now also positioned to support some of retail's most pressing use cases, such as:
Better managing trend sell-through
More precisely managing inventory with in-the-moment replenishment insights
Bringing products back into active inventory at the speed of retail
With real-time retail, JustEnough is ready to deliver the dynamic merchandise and supply chain planning required to deliver the experiences customers demand – all with the operational agility and resilience necessary to ensure long-term growth and scalability.
Stock-to-Service Curves
Version 2023.1 has added to JustEnough one of the industry-leading capabilities of ToolsGroup Service Optimizer 99+ (SO99+). It seamlessly integrates the solution's stock-to-service curves into JustEnough's retail forecasting.
This allows users to better identify how different targeted service levels will affect inventory safety stock, allowing them to evolve from demand-driven planning to service-driven.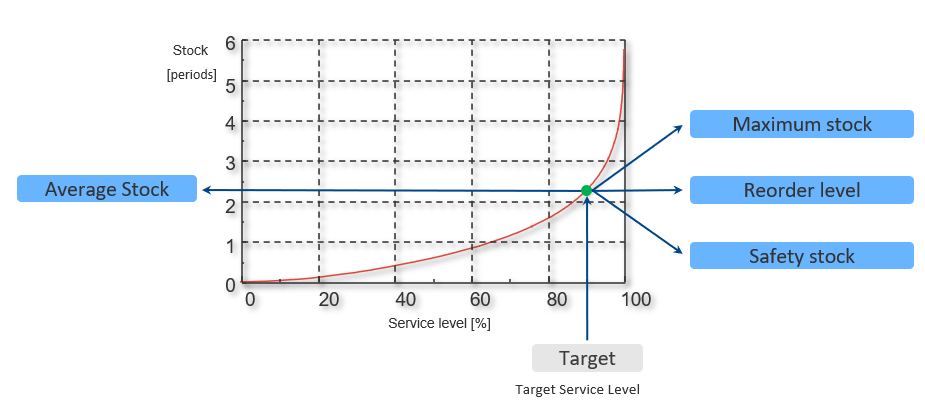 We included stock-to-service curves in this product release as a response to the rapidly-changing dynamics of the retail space.
Retailers need to be able to plan with confidence, even with imperfect information,market shifts, and supply chain uncertainty around when and how inventory will be available.
With the ability to use "stock-mix optimization" via stock-to-service curves, retail planners can work towards meeting a service level that takes into account the risk of the market and the uncertainty that they are facing in their planning.
Every retailer is unique. Being able to offer them the flexibility to plan according to the level of risk they're willing to accept ensures that every retailer can build a retail inventory plan that is right for them – all while lowering overall inventory costs and increasing expected service levels.
Want to learn more secrets to successful inventory management?
Check out "What's Wrong with ABC Inventory Classification" and discover how service-driven planning and inventory optimization reduces stock levels for greater customer satisfaction and increased profitability.
Receipt Metrics in Top-Down Planning
With v2023.1, JustEnough has also empowered Assortment Planning users to view and plan receipt metrics at an aggregate level.
This means they can make these changes to sales and receipt plans and then push those changes forward to all subsequent item-levels rather than having to plan on an individual basis.
This enables line planning in a single view and from the very top of your planning apparatus, which significantly eases workflow processes while speeding up day-to-day planning.
On top of this, Lock and Spread capabilities, which enable users to identify and hold planned values for lower-level items while making changes at an aggregate level (and thus only affect unlocked items), have been added to make the functionality even easier and more intuitive to use.
Our team is also adding Receipt Recalculation within this view, which will provide vital receipt planning functionality and flexibility.
Performance Upgrades
A huge focus for v2023.1 was also to enhance the overall usability and performance of JustEnough.
We've accomplished that by streamlining numerous processes and calculations across Assortment Planning and other modules to allow for fewer process interruptions and faster, more efficient planning.
On top of this, additional upgrades have been added to the back-end of the software to support smooth and seamless scalability of the software for organizations as the amount and complexity of their data grow.
Key Takeaways
The JustEnough Dynamic Retail Planning & Execution solution is the market leader in retail merchandise planning.
As the most complete, integrated, and intuitive merchandising solution on the market, it helps businesses all around the world improve forecast accuracy, lower inventory costs, maximize margins, and enable leaner business models, all while delivering better, faster decision-making.
Backed by ToolsGroup's powerful AI capabilities and innovative mindset, and Inventory Hub's unparalleled real-time visibility capabilities JustEnough gives retailers every tool they need to deliver a true unified commerce experience to their customers.