← BLOG
How to Attain "Stage 4" Supply Chain Planning Maturity
Gartner has identified five stages of supply chain planning maturity and they say that 70-80% of companies plan to increase their supply chain planning (SCP) technology spend over the next two years to climb to the next level.
In their recent report titled Carefully Assess Which Tools Are Right for Each Stage of Supply Chain Planning Maturity (20 October 2017, Tim Payne & Amber Salley), the analyst firm describes the right tools to get from one level to the next. For this blog, we'll focus on just one of those steps, from Stage 3 to Stage 4.
Stage 3 is where firms coordinate their supply chain processes—shifting concentration from functional capabilities to end-to-end processing for more planning visibility across the wider chain. Here, Gartner says, "The demand plan is integrated with inventory, production and replenishment plan to provide a foundation to address the end-to-end supply chain planning decision." Instead of stand-alone tools, firms migrate to a planning System of Record (SOR) to collaborate, simulate scenarios, and plan—a degree of coordination that enables more trade-offs toward an optimized, end-to-end plan.
Gartner says that having created a foundational layer in stage 3, firms advancing to Stage 4 should generate plans that strengthen resiliency in the supply chain and deliver more value to the business. The way to do that, they say, is often by adding planning Systems of Differentiation (SOD) such as Sales and Operations Planning (S&OP), Multi-Echelon Inventory Optimization (MEIO), and Demand Sensing.  For example, MEIO enables inventory policy to accurately reflect all the sources of demand and supply variability across the enterprise chain. "The deployment of these new inventory strategies results in a company being able to change the shape of the exchange curve between total supply chain inventory and customer service," says Gartner.
In a nutshell, moving up to Stage 4 SCP helps companies make the sounder trade-offs and tougher calls to achieve profit-oriented supply chain optimization (see figure at top of blog). To do that, Gartner also recommends the following technological focal points for Stage 4:
Employ a unified supply chain planning model in order to support extensive multi-enterprise planning and collaboration
Build more resilient supply chain plans (e.g., stochastic planning, S&OP trade-offs, supply chain segmentation) in the tactical time horizon that facilitate more accurate short-term planning such as demand sensing, allocation, and order promising
Leverage multi-enterprise execution visibility (the "E" in Gartner's CORE acronym – see diagram) through improved respond (the R" in CORE) planning decisions to ensure the supply chain is more responsive to execution events
Add more E2E configure (the "C" of CORE) capabilities particularly for more complex E2E optimization decisions
Stage 4 SCP technology tools help organizations make what the report characterized as more "complicated" and "complex" decisions (See diagram below). "End-to-end planning decisions such as an inventory strategy and optimization and S&OP trade-offs fall into this [complicated] category." Stage 4 SCP technology tools let companies more capably probe data and sense cause-and-effect relationships to make the right call.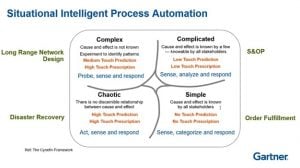 Stage 4 tools also enable organizations to execute margin-focused optimization to profitably react to volatility, complexity, and ambiguity. Stage 4 firms want more responsiveness and agility. They want higher-fidelity plans. They want functions such as demand planning, inventory replenishment, S&OP to work well together to make more optimized and profitable decisions in the face of added complexity.
---
Click below for a short white paper on optimizing E2E supply chains: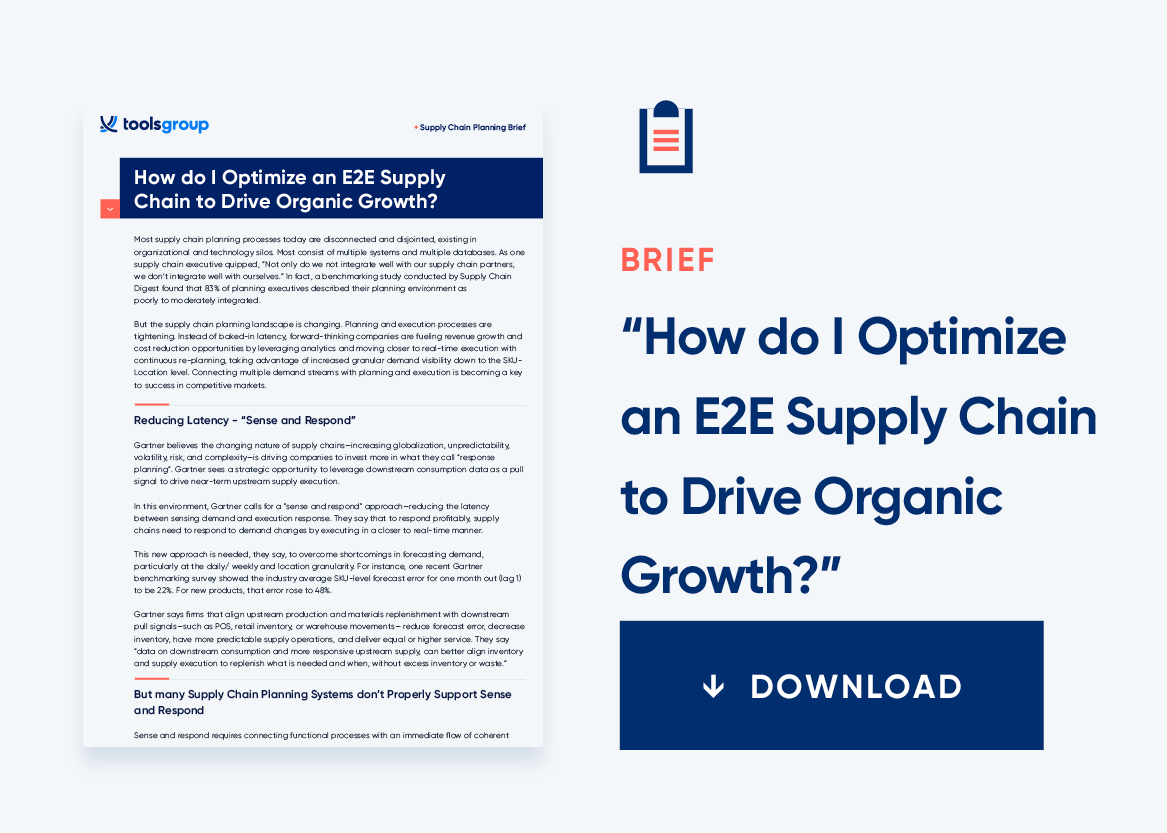 Gartner defines the decision types referenced above as follows:
Simple decisions – where the cause-and-effect relationship is known and discernable by all, including key stakeholders. The decision-making process typically goes like this: Sense the situation, categorize it and select the appropriate response from a range of best-practice resolutions. Processes and decisions that are best practices (for example, how to size an item's safety stock level or creating a statistical demand plan based on past sales history) fit into simple decision making segment.
Complicated decisions – The cause-and-effect relationship is known by a few experts but not known by the key stakeholders. The decision-making process is typically one of sensing the situation, analyzing it to get an understanding and effecting any necessary change management and then selecting the appropriate response once agreement is obtained. End-to-end planning decisions such an inventory strategy and optimization and S&OP trade-offs fall into this category. Typically a few analysts are aware of the relevant cause-and-effect relationship of inventory level and location and service within a supply chain. However, functional leads are probably not "seeing" the end-to-end trade-off, resulting in the need to present, analyze and influence key stakeholders through collaboration. This will help effect the change and acceptance of the new inventory strategy that benefits the supply chain, but may cause a deterioration in function level metrics (for example manufacturing asset utilization).
Complex decisions – defined as a cause-and-effect relationship that is unknown by all, but potentially knowable. The decision-making in this emerging process typically goes from probing/experimenting with the environment, sensing the cause-and-effect relationship and then selecting the appropriate response. Examples here include the use of new data sources such as weather or social sentiment and their impacts on demand. Through experimentation with the new data, potential cause-and-effect relationships may be uncovered that help to enhance specific planning decisions and outcomes once relevant responses can be identified (e.g., how weather influences demand level at an SKU location level).
Chaotic decisions – where the cause and effect is not discernable — and, as the name may imply, is in crisis-management territory. The decision-making process is typically one of acting, because no cause and effect is known, sensing what happens and adjusting and responding as appropriate. This type of planning decision tends to prevail when the decision maker has no visibility of the cause and/or effect and is just responding to a supply chain disruption of some kind and "hoping for the best." These chaotic decision types will be more prevalent when there is a lack of supply chain visibility — both internally and externally.