← BLOG
Dynamic Fulfillment 101: Achieving Multiple Objectives for Better Margins
This is part three of our blog series, "Dynamic Fulfillment 101." Missed the first two posts? Click here for part one and here for part two.
Last week, we talked about the three components of cost-based fulfillment optimization – ship cost, labor cost, and expected revenue.
This week, we're going to explain how Dynamic Fulfillment ties all of these elements together to find the absolute best fulfillment solution for each individual item. 
Plus, you'll get to check out real-world examples of major retailers who leverage this technology every day – for good reason.
To start, let's talk about multi-objective optimization.
How to Achieve Multi-Objective Optimization
I know, I know. Last week, we were all about cost-based optimization.
So what is multi-objective optimization?
It's simply cost-based optimization seen from another angle.
Multi-objective optimization is when Dynamic Fulfillment takes all of those costs we talked about (shipping, labor, markdowns) and analyzes them simultaneously to find the perfect balance between all three.
For every order, Dynamic Fulfillment is calculating every possible permutation of the three cost factors for every possible fulfillment location.
Let's illustrate. 
In the example below, you can see three different fulfillment options for an order, each with its own ship cost, labor cost, and expected revenue.
Your goal is to fulfill the customer's order within 3-5 days at the lowest possible total cost.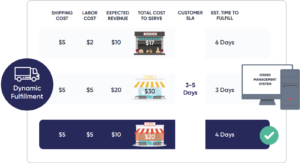 The first option is a no-go, since it would take 6 days for the item to arrive.
At 3 days, the middle option gets your order to the customer fastest. The total cost to serve is $30.
The bottom option, however, shows the perfect balance. It allows you to take advantage of an extra day to ship and comes in a full $10 under the middle option. 
So by selecting the bottom location, Dynamic Fulfillment keeps your costs low while still delivering on your promises to customers.
Node Balancing: The Tie-Breaker
So what if you find multiple locations that all have the same cost-to-serve?
By looking at the number of backlog days, dynamic fulfillment identifies the fulfillment option that puts the least amount of strain on the network.
So perhaps the backlog rate is higher at Store B than at Store A. Store A could get the item shipped that same-day because it has more bandwidth, whereas Store B couldn't ship for at least two days.
Dynamic Fulfillment will select Store A, since the retailer would be able to get the goods to the customer faster while reducing pressure on overutilized nodes within the network.
Real-World Examples
Looking for a feel-good fulfillment story? Look no further.
Zumiez Goes Channel-Less
Zumiez is a specialty retailer of apparel, footwear, and accessories and has over 700 stores across its network. Unlike many other retailers, Zumiez fulfills orders almost entirely from stores, pioneering a truly "channel-less" experience.
The Dynamic Fulfillment solution helps us use data to make smarter, faster decisions to create an even better experience for our customers."
Dynamic Fulfillment helped them achieve:
$1.2 million in fulfillment savings in the first year of launch

3-10% decrease in operational split rate (an estimated $1 million in annual savings)
Take it from Paul Kisicki, VP of IT at Zumiez: "The Dynamic Fulfillment solution helps us use data to make smarter, faster decisions to create an even better experience for our customers. The fulfillment optimization logic helps us generate operational efficiencies like reducing split rates and shipping costs while better serving the needs of our customers."
Belk Reduces Markdowns and Shipping Costs
Belk is a US department store chain with about 290 stores. As its omnichannel operations grew, the company embraced a ship-from-store program and – with Dynamic Fulfillment – saw significant business results.
Reduced markdowns, resulting in $29.8 million GM savings

Saved $7.5 million in shipping costs

Achieved higher ship rates
Watch Belk and ToolsGroup's joint webinar on the benefits of Dynamic Fulfillment.
Discover How Dynamic Fulfillment Helps Retailers Reduce Shipping Costs and Improve Margins
Final Takeaways
Now that you've completed your course on Dynamic Fulfillment, you know:
How Dynamic Fulfillment accelerates and improves fulfillment processes, achieving greater business results than traditional optimization logic. 

How shipping, labor, and expected revenue all play a role in efficient, cost-based optimization

How Dynamic Fulfillment brings all these components together and helps real-world companies achieve real-time, simultaneous fulfillment optimization that minimizes cost while achieving customer SLAs
We hope you've enjoyed Dynamic Fulfillment 101, but there's even more to discover!
Looking to continue your studies?
We have even more details on the ins and outs of Dynamic Fulfillment in our ebook Dynamic Fulfillment: The Three Keys to Unlock Ship-From-Store Success.