Video
Fulfillment in Real Time: How JustEnough Dynamic Fulfillment Helps Retailers Reduce Shipping Costs and Improve Margins
Revolutionize Omnichannel Fulfillment with Simultaneous Optimization to drive profits!
Are you seeking to revolutionize your omnichannel fulfillment processes and unlock untapped potential for your business? The answer lies in harnessing the power of AI-driven Dynamic Fulfillment.
Be sure to check out Belk's phenomenal success story: Learn how Belk leveraged Dynamic Fulfillment to increase margins, while cutting per unit shipped costs , all while exceeding customer expectations.
By watching the recorded webinar, you will:
Discover the limitations of current fulfillment solutions and the need for dynamic optimization.
Understand the power of a AI-based approach in achieving significant cost reductions and margin improvements.
Gain practical insights from Chaitanya Tamane, VP of Omnichannel Operations at Belk, as he shares their real-life success story.  Spoiler alert – They saved over $37M!!
Don't miss out on this exclusive opportunity to learn from industry leaders and transform your omnichannel fulfillment strategies and deliver millions of dollars to your bottom line!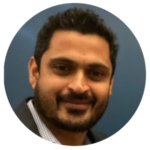 Chaitanya Tamane
VP of Omnichannel Operations at Belk
Chaitanya is a seasoned industry expert with a proven track record in optimizing omnichannel fulfillment processes. His valuable experiences and strategies have contributed to Belk's phenomenal achievements using JustEnough Dynamic Fulfillment.
Enter your details to watch