← NEWS
ToolsGroup Wins Microsoft's Best ISV Solution Innovation Award
Prestigious award presented by Microsoft at the Inspire event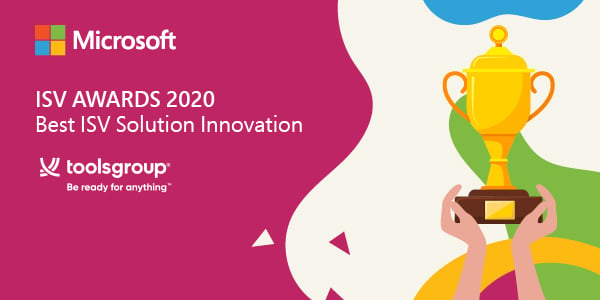 BOSTON and MILAN (July 29, 2020) ToolsGroup, a global leader in supply chain planning software, is proud to announce it has been awarded Microsoft's Best ISV Solution Innovation Award at Inspire 2020, the annual event dedicated to the Microsoft partners ecosystem. ToolsGroup won the award, presented by Microsoft Italia, for the dizzying growth of its global partnership activity in a short time, and its close collaboration with Microsoft Corporation in the development of new solutions for the democratization of supply chain planning in the cloud.
Each year, Microsoft presents the MS Partner Awards to partners who have excelled throughout the year, both in results and collaboration with Microsoft.
"We are honored to receive this important recognition in a truly exceptional year where planning with traditional methods is impossible," said Francesco Stolfo, ToolsGroup VP of Business Development. "ToolsGroup's mission is to help our customers be ready for anything, and Microsoft's recognition of our ability to add innovation, value, and efficiency across the supply chain make us extremely proud."
ToolsGroup is a Microsoft's recommended Gold Partner for supply chain planning, with an integrated solution including demand forecasting and planning, promotion planning, inventory optimization, production and capacity planning, allocation and replenishment, and S&OP.
About ToolsGroup
ToolsGroup is how organizations achieve their target service levels while optimizing inventory, no matter how complex their supply chain is or how much demand changes. In a world that never follows the rules, organizations have to be ready for anything–from the challenges of multi-echelon inventory optimization to the endless surprises of sporadic demand. To do this, they have to predict more behaviors, protect against surprises, and perform more efficiently. Only ToolsGroup makes all this possible. That's why global leaders like Absolut, BP and Harley-Davidson continue to rely on us year after year. Visit www.toolsgroup.com and follow us on Twitter @ToolsGroup.