← NEWS
ToolsGroup Promotes Mauro Adorno to Managing Director of Europe
BOSTON (July 30, 2019) – ToolsGroup, a global leader in service-driven supply chain planning software, has promoted Mauro Adorno to managing director of Europe. Adorno will oversee all European operations including sales, professional services, customer success and administration. Previously, Adorno served as ToolsGroup's managing director for Central Europe and sales director for the DACH region.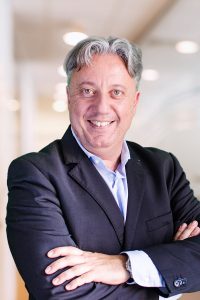 Adorno steps into this elevated leadership role at a time of accelerated expansion for ToolsGroup, with double-digit growth in multiple regions in 2018. ToolsGroup helps companies like Absolut, Aston Martin, Franke AG and Mitsubishi Electric profitably balance service and working capital amid increasing demand uncertainty.

"I am very pleased to promote Mauro to this important new position," said ToolsGroup CEO Joseph Shamir. "Mauro has been a critical part of our success in Europe over the past five years and I'm confident he will continue to provide strong leadership for our European team as we continue to grow in this region."

Adorno brings more than 15 years of experience in consumer-focused businesses, internet retailing, automotive manufacturing, telecommunications and finance. Prior to joining ToolsGroup in 2014, Mauro held global executive roles for businesses including Telecom Italia Group and Fiat Group Automobiles in customer operations, sales and marketing, IT and business development. He has a degree in Management Engineering from Polytechnic University of Turin and an MBA from Alma Business School in Bologna.

"It's a privilege to lead our European team at such an exciting time for ToolsGroup," said Adorno. "Our strong heritage in probability-based forecasting and machine learning automation positions ToolsGroup to continue to be a strong influencer in supply chain planning."
******************************
About ToolsGroup
ToolsGroup is a global provider of service-driven supply chain planning and demand analytics software. Our customers overcome demand volatility and supply chain complexity for outstanding service levels with reduced inventory. ToolsGroup's service-driven planning platform features probability forecasting and stock mix optimization enhanced by machine learning automation for highly intelligent data-driven decision-making. ToolsGroup solutions include Demand Planning & Sensing, Inventory Optimization, Allocation & Replenishment, Demand & Supply Collaboration, Promotions Planning and S&OP. Visit www.toolsgroup.com and follow us on Twitter @ToolsGroup.

Media Contact
ToolsGroup
Jennifer Randall
jrandall@toolsgroup.com
218-341-1318