No one has all the information to globally optimize S&OP—market information is always going to be missing. But a single integrated model is required for collaboration and decisions to be supported by optimization around a common version of the truth.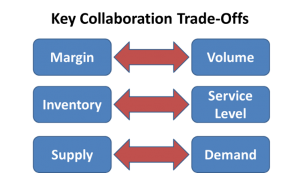 Without it, functional bias consistently disrupts the sales and operational plan. No one in the process is able to make meaningful collaboration tradeoffs based on "what ifs" between: margin and volume, inventory and customer service, and supply and demand. The only way to do that properly is with a model that can clearly show the results of each decision, so a company can wisely choose the outcomes that best match their business targets.
Cecere says the largest gulf in organizations can be found in the alignment between the sales and operations teams. Better modeling can bridge that gap, and give you the common language, objectives and visibility of trade-offs to balance decision making across the commercial and operational sides. This enables both sides to advocate their interests, yet make S&OP decisions based on the best overall outcomes for the company.
If you are creating a sales and operations plan, but not connecting it to execution, where does that leave your company in its effort to achieve its performance goals?
1 Set Up Sales and Operations Execution Process to Support the S&OP Cycle, Marko Pukkila, 28 January 2016
---
Click on the button below to download our Executive Brief – Connecting S&OP to Operational Execution.