← BLOG
How Supply Chain Innovation Builds Award-Winning Supply Chains
What does it take to create an award-winning supply chain? Supply chain innovation. Last month, Lennox Residential was runner-up in the Council of Supply Chain Management Professionals (CSCMP) Supply Chain Innovation competition, arguably the top supply chain award in North America. And last year Costa Express won the "Technology" category award at the European Supply Chain Excellence Awards, also a top honor. The two companies' shared similarities—bold initiatives, transformative supply chain changes, big results and innovative technology—help answer the question—How to build an award-winning supply chain.  Let's look at each:
Supply Chain Innovation via Bold Initiatives
Award-winning supply chains don't come from incremental thinking. In last week's blog, I related Gartner Analyst Mike Burkett's message about "bi-modal thinking". He said that while there is a need for bottom-up thinking focused on cost and efficiency; top-down thinking drives differentiation and growth.
As a leading manufacturer of heating, ventilation and air conditioning (HVAC) systems, Lennox Residential's business strategy depends on exceptional parts availability and customer service. High-demand products and parts must be available immediately; lower-demand items need to be delivered the same day or next morning. To support this strategy, Lennox expanded its supply chain network from two distribution centers (DCs) and 66 retail stores to a hub-and-spoke model with 8 regional DCs and 19 local DCs serving more than 160 stores.
Costa Express also had a bold initiative to dramatically improve their business. After initial success with a few hundred unmanned coffee bars, the UK's largest and fastest-growing coffee shop brand built a network of kiosks offering high-quality "on the go" coffee at nearly 5000 airports, railway stations, convenience stores and other locations.
Transformative Supply Chain Planning
The increased size and complexity of the Lennox supply chain mandated major innovation in supply chain planning. Lennox stopped using top-down forecasts based on aggregated historical data to drive its supply chain targets. Instead they adopted advanced analytical techniques to accurately model and forecast complex and unpredictable demand. Machine learning was added to automatically fine-tune that analysis to better distinguish between "signal" and "noise."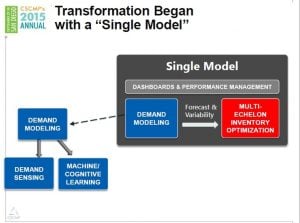 A single model for both intermittent finished goods and service parts now provides end-to-end visibility
across the entire chain, from stores to manufacturing plants and upstream suppliers. All supply chain activity is synchronized to a common demand signal driven by granular, bottom-up forecasts for 450,000 unique SKU-Locations.
Costa used POS data, telemetry and rapid re-planning to enable an entirely new approach to logistics and replenishment. They needed visibility and control over their supply chain—and accurate stock replenishment at the order-line level. Costa's self-serve coffee kiosks already used integrated telemetry to stream machine performance and drink sales data every 15 minutes—yet its team was calculating replenishment estimates manually with spreadsheets, based on current stock holdings and average cup sales. Costa now automatically analyzes this near real-time data to drive forecasts and replenishment. This enables it to optimally manage the supply of ingredients—coffee, flavored syrup, cups and lids—from a warehouse to partner sites. With the transformation, Costa also added a new logistics partner, IT system, and purchasing process – all simultaneously. Read: How Machine Learning Improves Forecasting
Attention Getting Results from Innovative Project
Big changes lead to big results. Lennox almost tripled the percentage of orders that can be delivered the next morning, yet reduced inventory by almost 20%, even with a 250% increase in physical locations. They improved service levels by about 20%. They also reduced distribution costs as a percentage of sales by over 15%, increased inventory turnover by more than 20%, and reduced response time.
Lennox credits this supply chain transformation with helping drive overall business performance. Those gains include almost 50% higher revenue, market share growth approaching 25%, and a tripling of stock price and market capitalization. In other words, this wasn't just a supply chain project – but a project with a fundamental impact on sustainable business results.
At Costa, within six months operational savings and service improvements included a 20% reduction in field stock held at partner sites, 50% fewer delivery refusals by partners, 30% reduction in logistics operating costs, and a 10% growth in Net Promoter Score. They have also achieved remarkable planning productivity, with just two people managing replenishment of 5000 point-of-sale locations across four countries.
Technology Supports Supply Chain Innovations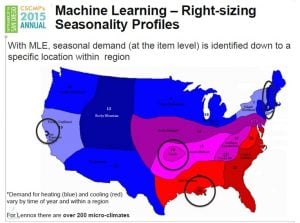 Technology was an enabler at both Lennox and Costa. A demand-driven planning solution forecasts Lennox's intermittent and volatile demand, optimizes multi-echelon inventory, sets inventory targets, and helps achieve service level targets while managing working capital. The technology analyzes demand history by location, SKU, and individual order-line. It incorporates variables like fragmented "long tail" demand (98% of Lennox revenue comes from low-volume SKUs of finished goods and service parts with erratic demand); lifecycle planning (product introductions, substitutions, and end-of-life); and extreme seasonal variability. Lennox uses artificial intelligence and cluster analysis to identify and track seasonality patterns and trends not easily uncovered via traditional methods.
Costa's new demand and replenishment planning system takes point-of-sale data from Costa's unmanned coffee stations to forecast demand, optimize inventory, and generate nightly replenishment proposals for distribution and procurement. The software tracks demand surges and highlights replenishment exceptions for 5000 machines needing frequent, low-volume/low-value deliveries. The new system can also better respond to seasonality—for example, when a coffee machine in a university shuts down at Christmas or highway service stations get really busy due to cyclical traffic patterns.
Innovative technology driving transformative supply chain changes and singular business result — It aligns with recent comments by Rajit Taneja, executive vice president of technology at Visa Inc. (Wall Street Journal, October 8, 2015): "Business strategy and technology strategy are tightly connected. They fly in formation."