← BLOG
Sales & Operations Execution (S&OE) vs.S&OP
S&OP (Sales & Operations Planning) and SI&OP (Sales, Inventory & Operations Planning) are two well know acronyms, but now Gartner has added an acronym with a distinctly different twist, Sales and Operations Execution (S&OE).
In supply chain, as in life, what you plan for and what actually happens can be two very different things. The role of S&OE, says Gartner, is to capture the differences and adjust.
"The No. 1 challenge among manufacturing companies is connecting sales and operations planning (S&OP) to operational plan/execution," says Gartner analyst Marko Pukkila. Unfortunately, business, operations and supply chain planning leaders and executives in many companies miss this, and they end up with a process that does not work well for either planning or execution. So Gartner defines S&OE as the "capability that bridges this challenge by building a critical missing piece that connects the higher level plans to execution through S&OP."
Because S&OP can't realize its value without a strong, ongoing follow-through; S&OE earns its keep by linking tactical planning with granular execution. Its near-term, detailed actions on the supply chain provide a "checkpoint for the supply chain and business leaders to ensure that the reality and plans remain aligned," Gartner says.
Gartner believes firms should have three distinct supply chain planning horizons (see image at top of page)— annual, monthly, and weekly (or bi-weekly).
Annual planning involves business decisions that take time: adding capacity, developing products, entering markets
S&OP works on a monthly basis, focusing on products at the family level
S&OE deals in weekly time slots at the SKU level, tracking how demand and supply match the plan
Problems arise when annual planning, monthly S&OP and day-to-day supply chain planning (SCP) are developed separately, with little to no interconnectivity or overlap. Therefore, having a process that spans the different time horizons is very important.
This is the S&OE charter: to compare demand to forecast and make sure production can deliver—via fast operational pivots like inventory buffers, lead times, and asset utilization. This visibility also helps the business determine if the sales and operations plan is working—if so, long-range planning is probably on track as well.
Pukkila also explains that without a good connection between planning and execution, many companies needlessly overact to short-term volatility. S&OE offers a dampening effect.
In Set Up Sales and Operations Execution Process to Support the S&OP Cycle (28 January 2016) he explains, "Because of the short-term view to the supply chain and manufacturing management, the day-today noise and volatility seem worse than it may be. The result in many companies in this situation is that they are in a perpetual reactive, firefighting mode that causes expedites of raw materials, frequent rescheduling of the production and possibly outbound priority transportation to meet customer expectations. All this reactivity is adding cost to the supply, which erodes the business profitability. If someone took a step back and looked at the bigger picture, they would likely find that the overall month-to-month volatility isn't that bad after all. S&OE is the process that has been shown to help manage and absorb the day-to-day noise and provide a more controlled and collected mode of operations to the supply chain and shop floor. Most importantly, it establishes a means to better control the costs and impact the business profitability."
He concludes, "Whenever work deviates from standard process, standard cost assumptions become null and void. For business leaders and profit and loss (P&L) owners to truly be in control of the business, they have to insist on having a robust S&OE process in place. It is there to help with the day-to-day noise and provide a more controlled and collected mode of operations."
So S&OE translates the results of tactical planning into the details that drive the near-term actions in the end-to-end supply chain.  By monitoring the actual demand and supply numbers by line item, S&OE provides an early warning system that helps business stakeholders adjust their plans and responses. This keeps the supply chain out of firefighting mode, smooths relationships with customers and suppliers, and helps sustain margins by reducing expediting and other short-term reactionary responses.
In short, S&OE is the antidote to the truth captured in the Robert Burns quote, "The best laid plans of mice and men often go awry."
Click below for an Executive Brief on connecting the higher level plans to execution through S&OP.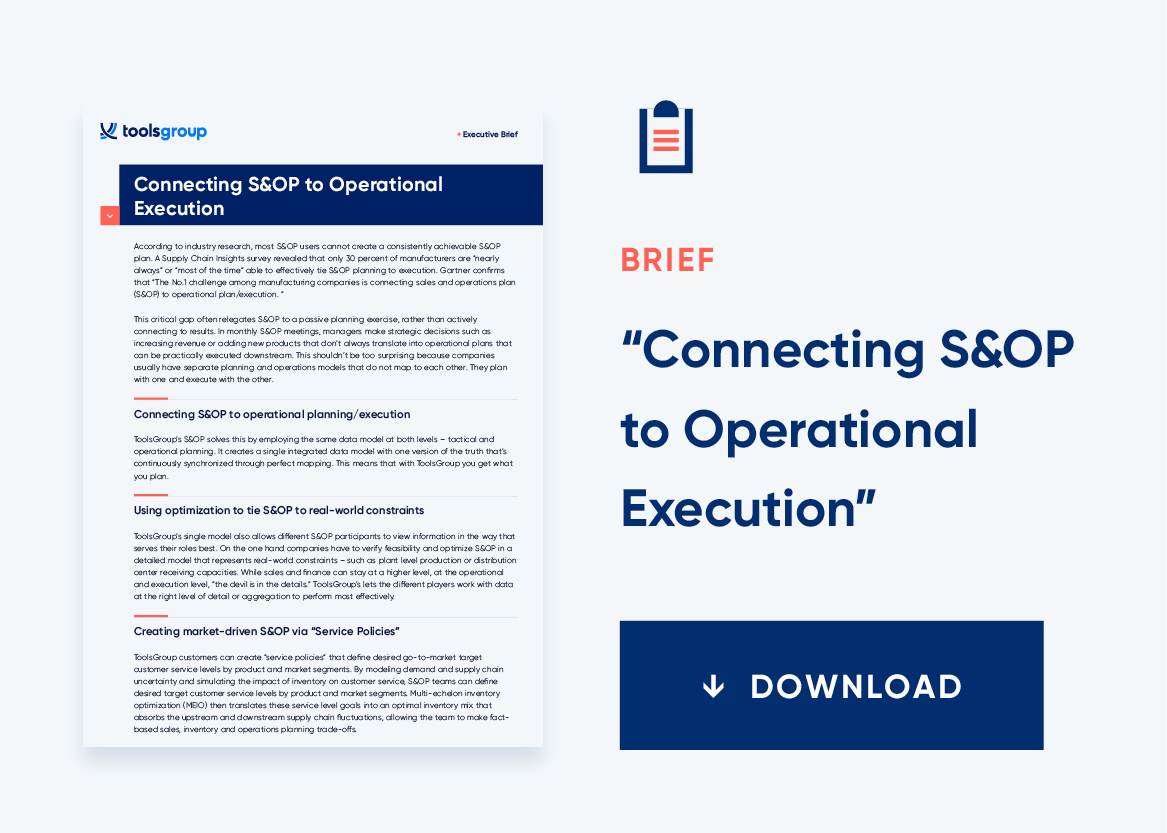 A Final Note on Getting Started
Gartner says that one common issue to address right away is to identify the S&OE content in the S&OP process and move it to the S&OE agenda. These need to be two separate processes, both clearly defined with purpose and scope, which Gartner describes below:
The S&OP process should focus on the tactical horizon, typically from 3 to 18 or 24 months. When developing the process timing, the key point in the calendar is the existing business planning meeting. This has to become the executive S&OP meeting, and the process steps leading to that have to be backward scheduled accordingly. It should be noted that it is likely that this S&OP cycle will not necessarily line up with the normal calendar months and weeks. The new S&OP process will not focus on the current month or the next. The primary focus will be on getting the best mid-range plan in place and making the best trade-off decisions.
The S&OE process covers the near-term horizon, commonly 0 to 3 months, but can vary by business and industry, depending on the manufacturing lead times. Its focus is on the operational issues at the master production schedule (MPS) level of detail. This is the forum where the issues stemming from the lumps and bumps from actual demand and supply can be reconciled with the nice-and-smooth plan that came down from S&OP. Because the reality is never as smooth and polished as S&OP plans indicate, there can be no effective S&OP process without an S&OE process, just like the "P" in Plan-Do-Check-Act (PDCA) doesn't do much without the "DCA."