← BLOG
Infographic: Machine Learning with a Human Touch
There are a lot of supply chain planning solutions out there. Why choose ToolsGroup?
It's simple: Our perfect blend of technology and human expertise.
The tailored guidance our clients get from our expert consultants is what makes the difference. A powerful solution built on machine learning combined with a tireless drive to get it right for our customers is what keeps so many of them with us year after year. Here's what they have to say.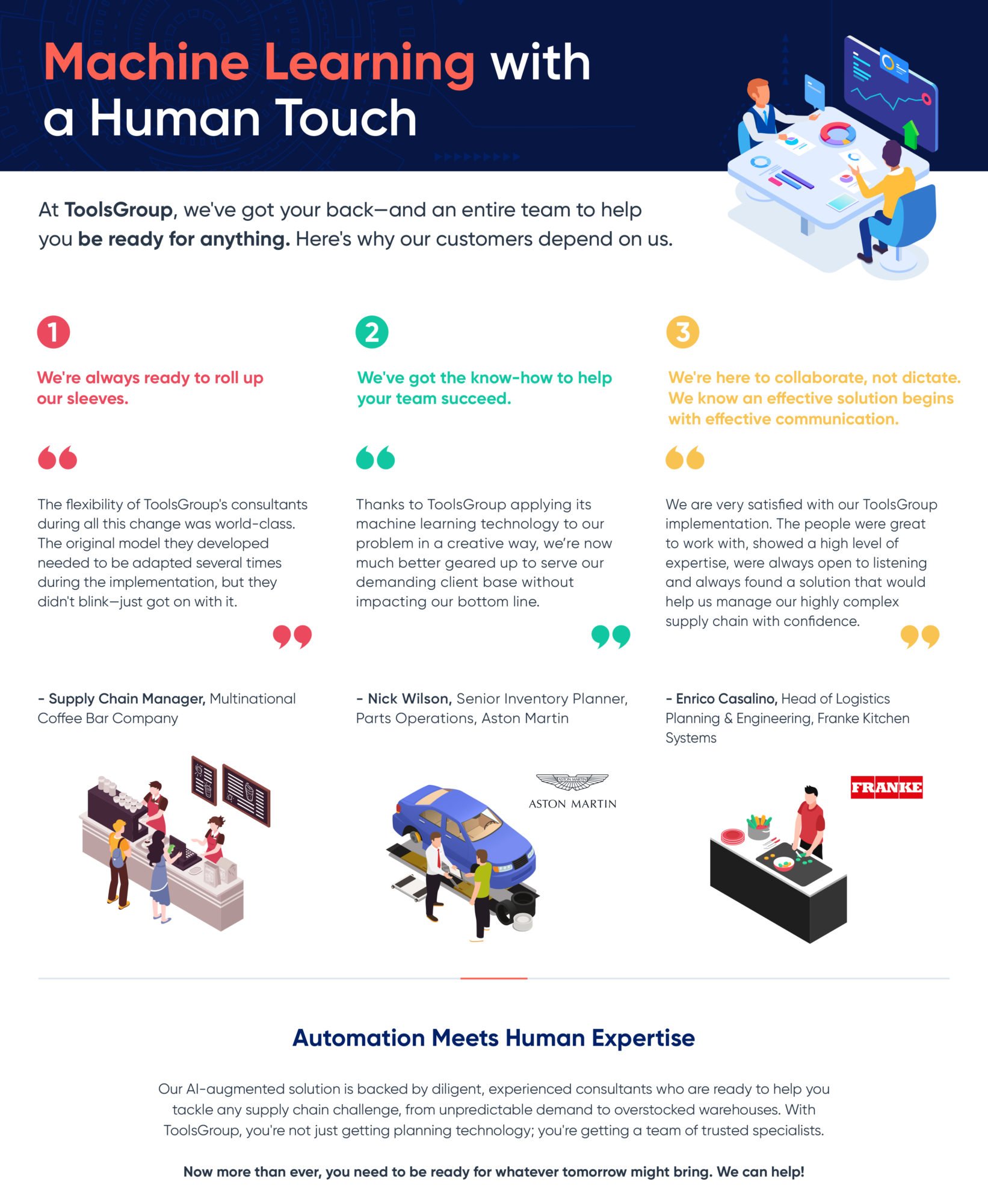 At ToolsGroup, we've got your back—and an entire team to help you be ready for anything.
Here's why our customers depend on us.
We're always ready to roll up our sleeves.
"The flexibility of ToolsGroup's consultants during all this change was world-class. The original model they developed needed to be adapted several times during the implementation, but they didn't blink—just got on with it."
– Supply Chain Manager, Multinational Coffee Bar Company
We've got the know-how to help your team succeed.
"Thanks to ToolsGroup applying its machine learning technology to our problem in a creative way, we're now much better geared up to serve our demanding client base without impacting our bottom line."
– Nick Wilson, Senior Inventory Planner, Parts Operations, Aston Martin
We're here to collaborate, not dictate. We know an effective solution begins with effective communication.
"We are very satisfied with our ToolsGroup implementation. The people were great to work with, showed a high level of expertise, were always open to listening and always found a solution that would help us manage our highly complex supply chain with confidence."
– Enrico Casalino, Head of Logistics Planning & Engineering, Franke Kitchen Systems