← BLOG
How to Move from Gartner Stage 2 to Stage 3 Retailing
Using the Gartner Demand Planning five stage maturity scale, analyst Mike Griswold estimated on a recent call that retailers as a group averaged just 2.3 out of 5.0, leaving money on the table due to poor inventory performance. In a competitive vertical with thin margins, leaving any money on the table can have big performance repercussions.   But, he says, with the right strategic plan, a retailer can make the jump to stage 3 supply chain planning, and greater profitability, in just 12-18 months. In this blog we'll explain why it's important to move to stage 3 and three things you can do to execute a plan.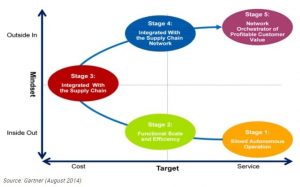 First, let's get a better understanding of stage 2. In this stage, retailers hire demand planners to create more accurate forecasts by using point-of-sale data and online transaction history. Additionally, they invest in technologies that combine inputs from various internal sources into the forecast. These two improvements deliver a forecast with fewer errors and a general improvement in inventory performance.
Even with these improvements, stage 2 shortcomings still hinder growth. There is little, if any, cross functional alignment or communication across demand planning, marketing and merchandising. Deployed technologies are often spreadsheets and/or disparate point solutions ingesting data from unlinked sources which must be reconciled manually because the data streams do not integrate easily or automatically. Also individuals providing data are not held accountable for the accuracy of their information. This leads to a lot of shifted blame and missed opportunities to improve operations when the forecast is wrong.
Perhaps you recognize some of these problems. Or you might be frustrated because fulfilling orders across brick and mortar, online, and click and collect added complexity and redundancy to your supply chain. Or perhaps you recognize the broad impact external variables like social media or weather have on your sales, but you're not sure how to account for it.
If you see yourself in this description, then you are likely in stage 2 and may be ready to move to stage 3. If so, here is what Gartner analysts Mike Griswold and Amber Salley (2016-2018 Strategic Roadmap for Retail Demand Planning Maturity Stage 2 to Stage 3) recommend to get started:
1. "Establish collaborative processes and frameworks between demand planning and any functional areas whose actions directly impact forecast development (for example, alignment with merchandising on upcoming promotions)."
A positive first step is to embrace a cultural shift inside the organization to remove silos.  This means merchandising connecting to demand planning which connects to suppliers. By encouraging communication, each group has a stake in the game, and each team can be ready to explain the numbers they submit to the forecast.  While every company trying to move from stage 2 to stage 3 faces challenges, retailers who order and manage inventory within existing merchandising and assortment processes can face an extra step in this transition to more supply chain focused processes.
2. "Define activities required for demand-driven plan development, such as running consensus -planning meetings and capturing forecast assumptions and establish ownership and accountability for each action."
Having internal accountability encourages an investment to understand what the demand for a product will be to and get forecast details right, particularly in seasonal items or new products introductions. By defining activities, and identifying their owners, retailers achieve better results because responsibilities are clearer and therefore managed. The outcome is creating an optimized inventory plan rather than just an inventory plan.
3. "Invest in a planning system of record (PSOR) to support demand planning activities."
Retailers benefit from embracing MIOE (merchandising, inventory and operations execution), or what supply chain people call Sales and Operations Planning (S&OP). Implementing an end-to-end solution that unifies transactional history, forecasts demand at a granular level, integrates new variables such as social media, forecasts returns ultimately provides greater visibility into the supply chain which results in more accurate demand planning activities.
Stage 3 may be closer than you think! Taking these steps can help achieve a level of holistic supply chain visibility which enables more productive and lucrative decisions in replenishment and allocation and identifies gaps in the supply chain that inhibit growth. The result is an environment where you know where and why you should focus your efforts to fix existing problems.
Click below to read more about competing at a higher level of retail supply chain maturity: