← BLOG
How to Measure Inventory Health
Financial executives measure inventory health with metrics like inventory turns because they view the firm from a financial viewpoint – such as how much working capital is being tied up. But from an operational supply chain planning perspective, turns is a crude metric because it doesn't recognize the difference between "good" and "bad" inventory.  For instance, you could have too much of some products, while not enough of others. Yet unhealthy levels at both ends could cancel each other out without reflecting underlying problems.
So a better operational measure would be helpful.
Gartner delved into this issue in a recent report, Build the Capability for Inventory Health Assessment. Gartner says that business and finance execs generally want to reduce working capital and increase cash flow. They say, "There seems to be a level of constant pressure to 'optimize' inventories, and, more often than not, it translates into a need to reduce inventories. The problem that the supply chain leaders often struggle with is that the definition of what the right inventory levels should be. Without a clear goal, it feels like it is never right."
Gartner says inventory turns is too high level a metric to offer insight on how to improve inventory performance in line with future demand, and is also a backward-looking lagging metric.  They add that companies tend to compare current item inventory levels against historical, which "offers no indication of the health of the investment." Nor do they believe comparing the total current inventory value or turns from one set other products to another is very helpful.
Instead Gartner suggests that to evaluate inventory health, companies should assess "inventory holdings relative to expected future customer demand according to service level expectations." That is, they should understand and improve stock strategies from a demand perspective. Gartner explains, "Companies deploy inventory strategies to protect the continuity of their supply and decouple their operations from demand volatility. Even then, the ultimate reason for all inventories should be to convert them to revenue within a reasonable amount of time. The concept of inventory health is based on this expectation. It is a measure of inventory holdings relative to the expected demand."
Specifically, Gartner suggests measuring how much inventory is "in the zone". That's the healthy zone where the level is between defined minimum and maximum levels based on stock coverage of projected forward-looking material usage.  Healthy stock is calculated from data like min/max days of coverage, total on-hand inventory units, total stock value, standard cost per unit, forecast horizon (days), and projected future requirements (units).
To know whether inventories are in the zone, there has to be known target inventory levels for the products. Gartner recommends that "inventory objectives are best set in terms of days forward coverage (DFC). This method normalizes the volume scale differences and allows reporting of the entire product portfolio at once so that all items' results can be assessed on equal footing."
Gartner also recommends setting inventory coverage targets at the SKU-Location level granularity. They say, "The inventory is stocked and managed at this level, and the health evaluation should be as well." When you can assess inventory health at the individual SKU/Location level—in relation to expected demand—you can improve stock well-being. This granular view reveals problem areas—not only excess stock, but potential shortages.
Gartner ultimately suggests developing an Inventory Quality Ratio (IQR), which looks at the potential for inventory improvements by categorizing stock on hand as active or excess.  Active inventory is made up of stocks up to the defined target level, and anything above that is excess. The IQR metric is a percentage of active inventory in the total stock. Gartner offers a toolkit for calculating IQR with sample calculations that can be modified with actual inventory and forecast data to assess inventory health for particular items.
IQR is an interesting framework for gauging inventory health. But it can also take a significant amount of time and effort to implement. So next week we will consider a way to quickly assess inventory health that aligns item stock strategy with service level expectations by buffering for demand and supply volatility, or in Gartner's words "deploys inventory strategies to protect the continuity of their supply and decouple their operations from demand volatility."
Click below for more information on understanding and improving stock strategies from a demand perspective.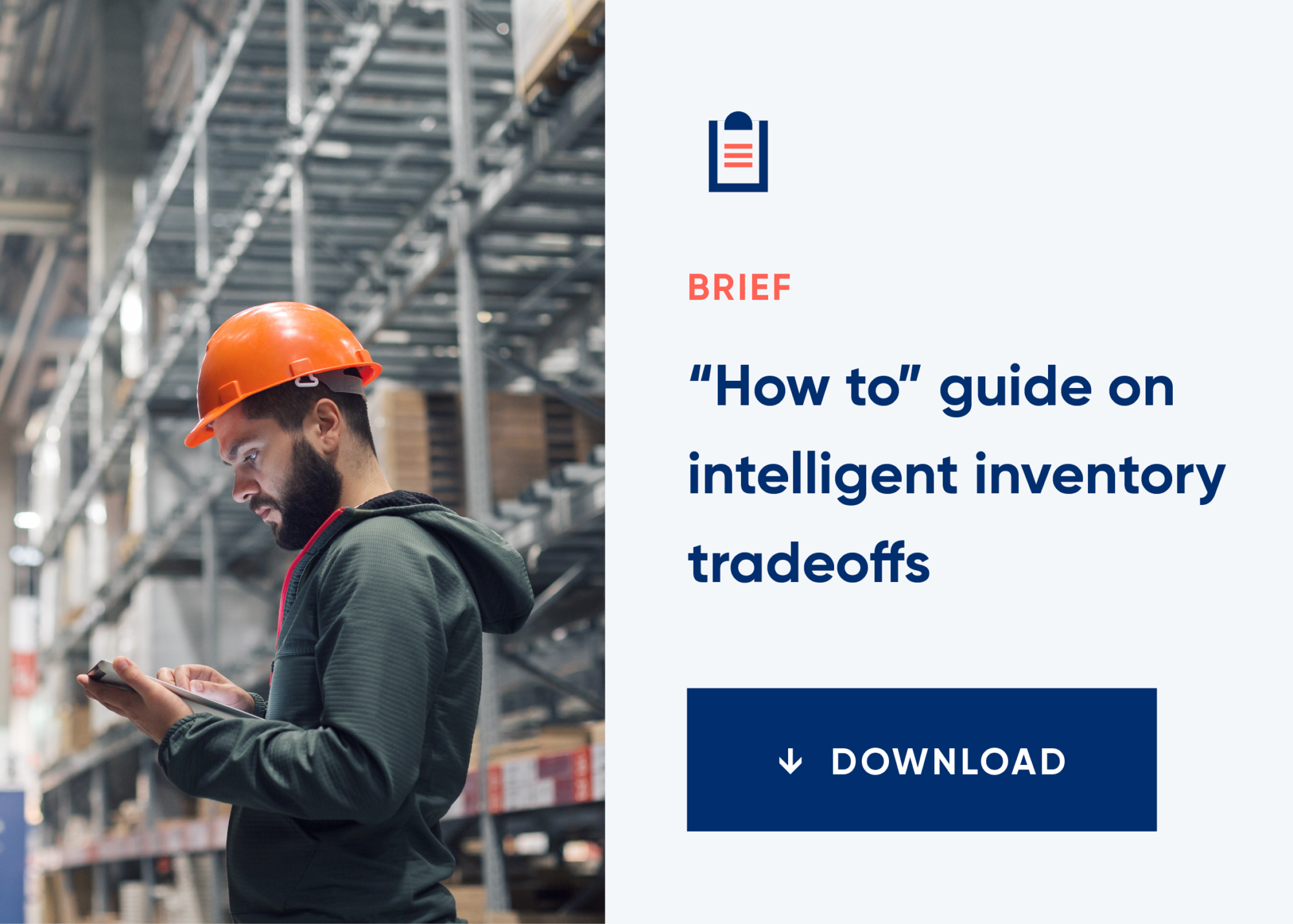 According to the Gartner report, the following factors affect inventory-level setting for buffer inventories:
Business-Related Factors
Service-level requirement
Regulatory factors
Product unit cost
Product criticality
Product margin
Product cost stability and predictability
Storage and handling cost
Cost of capital
Cost of obsolescence vs. cost of stock-outs
Demand, Supply and Network Factors
Demand volume
Demand volatility
Demand predictability
Customer order lead-time expectations
Supply lead time
Supply lead-time volatility
Replenishment cycles
Product shelf life
Supply lot/batch size
Product availability
The Gartner report states the IQR requires the following information at the SKU level:
Minimum days of coverage – the minimum level for zone of healthy inventory or the deficit threshold
Maximum days of coverage – the upper boundary of the healthy zone, the threshold between active and excess inventory
Total on-hand inventory units – the total on-hand inventory in unit volume, expressed in the unit of measure that corresponds with the standard cost unit of measure
Total inventory value – the value of the inventory item. If location-level detail is used, then the value is at the specific location.
Standard cost per unit – the inventory cost of a unit per standard unit of measure.
Forecast horizon (days) – a period of time looking forward to where the demand forecast or dependent requirements are aggregated. A rolling quarterly outlook is used commonly, as it typically is sensitive enough to seasonal demand variation, yet aggregate enough to smooth out most of the month-to-month fluctuation. Whatever the chosen forecast horizon is, it is only used as the divisor in the determination of average daily run rate for the requirement.
Projected future requirements (units) – the total usage requirements for SKU over the chosen forecast horizon