← BLOG
Segmenting Your Spare Parts Supply Chain for 3D Printing
From warehouse robots (very real) to equipment that you control with your mind (in the labs), new technologies appear so regularly that it can be hard to separate real from science fiction. But in the spare parts business, 3D printing has become "here and now". Beyond cars and machine tools, 3D printers are now making spare parts to order for the US Marine Corps, container ships, and beverage filling plants. PwC's recent survey of German manufacturers said that 85 percent of the spare parts providers assert that supply chain 3D printing will play a dominant role in their business.
As you approach this new technology, one question to consider is how to segment your inventory portfolio to determine which spare parts in your supply chain are best suited for 3D printing versus other approaches.  In addition to supply-side considerations such as manufacturability, this requires analyzing cost-to-serve across alternative distribution approaches and demand-side characteristics like order-lines per year and demand volatility.  Then the spares portfolio can be segmented into three categories:
Make to stock (MTS), in larger volumes using traditional manufacturing techniques
Make to order (MTO), expanded by the potential use of 3D printing
Items that are expensive to make to stock in low quantities, but not readily adaptable to MTO
Choosing between MTS and MTO entails a trade-off between stockholding and manufacturing costs. As 3D printing drives down the cost of manufacturing in very small quantities, more products will be made to order. In supply chain terms, 3D printing is essentially a postponement strategy where the composite raw material, rather than the finished good, is stored and ready for quick deployment to the customer.
However in reality, these two groups usually represent the extreme ends of the spectrum, leaving a large group of items in the middle that are not readily adaptable to MTO but with non-normal demand distributions due to intermittent demand. These make-to stock, low volume parts require a different approach to supply chain planning which we will describe later. First, let's take a closer look at each of the three groups.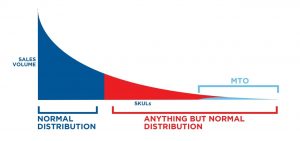 Larger volume traditional spares manufacturing
Aftermarket automobile batteries is an example of a product with sizable demand and also complex to manufacture, so generally not a good candidate for make-to-order or 3D printing. You can hold quantities of SKUs in multiple locations, replenish frequently, and meet high service levels at a reasonable cost.  Despite a certain amount of seasonality, most have relatively normal demand distributions, but they require good supply chain planning and S&OP software to keep the right goods in stock at the right location to support an efficient inventory mix. They would be found on the left side of the above graphic.
Make-to-Order (including 3D printing)
Low volume parts are of course the best candidates for make-to-order, such as parts with unusual and very infrequent demand, discontinued, limited edition or custom-made items. They would be found at the right end of the above graphic.  Short-runs in traditional manufacturing can be expensive, especially when parts need to be quickly available to provide expected service levels. So 3D printing expands this category by making goods easier, faster and more cost effective to produce in very small quantities.  Hence, the MTO segment of the above graphic will grow. But even with improvements, 3D printing is not a cure all – including limitations on size, material and chemical composition.
Make-to stock low volume
The third category in the middle of the graphic consists of spare parts with low volume demand but unsuitable for make-to-order or 3D printing. Traditional supply chain planning techniques designed for fast moving goods don't serve this class of products very well either. For these, the best approach is to employ spare parts planning software specially formulated for forecasting spare and aftermarket parts with non-normal demand distributions.
Traditional planning solutions don't address the "long tail" problem, so it's especially difficult to maintain high service levels across differentiated channels. But spare parts planning solutions offer an exceptional ability to forecast intermittent demand and optimize multi-echelon inventory. Rather than working with aggregated time series, they analyze demand history by channel and individual order-line.
Augmenting this software with machine learning can boost further performance, such as at Aston Martin. A maker of high end automobiles, machine learning segments their "classic car" spares inventory into seasonal clusters to devise more intelligent replenishment policies that cut inventory while raising service levels.
3D printing is expanding the range of spare parts that can be made to order, and will continue to do so over time, but many slow moving parts will still need to be made to stock. This is where specially designed supply chain planning technology yields the best results.
Click below for more information on aftermarket and spare parts supply chain planning software solutions.