← BLOG
Robots in the Building: The Positive Influence of AI for Supply Chain Planners
Have you looked at a job listing for a supply chain planner recently? The planner's role has expanded to include a combination of technical skills and communications and interpersonal skills. A recent, typical job ad for a demand planner lists technical criteria including APICS and Six Sigma certification, alongside "negotiation, communications, and presentation skills". 
Not surprisingly, it's becoming more and more difficult to recruit planners with this skillset mix. Some are resorting to hiring two types of planners: one analytical and the other skilled in communication, facilitation and negotiation. Building armies of planners, however, can become convoluted, expensive and inefficient. Is there a better way? 
Today AI for supply chain planners is helping companies 'outsource' planning tasks to technology. Although it appears likely that AI automation will replace some planning tasks and roles, the ones that remain will be far more desirable. According to Harvard Business Review, "By collaborating in roles such as supply chain planning and inventory management, the combined power of humans and machines will create new sources of value for businesses."
AI for Supply Chain Planners: An Ideal Match 
Elements of supply chain planning, therefore, are ideal tasks to "outsource" to machines, which can execute analytical tasks and repetitive calculations faster and more accurately than humans. In other words, this isn't a case of machines replacing people's jobs: automation plugs a skills gap that humans can't practically fulfill.
AI, combined with advanced analytics, will enable supply chain planners to make more forward-looking, strategic decisions and spend less time on reactive problem solving."

Harvard Business Review
One particular flavor of AI, machine learning, has the potential to dramatically improve planning outcomes. Machine learning's ability to find patterns (like seasonality and shopping behaviors) in huge data sets and also get smarter over time make it the perfect complement to human planning efforts. The iconic 'Bond-mobile' manufacturer Aston Martin's spare parts operation used a machine learning engine to analyze the vast array of historical data collected over decades and pick out eight completely new categories of behaviour. It used these categories to optimize inventory replenishment plans, raising service levels while reducing inventory costs by 18 percent. 
AI Automation for Planning Requires a Step-by-Step Approach 
We recommend companies approach moving to automation in stages. The process of cleansing data and calculating baseline demand is the ideal starting point. In this stage, intelligent software can generate a probability-based forecast and planners enrich it with their own knowledge. Over time, as the system gets smarter, planners can take a more hands-free approach and just deal with exceptions. This frees up planners to focus on adding value through market intelligence and business smarts. 
With a robust data model and advanced planning software, you have the foundation for 'what-if' scenario planning so that you can test the impact of different inventory decisions on service levels. Many companies are building supply chain "digital twins" – essentially 'what-if' planning on steroids. Global bearings giant, SKF, is a great example. It built a robust data model of its 800,000+ SKUs and a digital twin of its entire distribution network. So far eight of SKF's warehouses (about one third of the total) and two factories have achieved full "autopilot" status. The demand planner role has been elevated to 'global planner,' responsible for handling 'exceptions' and supporting customers from all regions. 
Learn to Trust the System to Unlock More Benefits
Perhaps the biggest challenge for any supply chain leader is learning to trust highly sophisticated planning systems that aren't transparent like spreadsheets and other simple tools. 
The choice boils down to this: would you rather have visibility of your supply chain software's inner workings or visibility of your supply chain? Until organizations become more willing to take their hands off the wheel, there will always be a level of productivity and financial benefits that will remain unattainable. 
We've seen planners at dozens of companies using AI tools to accomplish more in less time. Just one full-time planner now handles all planning for the Absolut Vodka global brand. A pharmaceuticals distributor had two of its three planners go on maternity leave at once and managed quite comfortably.
Fortified by AI, the planner's role will evolve enough to require personal development. Think of any job impacted by advances in computers and information technology. The technology changes the job, making some skills less important and favoring others. For anyone who can migrate to higher value-added activities though, it can be an extremely beneficial change that also opens doors to new and higher roles in the organization.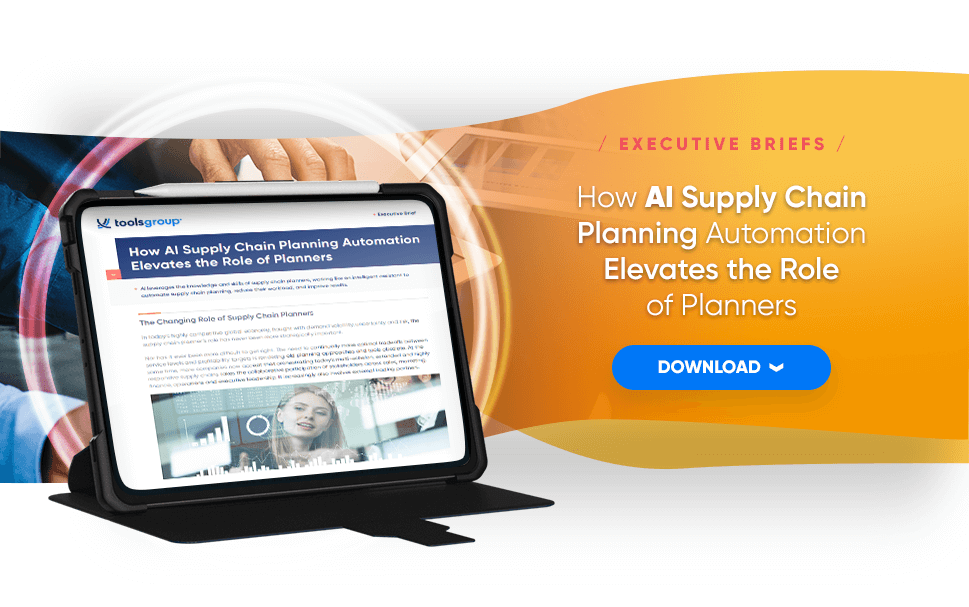 ---
1 Harvard Business Review: New Supply Chain Jobs Are Emerging as AI Takes Hold. Gary HanifanKris Timmermans. AUGUST 10, 2018